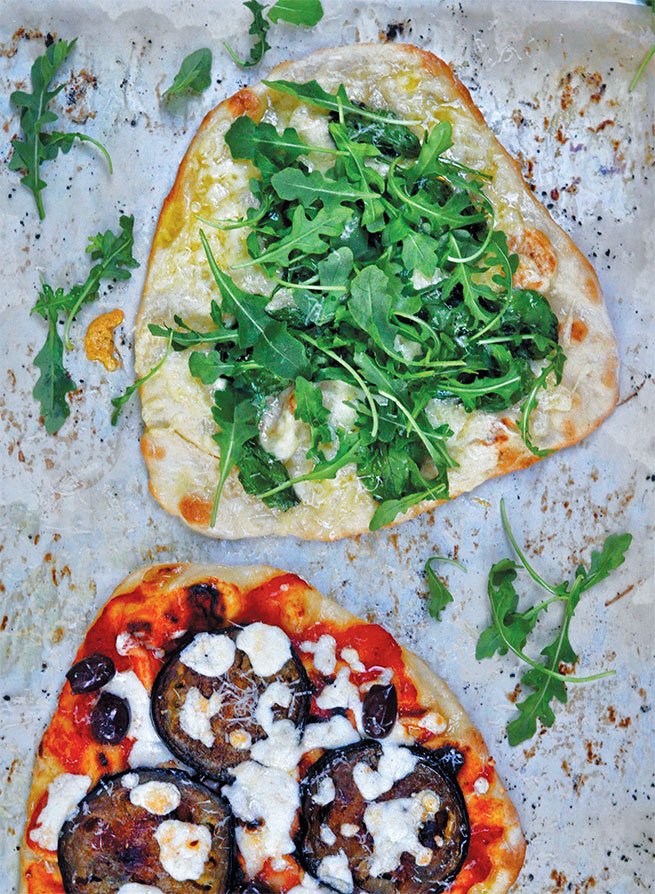 Photo by Ellise Pierce
Makes 4 pizzettas
1 eggplant, thinly sliced
4 tablespoons olive oil, plus more for serving
Sea salt and cracked pepper
4 half-cooked pizza crusts (recipe, click here)
Homemade Tomato Sauce (recipe, click here)
10 Kalamata olives
1/3 cup hand-torn mozzarella
1 cup grated Fontina cheese
2 small handfuls baby spinach
Arugula for serving
Preheat the oven to 425°F.
Lay the eggplant slices on a baking sheet lined with parchment paper and brush them with olive oil on both sides. Lightly salt and pepper one side. Bake for 30 minutes or until lightly browned on both sides, turning once. Let cool. (You can do this in advance and keep the roasted eggplant in the fridge.)
Increase the oven heat to 500°F or as high as it'll go (or use Outdoor Grilling Method, click here).
Put 2 crusts on a baking sheet. Add 1 tablespoon of sauce to one, then a few slices of eggplant and half of the Kalamata olives. Scatter the grated mozzarella on top. With the second crust, simply scatter the grated Fontina on the crust, add half of the raw baby spinach leaves, and slide onto the bottom rack of the oven. It'll take 5 to 10 minutes for the crust to crisp and the cheese to bubble. Serve hot with a drizzle of olive oil. Repeat with remaining 2 crusts.
Ellise Pierce is the Cowgirl Chef and author of COWGIRL CHEF:
Texas Cooking with a French Accent (Running Press). Read her blog
(www.cowgirlchef.com), follow her on Twitter (@cowgirlchef) and Instagram
(cowgirlchef)