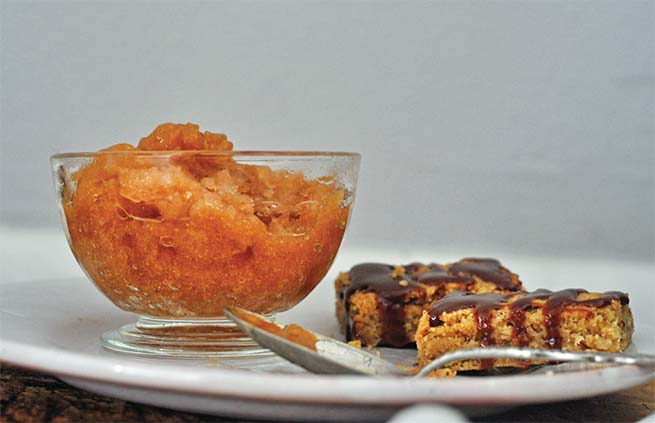 Makes 4 servings
¼ cup local honey
2 pounds ripe pears (I like Comice)
Texas Pecan Shortbread (recipe follows)
Put honey in a small saucepan over medium heat. Cook until the honey thickens, and reduces slightly, about 5 minutes. Remove from heat.
Meanwhile, peel the pears and remove the core, stem and seeds. Slice into quarters and put into a blender. Pour in the honey. Mix well.
Pour into a glass dish and place in the freezer. Every 30 minutes or so, scrape the edges—they'll freeze first—into the center. Continue to do this until it's frozen and firm, just past the point of a superthick slushie.
Serve with Texas Pecan Shortbread cookies on the side.
TEXAS PECAN SHORTBREAD
Makes 20 cookies
1 cup pecans, toasted (divided use)
¼ teaspoon sea salt
1 cup flour
½ cup (1 stick) butter, at room temperature
½ cup brown sugar
2 to 3 tablespoons whipping cream (as needed for pourable consistency)
2 ounces milk chocolate
Preheat your oven to 350°F and line an 8×8-inch pan with foil.
Finely grind ½ cup pecans. Whisk together with sea salt and flour and set aside.
Roughly chop the remaining ½ cup pecans. In your mixer, beat the softened butter with the brown sugar until fluffy. Add the flour mixture and mix just until combined. Fold in the chopped pecans.
Press the dough with your hands into the pan, making sure to mash it all the way into the corners and evenly along the sides. Prick the dough all over with a fork and slide into the oven for 20 to 30 minutes, or until it's nice and brown.
Let the shortbread cool for 5 minutes, then remove it from the pan and cut it into 20 cookies with a serrated knife. Let the cookies cool completely on a rack.
Gently warm the whipping cream over low heat. Pour it over the milk chocolate, in a small bowl. Let it sit for a minute, then whisk until incorporated. Drizzle over the cooled cookies.
Ellise Pierce is the Cowgirl Chef and author of COWGIRL CHEF:
Texas Cooking with a French Accent (Running Press). Read her blog
(www.cowgirlchef.com), follow her on Twitter (@cowgirlchef) and Instagram
(cowgirlchef)