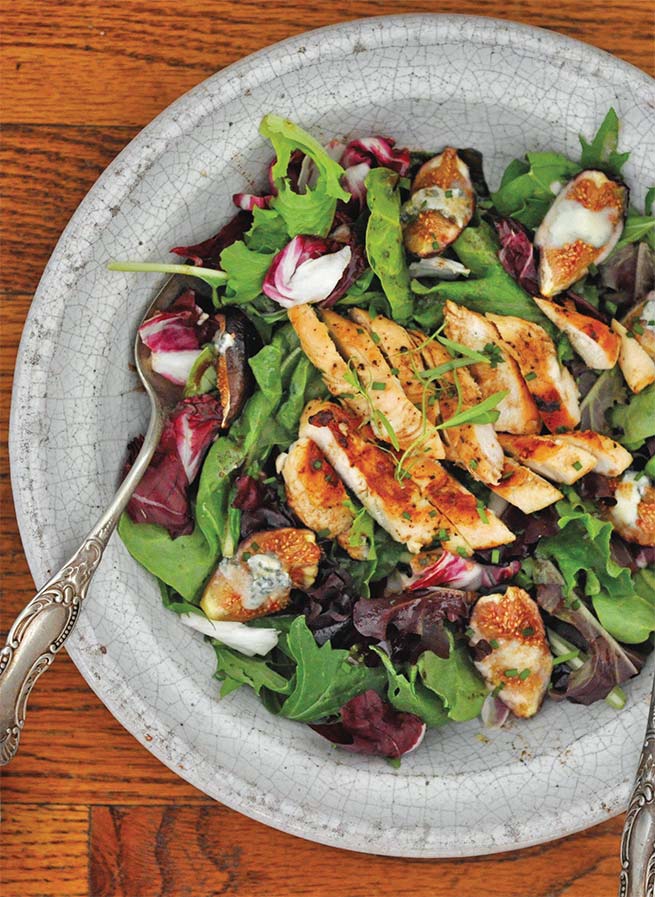 Makes 4 servings
2 cups buttermilk
1 teaspoon sea salt plus pepper to taste
3 or 4 sprigs fresh tarragon plus more for serving
A few dashes Tabasco
1 tablespoon honey
2 pounds chicken tenders
8 figs
Grapeseed oil for frying
Olive oil for drizzling on the figs
2 ounces Gorgonzola
4 ounces mixed greens
¼ of a head radicchio
Balsamic Vinaigrette (recipe follows)
Put the buttermilk, salt, pepper, tarragon, Tabasco and honey in a bowl and whisk to combine. Add the chicken tenders, cover, and refrigerate for at least 4 hours or overnight.
When ready to cook the chicken, preheat the oven to 425°F. Slice the figs into quarters. Set them aside.
Add just enough grapeseed oil to coat the bottom of a large skillet over medium-high heat.
Lay the marinated chicken tenders onto a paper towel-lined baking sheet to absorb the buttermilk. Salt and pepper both sides. Put as many tenders as will fit without crowding into the hot skillet (you may need to work in batches, depending on the size of your skillet). Cook for 4 minutes per side, then transfer to a baking sheet.
Add the figs. Drizzle a little olive oil over the figs, and put the baking sheet into the oven to cook for 15 additional minutes, or until a meat thermometer reads 165°F.
Remove from oven and divide the Gorgonzola among the figs so it can melt while you assemble the salad greens.
Toss the salad greens with the radicchio and a pinch of sea salt and pepper. Plate the salads with the chicken tenders and figs on top and pass the Balsamic Vinaigrette.
BALSAMIC VINAIGRETTE
Makes ¾ cup
¼ cup balsamic vinegar
1 teaspoon Dijon mustard
1 tablespoon chopped shallot
Sea salt and pepper
½ cup olive oil
Put the balsamic vinegar, mustard, shallot and a little sea salt and pepper in a jam jar. Give it a good shake, then let it rest for 15 minutes. Add the olive oil, shake again, and taste. Will keep in the fridge for a week.
Ellise Pierce is the Cowgirl Chef and author of COWGIRL CHEF:
Texas Cooking with a French Accent (Running Press). Read her blog
(www.cowgirlchef.com), follow her on Twitter (@cowgirlchef) and Instagram
(cowgirlchef)