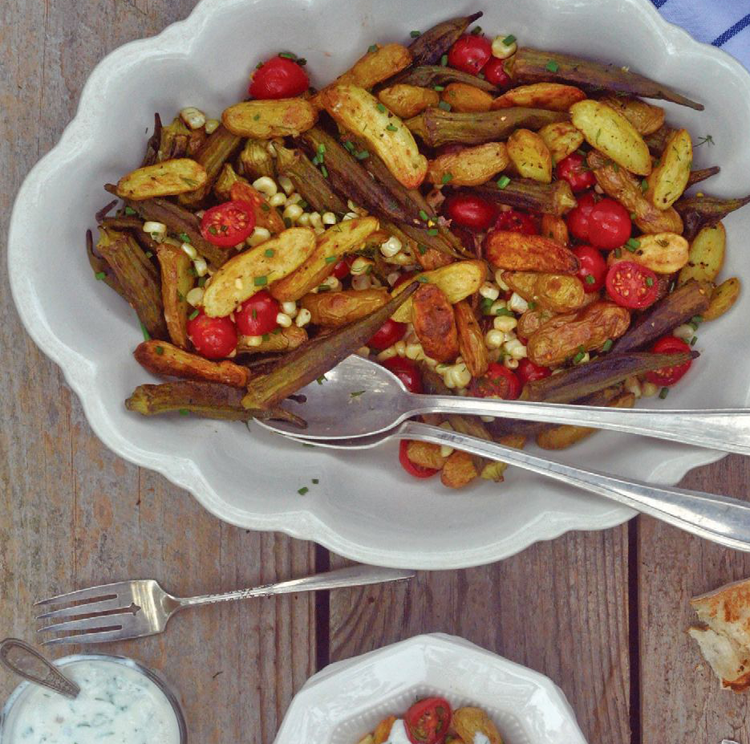 RECIPES AND PHOTOGRAPHY BY ELLISE PIERCE
Makes 6-8 servings
Buttermilk-Yogurt Dressing (Recipe follows)
1 pound okra
4 tablespoons olive oil, more for greasing the skillet (divided use)
1 pound fingerling potatoes, roughly the same size, halved
Sea salt and cracked pepper
1 ear corn, shucked
½ pint cherry tomatoes, halved
Small handful fresh dill, chopped
Small handful fresh chives, chopped
Make the dressing below and refrigerate until time to serve.
Preheat the oven to 425°F.
Put the okra on a large baking sheet. Drizzle with 2 tablespoons olive oil and sprinkle with salt and pepper to taste. Bake for 30 to 45 minutes or until well browned.
Put the halved fingerlings on another large baking sheet, add the other 2 tablespoons of olive oil, a little sea salt and pepper and toss. Put the potatoes insides down on the baking sheet and bake for 15 minutes or until browned on the bottom, then flip them over and bake for another 5 minutes or until cooked through—the smaller the potatoes, the less baking time it will take.
While the potatoes are roasting, put a little bit of olive oil in a skillet or grill pan and add the corn. Cook until lightly browned on all sides. Let cool, then slice off the kernels with a knife.
Toss the okra, potatoes and corn into a large bowl. Add the cherry tomatoes and chopped herbs. Serve with the dressing on the side.
---
BUTTERMILK-YOGURT DRESSING
1 cup buttermilk
1 cup Greek or full-fat yogurt
1 tablespoon lemon juice
1 tablespoon chopped chives
1 tablespoon chopped dill
1 tablespoon chopped basil
1 tablespoon lemon juice
1 tablespoon chopped shallot
Sea salt and pepper to taste
Whisk together all of the ingredients and taste for seasonings.
Ellise Pierce is the Cowgirl Chef and author of COWGIRL CHEF:
Texas Cooking with a French Accent (Running Press). Read her blog
(www.cowgirlchef.com), follow her on Twitter (@cowgirlchef) and Instagram
(cowgirlchef)