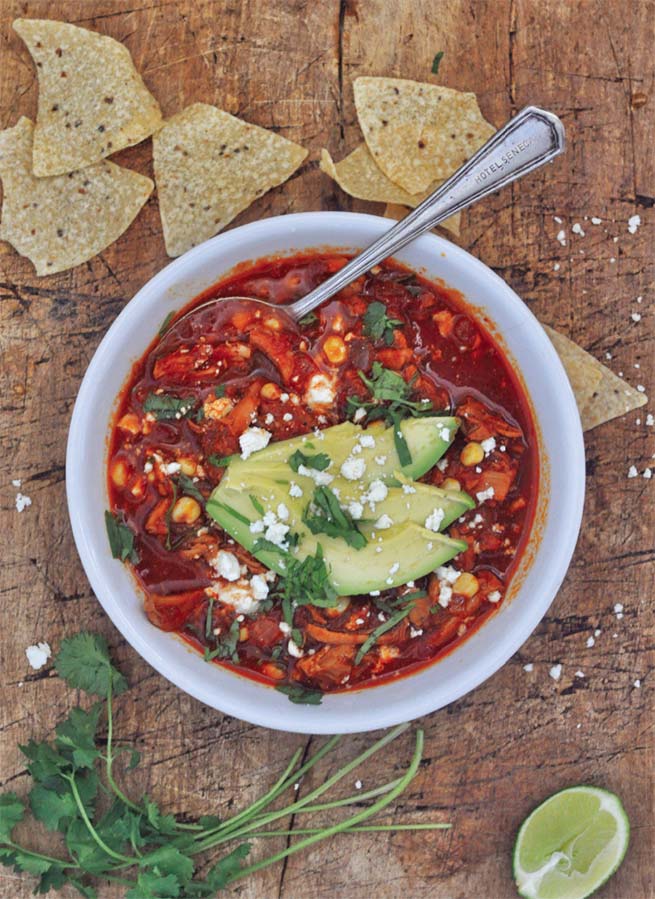 Marinating the thighs gives them an inside-out spiciness, and it tenderizes them, too. You' ll not need to wait a day for the flavors to come together for this chili—because they're already inside the meat.
Makes 6 servings
2 pounds boneless, skinless chicken thighs
Sea salt
1 cup Greek or full-fat yogurt
1 teaspoon ground cumin plus more for chili (divided use)
1 teaspoon chile powder
1 ear corn
2 ancho chiles
2 tablespoons canola oil
1 cup diced yellow onion
2 cloves garlic
1 (15-ounce) can crushed tomatoes
½ teaspoon smoky Spanish paprika
Cilantro, avocado, limes and tortilla chips for serving
Put the chicken thighs on a plate and salt them on both sides. In a bowl, whisk together the yogurt, 1 teaspoon cumin and chile powder. Put the chicken thighs in the bowl, and toss them to cover evenly with the marinade, and either simply cover with plastic wrap or transfer to a heavy-duty plastic bag and refrigerate for at least 6 hours or overnight. Preheat the oven to 425˚F.
Discard the marinade and put the chicken thighs on a parchment-lined baking sheet. Cook for 30 to 45 minutes, or until the internal temperature is 160°F. Note that the time may be less or more, depending on the thickness of your thighs. After the thighs are cooked, let them cool before shredding.
Save time: Cook your chicken thighs the morning before you want to make the chili.
Slice the kernels off your ear of corn. You should have about 1 cup. Set aside.
Remove the stems from your ancho chiles, split them open and remove the seeds. Toast the ancho chiles by putting them directly into a skillet without oil, over medium-low heat. Using a wooden spoon or spatula, press down on the chiles as they cook so as much of the surface area as possible has contact with the skillet's heat. Turn them over when they start to change color and repeat until softened. Put the chiles in a bowl, and put hot water over them to steep for 10 minutes or so. Once they've steeped, purée them, with the steeping water, in your blender or food processor.
Make the chili: put the canola oil in a large stockpot along with the onion and garlic over medium-low heat and cook until the onion softens, about 5 minutes. Add the shredded chicken along with the ancho chile purée, crushed tomatoes, paprika and corn. Add ground cumin, salt and pepper to taste. Let come to a boil, then reduce the heat to a simmer and cook for 30 minutes to 1 hour. Serve with cilantro, avocado slices, lime wedges and tortilla chips.
Ellise Pierce is the Cowgirl Chef and author of COWGIRL CHEF:
Texas Cooking with a French Accent (Running Press). Read her blog
(www.cowgirlchef.com), follow her on Twitter (@cowgirlchef) and Instagram
(cowgirlchef)