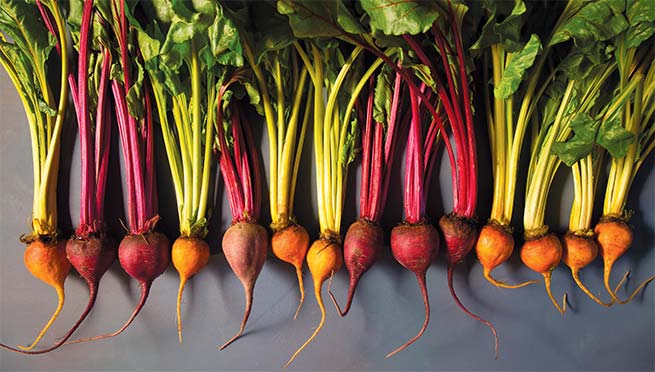 Photo: iStock.com/Ekaterina Molchanova
I could smell them simmering on the stove long before I made it to the kitchen. The acrid scent of vinegar assaulting my teenage nose. At first whiff, I'd run up the stairs and into my room, shutting the door behind me, hoping to seal myself off from what was to come in another hour or two.
Beets. I didn't get it. Not then. Not yet.
When I moved to Paris more than a decade ago, I was confronted with them again. I found them heaped in mountains at the markets, leafy long stems still attached, and in the grocery stores, not only in the fresh vegetable section, but in twos and threes, the size of tennis balls, vacuum-packed and already peeled and cooked. Still a beet-phobe, I figured that the French must know something about beets if they were everywhere like that, so one day I bought some to give them another try.
Too intimidated to buy them raw, I went for the precooked ones instead. In the confines of my tiny kitchen, I released them from their plastic packaging, their purply-red juices spilling all over the countertop and staining it instantly, and diced them into small, manageable pieces. Then I tossed the beets in a balsamic vinaigrette—French version of my mother's white vinegar stovetop steep—and let them sit for a while to absorb the liquid. Which they did. I can't remember what else I added to that first beet salad, but I know that I loved it instantly and haven't stopped buying—and eating—beets since then.
In the U.S., it's not easy to find beets precooked and peeled, but you'll find plenty of fresh ones flourishing in local markets this time of year. It's not that big of a deal to wrap them in foil and roast them in the oven while you're doing something else. Like baking a potato, it's not like they need to be tended to. An hour or so will usually do it. Then all you have to do is wait for them to cool, peel them, and stash them in the fridge until you're ready.
I can't really explain why I went from hating beets to loving them just like that. I tried them again out of sheer curiosity, and I wanted to like them. Turns out, I fell in love with their sweet earthiness and I've not looked back.
RECIPES
Like baking a potato, it's not
like they need to be tended to.
An hour or so will usually do it.
Ellise Pierce is the Cowgirl Chef and author of COWGIRL CHEF:
Texas Cooking with a French Accent (Running Press). Read her blog
(www.cowgirlchef.com), follow her on Twitter (@cowgirlchef) and Instagram
(cowgirlchef)