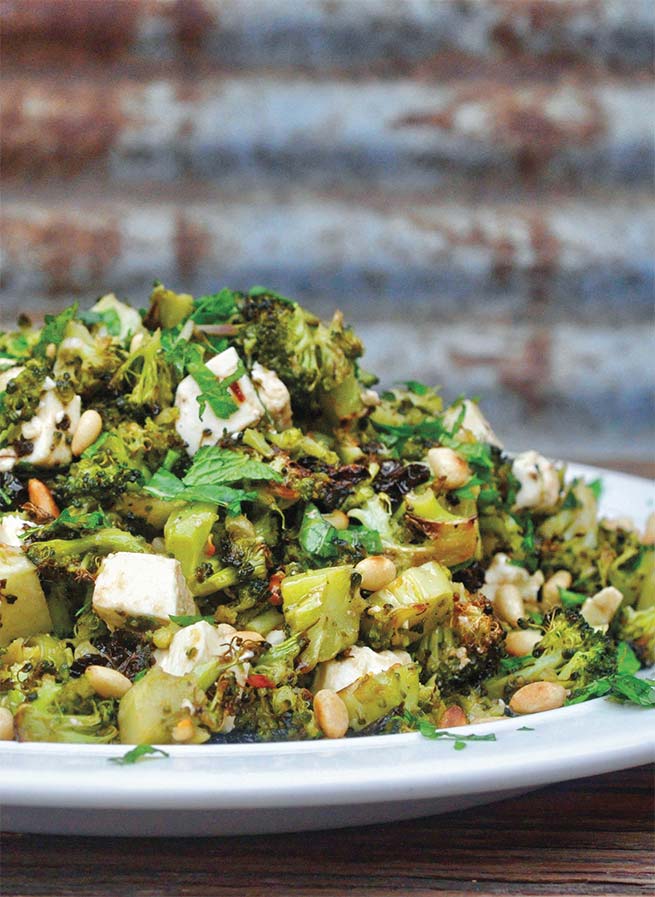 Makes 4 servings
1 head broccoli, florets removed
2 tablespoons olive oil plus more for serving
Sea salt and pepper
4 ounces feta
2 green onions
Small handful mint
Small handful flat-leaf parsley
¼ cup pine nuts, toasted
¼ cup Zante currants
Red pepper flakes (if you like a little heat)
Red wine vinegar
Balsamic vinegar
Preheat the oven to 425°F.
Chop the broccoli florets into smallish pieces and toss them onto a large baking sheet with the 2 tablespoons of olive oil and sea salt and pepper to taste. Roast for 20 minutes or so, or until nicely browned, turning once. Let cool, then put in a large bowl.
Slice the feta into ½-inch cubes and toss into the bowl with the broccoli.
Slice the green onions and chop the herbs and throw it all into the bowl, too, with the pine nuts and currants, and pepper flakes, if using. Add a splash of both vinegars and a little bit of olive oil and toss. Taste for seasonings. Serve at room temperature.
Ellise Pierce is the Cowgirl Chef and author of COWGIRL CHEF:
Texas Cooking with a French Accent (Running Press). Read her blog
(www.cowgirlchef.com), follow her on Twitter (@cowgirlchef) and Instagram
(cowgirlchef)