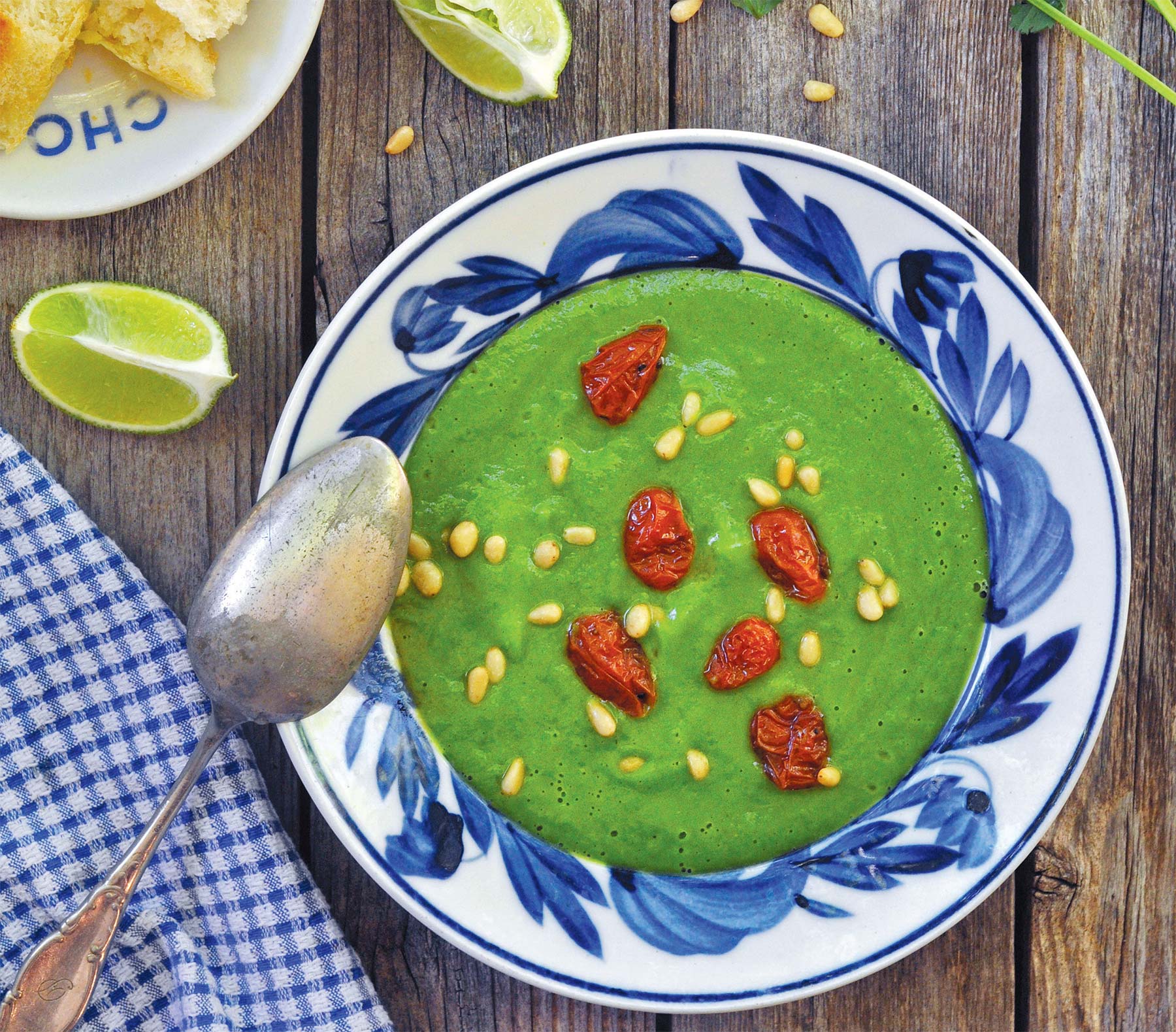 You know how people always say hot soups warm you to your toes in the winter? The same goes for cold soups in the summer. When the mercury in North Texas has passed the insanity mark, cold soups are my go-to for chilling down and for chilling out.
Admittedly, this isn't something I grew up with. But once I had my first taste of gazpacho while traveling through Spain, I was hooked. The cold bowl of blended vegetables, plus crispy croutons and boiled egg on top was like entering a whole other universe. My Texas version adds poblano peppers and takes advantage of our ripe, seasonal tomatoes.
My love for cold soups grew from there. Living in France, I learned that almost anything can be made into a cold soup. Warm potato-leek becomes a cool vichyssoise; one of the best carrot soups I ever tasted was served cold for a first course at a Paris bistro.
Despite the obvious cool-down qualities, most people I know don't think of making cold soups in the summer. But with vivid flavors like watermelon and yet another way to use our prolific zucchini, they're naturals. If you're not convinced yet, here's another reason to consider going cold with your soup: It's one of the quickest, easiest dinners you can make, and in many cases, you don't even have to turn on the oven.
RECIPES
Texas Gazpacho
Recipe and Photo: Ellise Pierce
To serve, bring your soup out of the fridge, pour it into bowls. Chop the eggs and add to the soup, along with some of the chopped cucumber, a bit of chopped almonds and croutons. Drizzle with olive oil.
Cold Zucchini and Cilantro Soup
Recipe and Photo: Ellise Pierce
Serve with a few pine nuts and roasted cherry tomatoes on top, plus a lime wedge for a squeeze of juice.
Watermelon Soup with Maple-Cashew Creme
Recipe and Photo: Ellise Pierce
When you're ready to serve: Pour the watermelon soup into shallow bowls and add a swirl of maple-cashew crème.
Ellise Pierce is the Cowgirl Chef and author of COWGIRL CHEF:
Texas Cooking with a French Accent (Running Press). Read her blog
(www.cowgirlchef.com), follow her on Twitter (@cowgirlchef) and Instagram
(cowgirlchef)