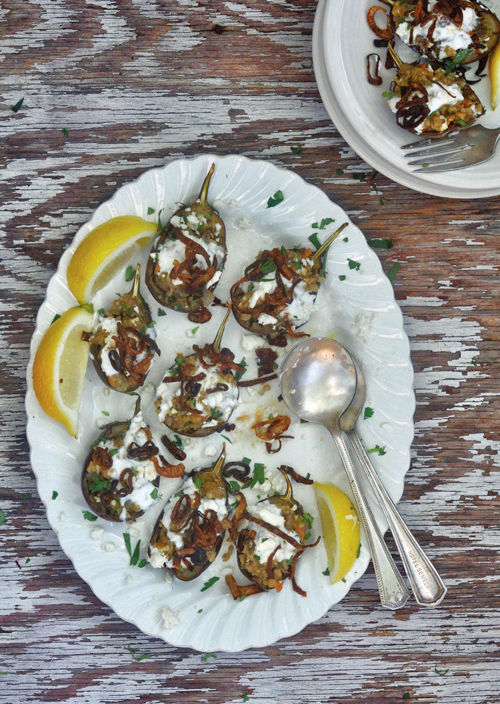 PHOTOGRAPHY BY ELLISE PIERCE
Makes 12 servings
12 baby eggplants
1/2 cup olive oil plus 2 tablespoons (divided use)
Sea salt and cracked pepper
1 cup diced onion
1 garlic clove, minced
4 cardamom pods
1 cinnamon stick
1 tablespoon chopped ginger
1/4 teaspoon ground cumin
1/4 teaspoon ground allspice
1 cup freekeh
1 carrot, grated
3 cups vegetable stock
4 ounces feta, crumbled, plus more for garnish
Small handful mint, chopped
Small handful cilantro, chopped
6 shallots, sliced
Canola oil
Lemon wedges
Preheat the oven to 425˚F.
Halve the baby eggplants and lay them out on a large baking sheet. Score them and brush them with the ®ˆ cup olive oil (you may not need that much). Sprinkle sea salt and pepper on top and bake until soft and cooked through, 30 to 40 minutes. Let cool and remove the flesh to a bowl.
While the eggplants are cooking, make the freekeh. Put remaining 2 tablespoons of olive oil into a medium saucepan over medium high heat. Add the onion and garlic and cook until fragrant, 5 to 10 minutes. Stir in the cardamom pods, cinnamon stick, ginger, cumin, allspice and salt and pepper to taste. Add the freekeh, grated carrot and vegetable broth, and let come to a boil. Reduce to a simmer, cover, and cook until the freekeh is done and all of the liquid has been absorbed, about 20 minutes. Let cool.
Add the cooked freekeh to the eggplant flesh, and add the crumbled feta, mint, and cilantro. Spoon this mixture into the eggplant shells.
Fry the shallots: Put them in a small saucepan with just enough canola oil to cover. Turn the heat to medium-low and let them cook until crisp, about 15 minutes. Remove and drain.
To serve, arrange the eggplants on a platter with the lemon wedges on the side, and add the feta crumbles, more herbs, and the fried shallots on top.
TIP: Fill out your tapas table with easy store-bought add-ons—a mix of black and green olives, spreadables like pestos and tapenades, slices of Manchego cheese, a baguette or two, and toasted pita chips
Ellise Pierce is the Cowgirl Chef and author of COWGIRL CHEF:
Texas Cooking with a French Accent (Running Press). Read her blog
(www.cowgirlchef.com), follow her on Twitter (@cowgirlchef) and Instagram
(cowgirlchef)