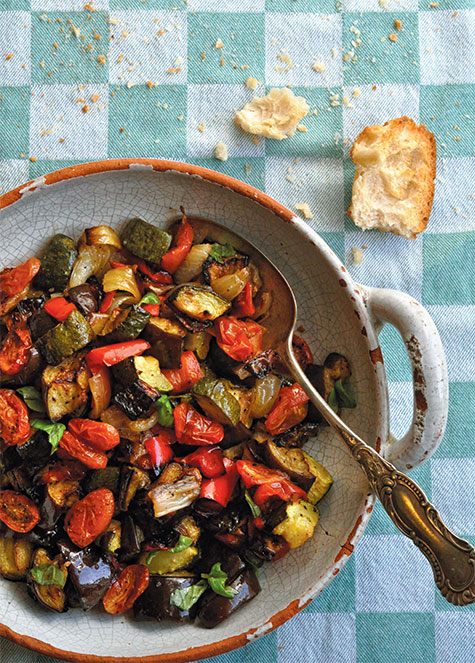 From COWGIRL CHEF by Ellise Pierce, Running Press, 2012
Makes 4 servings
1 eggplant, cut into ½-inch rounds, then quartered
2 zucchini, cut into ½-inch rounds, then quartered
1 red bell pepper, cut into ½-inch pieces
1 onion, chopped into ½-inch pieces
About 8 tablespoons of olive oil
Sea salt and pepper
12 halves of Oven-Roasted Tomatoes (recipe follows), quartered
4 large basil leaves, roughly torn
Preheat your broiler, and line 4 different cookie sheets—1 for each veggie, because they'll cook at slightly different times—with foil for easy cleanup. Position a rack in the middle of the oven.
Put your eggplant on 1 cookie sheet, and the zucchini, the red bell pepper, and the onions on their own cookie sheets, too. Drizzle some olive oil on both sides of your eggplant so it won't stick (eggplant loves to do this) along with a good sprinkle of salt and pepper.
Now oil, salt, and pepper the other veggies and roast them one pan at a time. The eggplant will roast the quickest—usually less than 10 minutes—so watch it carefully and flip the pieces over when the first side has lightly browned. Do the same with the zucchini and the red bell pepper pieces, making sure to evenly brown each side.
When you've roasted all of your veggies, let them cool slightly, then toss them in a bowl with the Oven-Roasted Tomatoes and torn pieces of basil, and either serve immediately or refrigerate. This is also great at room temperature.
Cowgirl Tip: This recipe is very forgiving. If you like more eggplant, then use more eggplant. Double or triple this for a large group.
OVEN-ROASTED TOMATOES
I like to put these in the oven before I go to bed and let them roast overnight.
6 ½ pounds of Roma tomatoes, halved and cored
Olive oil
Sea salt and pepper
Herbs de Provence
Preheat your oven to 200°F and put your tomato halves, insides-up, on 2 foil-lined cookie sheets. Drizzle with a good bit of olive oil, and then sprinkle with sea salt, pepper, and herbs de Provence. Pop into the oven and bake overnight, or for about 8 hours, until they're wrinkly and soft.
Ellise Pierce is the Cowgirl Chef and author of COWGIRL CHEF:
Texas Cooking with a French Accent (Running Press). Read her blog
(www.cowgirlchef.com), follow her on Twitter (@cowgirlchef) and Instagram
(cowgirlchef)