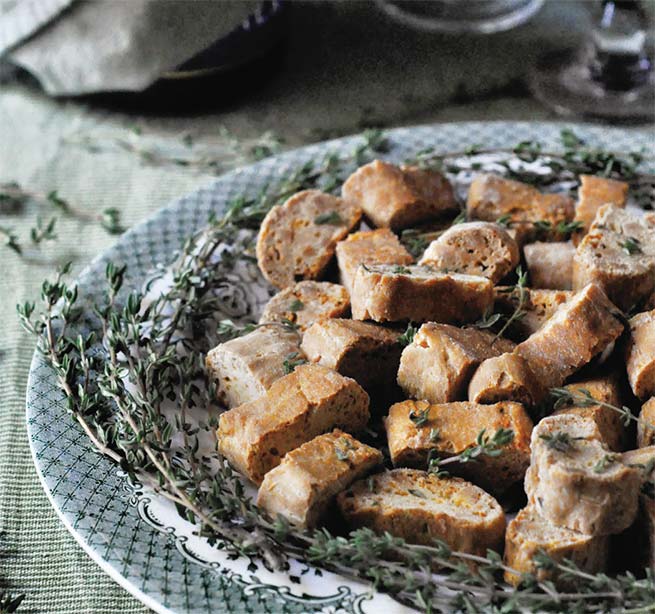 Recipes and Photography by Ellise Pierce
The holidays are upon us, and you know what that means— rushing to the mall to buy last-minute gifts, baking one more batch of cookies so you can take them to your hairdresser on the way to the mall, and trying to get the Christmas cards finished and mailed before Christmas this year. If only time could slow down, just a little, so you could actually enjoy yourself, because clichés aside, it truly is a magical time of year.
I would like to suggest a departure from the madness, a party that doesn't cause undue stress, a gathering that you can literally throw together in an afternoon, because it's what we all ought to be doing all the time, anyway—getting together with friends as often as possible, casual-like.
Something easy. Something simple.
Nothing to be carved or plated in a fancy way, rather something you can serve straight from the stove. It's easier that way for everyone— especially you. And using lots of seasonal fresh herbs gives you a flavor-forward thread.
First, a new recipe for savory biscotti, meant to be the first bite your guests have when they arrive, alongside Champagne. Made with Asiago, almonds and fresh thyme, these little cookies start the evening with just enough flavor to make for an interesting beginning that naturally segues into the main course.
Every time I make this chicken fricassee, I love it a little more, and I tweak it every time. In my cookbook as Paris Chicken, this recipe combines the idea of chicken cooked with chorizo in its original iteration, with one that's more Mediterranean with olives and red bells, and a jalapeño-spiked sausage, bringing my influences full circle, back home to Texas. Bay leaves and rosemary add layers of flavor and a very wintery, holiday-ish vibe. It's basically a flavor bomb going off in your mouth with each bite.
Whatever you do, don't forget to serve this with a crusty baguette or two for soaking up the juices.
I also dialed up the fresh herbs with sprigs of thyme scattered over a sheet pan of Brussels sprouts, easily roasted in the oven the last half-hour. The caramelized baby cabbages have enough personality to hold their own alongside the chicken, but not so much that they overwhelm. Plus the green color goes nicely with the red, staying in theme.
To herbify the dinner a little more, I created an herb-spiked olive oil that is as lovely drizzled right onto the main dish as it is served as a dipping oil alongside everything else. It's punchy and perfect, really, and keeps everything casual. You might want to make a double-batch and bottle some up to give as party gifts for your guests—ho, ho, ho.
If it's not too early to make a New Year's resolution, mine has to do with more Champagne with friends, and far more often.
RECIPES
Ellise Pierce is the Cowgirl Chef and author of COWGIRL CHEF:
Texas Cooking with a French Accent (Running Press). Read her blog
(www.cowgirlchef.com), follow her on Twitter (@cowgirlchef) and Instagram
(cowgirlchef)