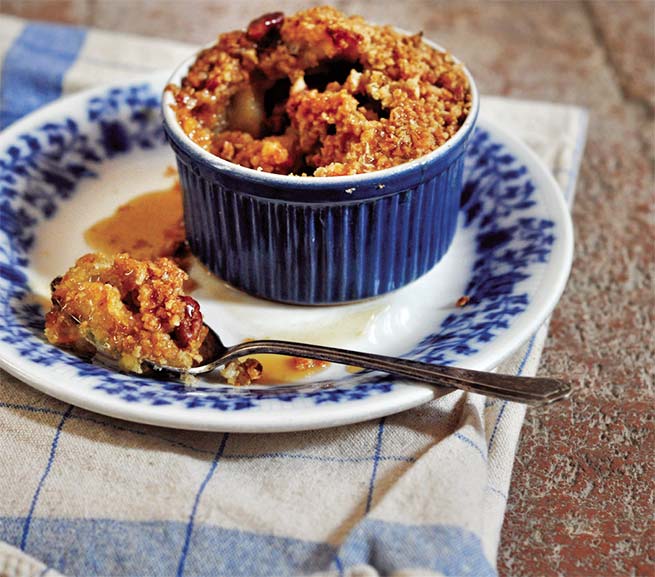 Makes 6 servings
2 to 3 tablespoons of butter, for greasing the ramekins
½ pound firm apples, such as Granny Smith
½ pound medium-firm pears, such as Bartlett
1 cup brown sugar (divided use)
2 tablespoons cornstarch
1 teaspoon fresh lemon juice
½ teaspoon freshly grated ginger
1 cup instant oats
½ cup all-purpose flour
1 teaspoon sea salt
1 stick (½ cup) butter, softened
½ cup pecans, toasted and roughly chopped
Apple Brandy Sauce (recipe follows)
Preheat the oven to 375°F and grease 6 (4-ounce) ramekins. Put these on a foil- or parchment-lined cookie sheet and set aside.
Peel, core and chop your apples and pears into ½-inch pieces. Toss them with ½ cup brown sugar, cornstarch, lemon juice and ginger.
Make your crumble topping by mixing together either by hand or in a food processor: the oatmeal, fl our, ½ cup brown sugar, sea salt and butter. Mix until combined, then fold in the chopped pecans by hand—this way, you'll have bigger pecan pieces throughout.
Divide the apple-pear mixture among the ramekins and top with a tablespoon or 2 of crumble topping. Bake for 45 minutes or until the top is brown and crispy. Serve warm with Apple Brandy Sauce drizzled on top.
Apple Brandy Sauce
3 tablespoons butter
⅓ cup brown sugar
½ cup cream
2 tablespoons apple brandy
Melt the butter and brown sugar over medium-low heat. Whisk in the cream, then the apple brandy. Serve right away, or make in advance and warm over very gentle heat.
Ellise Pierce is the Cowgirl Chef and author of COWGIRL CHEF:
Texas Cooking with a French Accent (Running Press). Read her blog
(www.cowgirlchef.com), follow her on Twitter (@cowgirlchef) and Instagram
(cowgirlchef)