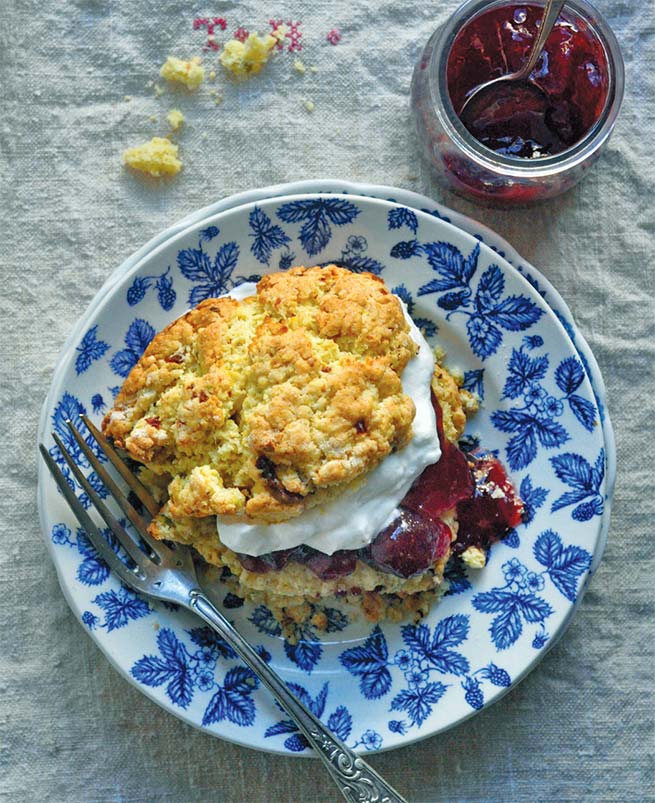 Makes 6 scones
Zest of 2 oranges
⅓ cup plus 3 tablespoons sugar (divided use)
2 cups all-purpose flour
1 tablespoon baking powder
½ teaspoon sea salt
4 tablespoons cold butter, cut into small pieces
2 large eggs
⅓ cup cream
¼ cup chopped pistachios
¼ cup chopped dried cranberries
1 cup heavy whipping cream
Preheat the oven to 425°F and line a baking sheet with parchment paper.
In a small bowl, rub the orange zest with the 1/3 cup sugar with your fingers—this way, the oils will perfume all of the sugar.
Combine the sugar and zest with the flour, baking powder and salt in the food processor and pulse a time or two.
Add the pats of very cold butter (I often freeze the cut cubes in advance) to the mixture, and pulse three or four times, or until you have large and small pebble-like pieces throughout.
With the motor running, add the eggs 1 at a time, then the cream.
Add the pistachios and cranberries and pulse until combined.
Turn dough out on a floured board, smashing it down with your hands so it's a large, flat disc, about 1-inch thick. Cut into 6 pie-like wedges and place on the prepared baking sheet. Bake for 15 minutes or until the edges are lightly brown.
While the scones are in the oven, put the whipping cream in a mixer bowl with the whisk attachment. Beat until it begins to thicken, sprinkle in the remaining 3 tablespoons sugar and continue until it's a soft consistency.
Serve the scones warm with whipped cream and jam.
Ellise Pierce is the Cowgirl Chef and author of COWGIRL CHEF:
Texas Cooking with a French Accent (Running Press). Read her blog
(www.cowgirlchef.com), follow her on Twitter (@cowgirlchef) and Instagram
(cowgirlchef)