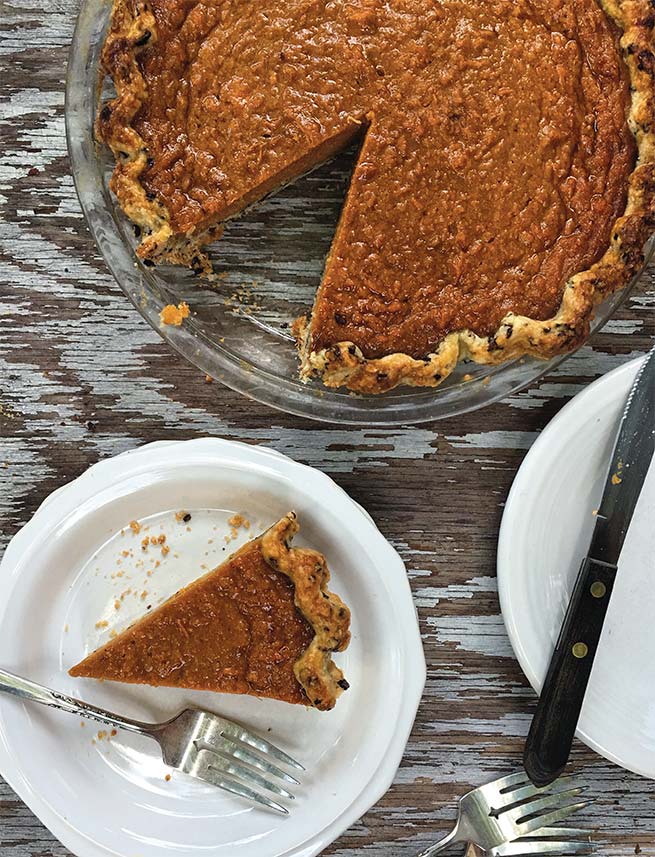 photo by Ellise Pierce
Makes 1 pie
1 ½ cups flour
3 tablespoons sugar
¼ teaspoon sea salt
¼ cup cacao nibs
1 stick (½ cup) butter, cold and cut into small pieces
2 egg yolks (divided use)
3 tablespoons ice water
2 cups mashed sweet potatoes*
½ cup cane syrup
Pinch sea salt
4 extra-large eggs
½ cup whipping cream
Make your crust. Put the flour, sugar, sea salt and cacao nibs in the food processor and pulse a couple of times. Add the butter and pulse until the mixture looks like large and small pieces of gravel.
Add 1 egg yolk and as much ice water as you need to form large clumps that stick together when you squeeze them—you may not need it all. Shape the dough into a fat disc, cover with plastic wrap, and refrigerate for 1 hour or place in the freezer for a half-hour, or until firm enough to roll out.
Preheat the oven to 375°F.
Roll out the dough and put it into an 8-inch pie pan. Pierce the crust with a fork on the bottom, pinch the edges and freeze for a half-hour or until the crust is super-firm. Brush dough all over with the second egg yolk beaten with a little bit of water.
Bake the crust for 20 minutes or until lightly browned.
While the crust is baking, make your sweet potato filling. In a mixer bowl, put the mashed sweet potato, cane syrup, sea salt, eggs and whipping cream. Pour into the crust and bake for 40 minutes or until the filling is set. Let cool completely before serving.
* To make mashed sweet potatoes, scrub a couple of large sweet potatoes and pierce the skins all over with a fork. Bake in a 450°F oven for 1 to 1 ½ hours or until you can easily slide a knife through the middle.
Ellise Pierce is the Cowgirl Chef and author of COWGIRL CHEF:
Texas Cooking with a French Accent (Running Press). Read her blog
(www.cowgirlchef.com), follow her on Twitter (@cowgirlchef) and Instagram
(cowgirlchef)