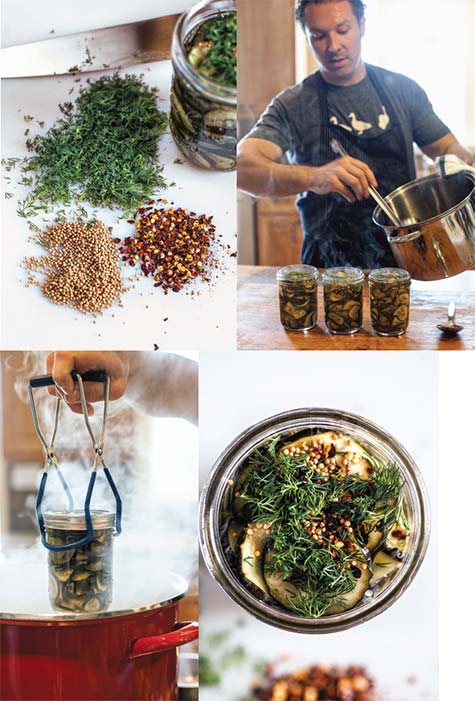 Photography by Melinda Ortley
An overabundance of cucumbers, berries, okra or tomatoes is a good problem for any gardener. For our great grandparents, the preserving of summer fruits and vegetables was a vital skill that kept a family prepared for the lean months. For those of us now reliant on well-stocked grocery store shelves, home canning can seem like a daunting task.
"It's a lot easier than you think," says chef Robert Lyford, co-owner of Patina Green Home and Market in McKinney, "and well worth the effort." For Lyford, canning is a seasonal ritual. "You're capturing summer in a jar," he says, while washing a colander filled with ripe blueberries. He adds that the first key to success is having fresh ingredients.
"When Sid Greer [of Greer Farm in Daingerfield] sends a bunch of berries my way, I head to the kitchen, turn on the Rangers Game—after I grab a cold beer— and start jamming. Before you know it, there's a stack of filled jars."
To prove his point, he demonstrated his canning techniques one morning at Luscombe Farm, home of Lyford's friend Leslie Luscombe, known for her award-winning jellies and jams. As we gathered around the large cooktop, the chef breezed through the making of two summertime favorites: blueberry jam and sweet pickles. Here are his recipes and a bit of advice for home canners.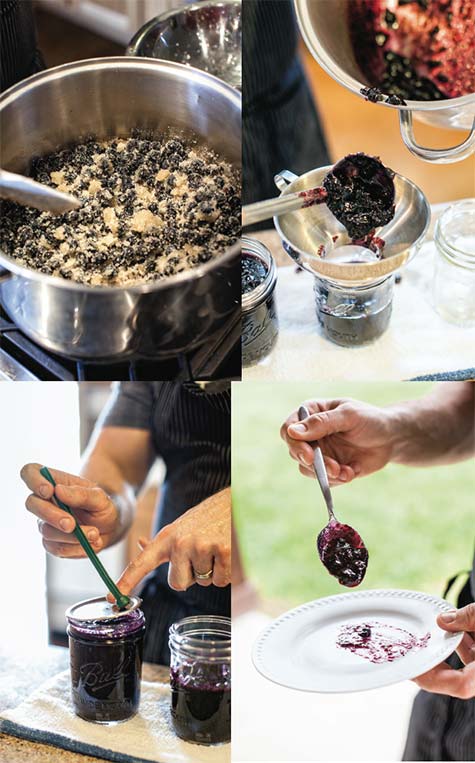 BEFORE YOU START
1. Beginners should invest in a step-by-step canning book. The process isn't hard but it's important to do it correctly. Lyford likes the Ball Blue Book Guide To Preserving. "It's got everything you need to know." Another good one is Put 'em Up! by Sherri Brooks Vinton.
2. Have all the proper utensils. Canning kits are available at kitchen and hardware stores. For accuracy, Lyford prefers a kitchen scale for measuring ingredients.
WHAT DO YOU NEED?
Canning jars with lids and rings
A wide-mouthed stockpot or canner with a canning rack
Canning tongs— designed to grip the mouth of hot jars
A bubble tool—to eliminate air bubbles when packing jars
Plus—a magnetic lid lifter, a wide-mouth funnel and a masher
3. After cooking, you may choose to simply cover your jars and save in the refrigerator. The contents will be good for up to 3 weeks.
If you want your food to have a shelf life, you must take further steps to preserve it. Consult your guidebook to lead you through the process of the water bath method. The contents will be good in a cool pantry for up to a year.
RECIPES
SUMMER CANNING CLASSES
1. PRESERVATION CAMP
Marilyn Simmons, Garden Inspirations, Waxahachie
214-842-2100 or www.gardeninspirations-tx.com $99
June 9, 16, and 23. 3-week course Monday evenings 7 p.m to 9 p.m.
We'll teach you to make jams, pickles and salsas, and you'll go home with a jar!
2. PRESERVING AT THE DEEP ELLUM COMMUNITY CENTER
With Andrea Bithell, the Garden Lady
Contact Kelly Cromwell 972-658-6236. Free.
Saturday June 21, 11 a.m. 2630 Comerce St., Dallas
Learn about various preservation methods: canning, pickling, dehydrating, freezing and fermenting.
3. PRESERVING FOOD COOKING CLASS
Chef Robert Lyford, Patina Green Home and Market, McKinney
972-548-9141 or www.patinagreenhomeandmarket.com $75
Thursday, July 3 from 6 p.m. to 8:30 p.m.
From curing to smoking, pickling to jamming, this class aims to use traditional preserving methods to make the most of seasonal ingredients. Class is held in the kitchen of the historic Luscombe Farm in Anna.
4. JAM MAKING
Chef Eva Greer, Greer Farm Kitchen, Daingerfield
903-645-3232 or www.greerfarm.com $85
Saturday, July 19 or Sunday, July 20
Mid-July is near the end of berry season on the farm. It's a perfect time to capture the flavor of our lush, sweet berries to enjoy throughout the year. This is also the time of the year when peaches from Pittsburg are at their peak. Take home three jars of jam.
5. CANNING & PRESERVING 1.0: THE BASICS
With Jim Shade at Urban Acres, Dallas 1605 N. Beckley Ave.
972-584-7667 or www.urbanacresfarmstead.com $65
For times and dates, check website.
Learn how easy it is to make your own preserves. This class will cover basic knowledge of safely canning and preserving using the water bath method. We will make preserves using local, seasonal organic produce. A hands-on class. Students will take home a jar of preserves.
6. CANNING CLASSES-THE URBAN HOMESTEADING SERIES
Sponsored by White Rock Local Market and Gecko Hardware
Classes at Gecko Hardware—10233 E. Northwest Hwy, Suite 409
Sign up at www.whiterocklocalmarket.org $30 per class
• Soda and Sauerkraut
With Lisa Staffelbach from 24 Carrot Health
Saturday, June 7; 10 a.m.— 12 p.m.
Make root beer and natural sauerkraut. Everyone goes home with samples from class.
• Salsa Soiree
With Carol Castillo, Cita's Salsa
Saturday, June 14; 10 a.m.- 12 p.m.
She will guide you through new and unique recipes. Make two kinds of salsa and take home a jar of each.
• Pickling Party
With James Felps from In A Pickle Foods
Saturday, June 21; 10 a.m. 12 p.m.
Make two types and take home two jars.
As a kid, TERRI TAYLOR refused to eat her vegetables. Her veggie-phobia was cured in 1977 when she spent eight months working on farms in Norway and France. She studied journalism at UT-Austin and received a master's degree in liberal arts from SMU. Her short story "Virginia" can be found in Solamente en San Miguel, an anthology celebrating the magical Mexican town of San Miguel de Allende. She has written for Edible DFW since its inaugural issue in 2009. She became the magazine's editor in 2010 and is the editor of Edible Dallas & Fort Worth: The Cookbook.