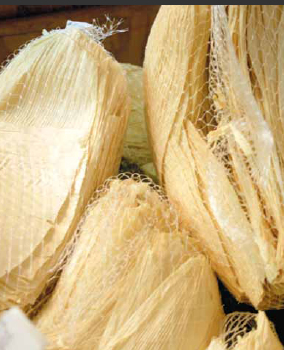 By Terri Taylor • Photographs by Karen McCullough
Ask a cook of Latin American cuisine to share her grandmother's favorite tamale recipe, and you'll probably come up empty handed. Instead, if you're lucky, you'll get an invitation to grab an apron and join her (and her grandmother) in the kitchen.
The art of creating tamales, the holiday season's ultimate slow food, is a gift that's been passed down from generation to generation, and the tricks of the craft are best learned at family tamaladas, or tamalemaking parties. In North Texas, the making and consuming of these flavorful little food packages have long been associated with Christmas, particularly for those with ties to the Latino community.
Steeped in rich tradition, the story of tamales begins with maize, the indigenous cousin of corn, which was the life source of the ancient civilizations of Mesoamerica. Masa, the dough made from its grains, was the base ingredient of many of the Mayan and Aztec food dishes, including tamales. Today's tamales are as varied as the countries of Latin America and differ between regions, towns and families. In simple terms, an individual tamal consists of a filling swaddled in a sheath of masa. This edible portion is further wrapped, typically with a cornhusk or banana leaf, to protect it during the cooking process.
"The secret to making great tamales is not in the recipe," says my friend Virginia Martinez as she bites into a freshly steamed tamal. "My sisterin-law Carmela is the expert in our family. We all help, but Carmela has the perfect hands for working with the dough. It's all in the touch."
Mrs. Martinez was born in Leon, Mexico and she treasures childhood memories of watching her mother and three aunts assemble tamales on Christmas Eve. Early in the day, she says, the piquant aroma of onion, garlic, and cumin wafted through the kitchen as the meats and vegetables were being simmered and sautéed. In the afternoon, after the ingredients were prepared, the women gathered on the family's plant-filled stone patio with their children nearby.
"Mamá and her sisters sat outside on small metal chairs around our picnic table," says Mrs. Martinez. "I remember the music of Sonora Santanera singing out from the radio. Bright ceramic bowls with the masa, the soaked hojas (corn husks), the shredded meats, roasted chilies and my mother's red mole sauce were on the table. The women would chat and gossip as they worked."
According to Mrs. Martinez, two of the women spread masa across the hojas, while the other two added the fillings. With a large spoon one woman swiped masa evenly across the husk, then handed it over to the next woman who layered the filling over the dough. For savory tamales, the contents included pork or chicken, frijoles, nopalitos, queso, green chilies, or a combination of several items. Mrs. Martinez flashes a broad smile as she recalls the sweet tamales filled with cinnamon-sugar, raisins, pecans, and cocoa, and wrapped in sugar-laced masa. The children were given the final task of folding the husk around the tamal.
"I was more interested in playing and sometimes wouldn't pay attention," Mrs. Martinez laughs, "When I didn't close it correctly, Mamá would get furious and tell me I wouldn't get my share if I didn't do it right. Of course, I wanted to eat so I'd straighten up."
After wrapping the tamales, her mother and aunts loaded them into the family's large tamalera, a cylindrical steamer that had been lined with the extra cornhusks to hold in moisture and add flavor.
"The women prepared close to two hundred tamales and the steamer was huge. Because gas for the stove was expensive, and the cooking time was a couple of hours, the steamer was placed over an outdoor fire pit," says Mrs. Martinez.
During the steaming process, the women headed to the kitchen to make atole, a warm, frothy corn-based drink traditionally served with tamales. Their family's version of the beverage was thick and flavored with canela (cinnamon), vanilla beans, and piloncillo (an unrefined Mexican brown sugar).
"As we played outside," say Mrs. Martinez. "We could smell the tamales steaming over the fire. From time to time, someone opened the lid to test and see if they were done. When the tamales easily pulled away from the husks without sticking, they were ready."
Thankful for their blessings, the family stood together around the tamalera and recited the rosary before eating.
"We'd stuff ourselves and dance. A little before midnight, the entire extended family would make the ten-minute walk to our parish church for midnight Mass. Christmas is still my favorite season to be in Mexico."
Mrs. Martinez hopes to instill in her own children, Diana, Kathy, and Pete and her grandson Joseph, the importance of honoring their heritage.
In her book "America's First Cuisines," author Sophie Coe says that paintings of objects resembling tamales have been found on classic Mayan vases. Fragments of Mayan pottery marked with boiler scale have also been discovered at archeological sites confirming the fact that tamales were probably steamed centuries before the arrival of the Spanish explorers.
"Tamales are the original to-go food," say Jesse Moreno, Sr., a proclaimed "Doctor of Tamology" and the proprietor of La Popular Tamale House in Dallas. "The Aztec and Mayan kings needed a food that was portable when their warriors went into battle and tamales were the perfect solution. They wrapped all sorts of things in masa."
The cooks of the New World discovered a procedure called nixtamalization, where ripened corn is processed with slaked lime (or wood ashes in ancient times), making it easier to grind and increasing its nutritional value. According to dieticians, this procedure enriches the corn, making it higher in calcium and niacin and easier to digest. By mixing beans with the processed maize, the indigenous people of the Americas created a diet that was superior to those in many other parts of the world at that time. Researchers have found evidence that household equipment for creating nixtamal from maize existed in southern Guatemala as early as 1500 B.C.
Nixtamalization is still used today. At Luna's Tortillas in Dallas, deep stainless steel troughs are scattered about the facility. Inside them vast amounts of corn kernels are being soaked in an alkaline mix of limewater. Soon it will be converted into nixtamal and then ground and finally made into masa.
A metate, a stone slab made from lava rock, sits on the display shelf. With hundreds of pounds of corn to process each day, Luna's retired this traditional utensil for grinding corn long ago. As we tour his company's facilities, owner Fernando Luna assures me that their large shiny corn-grinding machine has a lava rock incorporated into its design.
Though machines can aid in the grinding, the task of making perfect tamales still rests in the hands of individuals. In countless kitchens and restaurants, experienced tamale-makers still huddle together and craft these delicacies one shuck at a time.
Fernando Luna tells of a young woman who came into his store to buy masa. Impressed, he asked her if she was making tamales. She laughed and shook her head. She was buying it for her grandmother. She had no idea how to make them.
"I gave her a look," says Luna, "'Better start learning,' I told her. 'Before long, you'll be the grandmother.'"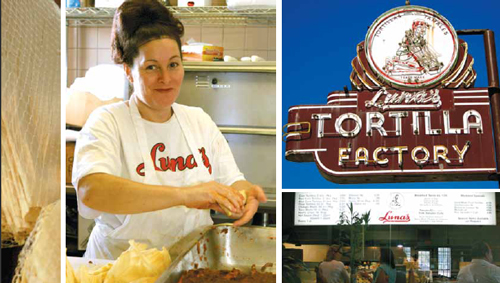 Luna's Tortillas
8524 Harry Hines Blvd. in Dallas
(214) 747-2661
www.lunastortillas.com
As we walk through Luna's expanded facilities, Fernando Luna stops beside a vat of soaking corn and tells me to listen to the music.
"My favorites are the traditional ranchera, bolero and mariachi music. Anything lively," he says. "We pipe it into the kitchen, the retail area, and even into the parking lot. Music brings smiles to the faces of our employees and customers and that makes me happy."
Behind the counter are his wife Margie and son Fernando, Jr. In the kitchen, several women are assembling tamales. Their hands move swiftly as they spread smears of white dough across the yellow husks. Of the company's fifteen employees, five have been with them for over thirty years.
"We sell masa, as well as a variety of tamales which can be ordered with a day's notice," says Luna. "Daily we offer pork tamales and breakfast tacos, along with tortillas, and a lunch special. On an average day, we sell about 200 dozen tamales. Of course that number skyrockets during the holidays."
Eighty-six years ago, Luna's grandmother Maria, a twenty-three year old widow with two children, immigrated to Dallas from San Luis Potosí, Mexico. While working in a N. Griffin Street grocery store, she bought a used corn grinder and began making masa for the Mexican people in her neighborhood.
Five generations later, an historical plaque marks the location on Caroline St. where she opened her first store in 1924. When Señora Luna's growing business needed an even larger space, she supervised the move to 1615 McKinney Avenue where the company remained until 2007.
At its Centennial Awards, the Dallas YWCA included Maria Luna on its list of women whose lives had made a meaningful and lasting contribution to Dallas. There is also a community park and a D.I.S.D food service facility named in her honor. The Luna Awards, presented annually by the Regional Hispanic Contractors Association, pay tribute to the achievements of Hispanic woman entrepreneurs.
"My grandmother was the heart of the company," say Luna, "Then it was my father (Francisco "Pancho" Luna) who took the business to new heights."
Today the customers who buy Luna's high-quality masa include upscale Southwestern chefs like Dean Fearing and Stephen Pyles. Demand for the ready-made product is huge. The massive silo emblazoned with the Luna family logo that stands just outside Luna's new entryway holds twenty-four tons of Texas corn and during the two days leading up to Christmas, Luna will sell over 5,000 dozen tamales. They've already started stocking their freezers.
"We've thought about the possibility of offering tamale-making lessons," says Luna. "Twenty years ago on Christmas Eve, you'd find two equally long lines waiting outside our doors. The line to buy tamales was mainly filled with Anglo faces and the line to buy masa was filled with Latin American faces. Today the tamale line is much longer. There are a lot more Hispanics choosing to buy the finished product. We love selling tamales, but I hope the family tradition of making them together doesn't become lost."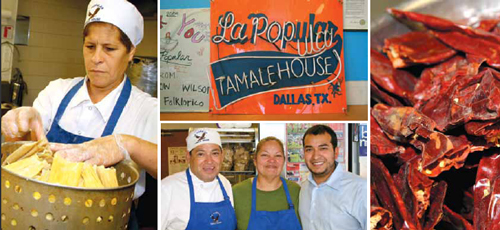 La Popular Tamale House
5004 Columbia Ave. in Dallas
(214) 824-7617
Only a stone's throw from the skyscrapers of downtown, La Popular's cheery little storefront is tucked into a corner of Old East Dallas at the intersection of Munger and Columbia. Its owners, the Moreno family, have lived in this neighborhood for forty years and their pride and involvement in the community is obvious by the local awards, posters and mementos displayed in the store.
North Texas food critics and aficionados of Tex-Mex cuisine have long sung their praises, making La Popular's tamales some of the toughest to attain during the Christmas rush. During the rest of the year, however, there's plenty to go around. Their take-out cases are filled each day with a variety of tamales, tortillas, salsas, barbacoa, menudo and more. They also offer catering services.
Sipping a tamarind-flavored Jarrito's soda, I check out the selection as Jesse Moreno Jr. describes how his family-owned business began in 1984.
"My dad (Jesse Moreno Sr.) and his family came to Dallas from South Texas when he was a boy," says Jesse Jr. "His family was originally from Acuña, across the border from Del Rio. His father had owned a retail store in Mexico. When my dad went to SMU, he thought he wanted to be a banker but his heart wasn't really into it. Cooking had always been his passion. My grandmother remembers him climbing on to a chair to help her when he was a kid. Eventually he went to culinary school and was fortunate to have influential mentors who encouraged him along the way."
The elder Moreno culled his skills working at a variety of restaurants and in the '70's began a chip and tortilla business. It wasn't until a wintery night in the '80's that Jesse Sr. got the idea to open La Popular. "My mom (Amelia) was pregnant with my oldest sister Maria," says Jesse Jr. "and she was craving menudo (a Mexican soup). The streets were iced-over and there had been a little snow, so my dad set out on foot to the local tienda. Luckily it was the weekend, which was the only time they made this particular dish. As he trudged along, an idea popped into his head. Why not open a take-out store that offers Mexican specialties every day?"
Before too long, La Popular – and Maria – were born.
Thanks to another sister, Vanessa, La Popular's menu was eventually expanded.
"She was never a fan of pork or beef so she convinced my father to add chicken and veggie tamales to our menu. We also began using vegetable oil instead of lard. Those additions definitely increased our clientele," says Jesse Jr. "But we do have our limits," he adds with a laugh. "Goat-cheese tamales, for instance. For us, that's veering too far from tradition."
Seasonal specialties like sweet potato stuffed tamales in the winter and black-eyed pea tamales for New Year's, have emerged from family brainstorming sessions and have been extremely successful. La Popular also makes customized tamales for customers who have their own fillings.
"We've made tamales from venison, quail, fish and buffalo," says Jesse Jr. "You bring in the filling and we'll create the finished tamale." He emphasizes that they grind their own corn and that their meats have no filler or added fat.
"My father has always been adamant about using the highest quality of ingredients and trying to find what we need at the Farmers Market," says Jesse Jr. "Everyone in the family who takes part in the business is expected to be knowledgeable in everything from taking out the trash to managing the kitchen. Even my niece and nephews, who are all younger than nine, are involved. We can already see which one has the business savvy and who's going to be the chef."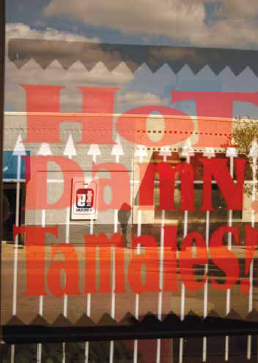 Hot Damn, Tamales!
713 W. Magnolia Ave. in Fort Worth
(817) 926-9909 or toll free (877) 826-2539
www.hotdamntamales.com
An Elvis phone with swiveling hips bobbles on the counter: your first clue that "Hot Damn, Tamales!" isn't exactly your grandmother's traditional tamaleria.
The Elvis relic alludes to this quirky little establishment's catchy name. Legend has it that during one of Elvis' recording sessions, after flubbing the words of "Can't Help Falling In Love," the King yelled into the microphone, "Hot damn, tamales!"
Located in a refurbished 1920's building on Magnolia Avenue near Fort Worth's Hospital District, Hot Damn Tamales has recently been remodeled and more tables and an outdoor patio have been added to this lunch-only restaurant. Like most other DFW tamalerias, the business is owned and operated by a family that's proud of its roots. What sets the Stavron family apart from the others, however, is that their heritage is rooted in Greece, rather than Latin America.
"We're Fort Worth natives and fourth-generation Greek-Americans," says Constantine Stavron, the company's chief "Tamale Officer." "I have more Christmas memories of baklava, than tamales. Although that's certainly changed in the last ten years."
Tamales entered the picture and transformed their lives in 1996 while Mr. Stavron and his sister Angele were students in Austin.
"My sister made the first batch of 'Hot Damn Tamales' and took them to a vegetarian potluck party around the holidays," says Mr. Stavron. "She made them vegetarian by choice and vegan by coincidence. Traditional tamales are usually laden with lard. People were shocked to find tamales stuffed with red bell and Serrano peppers and carrots and all sorts of healthy stuff. The response was tremendous and we knew that we were on to something."
They continued experimenting with their fillings, and after mastering more vegetarian recipes; their father suggested that they try selling gift baskets online.
"In the mid-90's, there weren't many people selling things on the Internet," he continues. "Particularly food. We eventually outgrew our home kitchen and had to rent space in a bakery after hours. We couldn't get in to cook until after 3 a.m."
They returned to Fort Worth in 1999 and opened their first storefront. As demand grew, they added tamales with meat, as well as a variety of seasonal and sweet tamales, like Mardi Gras Crawfish Tamales and Mexican Pancake Tamales stuffed with cranberries, jalapeños and roasted pecans.
Angele eventually left the company to follow other pursuits and now Constantine supervises the thriving mail-order business, while their mom Ione Stavron manages the kitchen and restaurant operations.
"After Texas, most of our online orders come from New York, with Florida and California not far behind," he says. "Our most popular meat tamale is the beef tenderloin, beer and jalapeño and the top vegetarian is a tie between black bean with Oaxaca cheese, and mushroom with goat cheese."
While the company's nouvelle-cuisine style of fillings has raised eyebrows in some traditional circles, other gourmands, particularly veggie lovers, appreciate the creativity of their combinations. Recently, giving a nod to their heritage, the Stavrons added their latest creation: the Greek tamale with spinach, pine nuts and feta cheese.
As a kid, TERRI TAYLOR refused to eat her vegetables. Her veggie-phobia was cured in 1977 when she spent eight months working on farms in Norway and France. She studied journalism at UT-Austin and received a master's degree in liberal arts from SMU. Her short story "Virginia" can be found in Solamente en San Miguel, an anthology celebrating the magical Mexican town of San Miguel de Allende. She has written for Edible DFW since its inaugural issue in 2009. She became the magazine's editor in 2010 and is the editor of Edible Dallas & Fort Worth: The Cookbook.