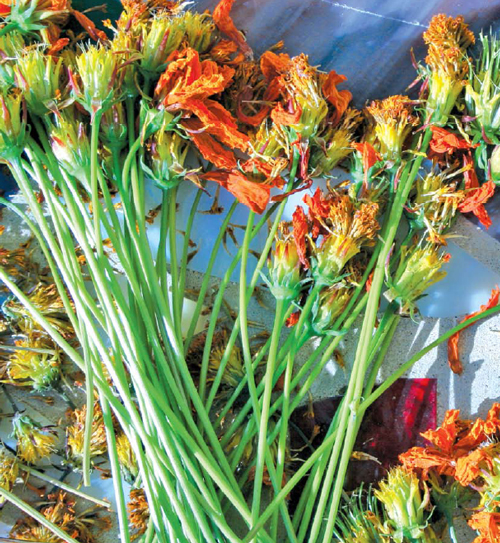 By Terri Taylor
LESSON ONE
"The garden must be prepared in the soul first,
or else it will not flourish."
—English Proverb
"We're told to slow down and take time to reflect. What better place to do this than a garden?" asks Jean Bothe as she gives me a tour of her butterfly-rain garden. "Here the sun gleams across the crushed granite pathways, the butterflies drift on the breeze and enjoy nectar from their choice of flowers, the bees busily gather pollen to make honey, like the spoonful I stirred into my coffee this morning."
After months of gentle nurturing, Jean's garden hums with life. She has turned a scrappy patch of East Texas dirt into a verdant sanctuary for buzzing honeybees, a myriad of colorful butterflies, and a host of other beneficial insects. In the process, this recently retired educator has created her own peaceful refuge: a place where she can go to marvel at nature's small miracles. Jean's yard has become her new classroom and Mother Nature, her teacher.
After constructing "the greenest house in Henderson County," Jean, a thirty-three year veteran of the teaching profession, and her husband Michael Fladmark, formerly an engineer with Hunt Oil and now actively consulting with oil and gas exploration companies, began transforming the land surrounding their new home into a series of
abundant gardens. Though their ultimate goal was to plant vegetables, their first project was to create a flower and herb garden that would attract a colony of good insects, birds and other wildlife. Among these beneficial creatures were the pollinators—bees, wasps, butterflies and hummingbirds, assistants in the life cycle of plants, and
the helpful predators, praying mantises, lady bugs, green lacewings and others, feeders on the harmful pests. Jean and Michael wanted to create a pesticide-free habitat, one that would provide their natural gardening partners with shelter and a year-round source of food.
"When people use chemicals to kill their garden's pests, they forget that they're also eliminating many of the valuable critters that contribute to the health of their plants," Jean states. "For me, maintaining nature's balance is crucial."
LESSON TWO
"A good garden may have some weeds."
—Thomas Fuller (1608-1661)
When Jean and Michael first began construction on their house overlooking Cedar Creek Lake, most neighbors expected the worst: more greenery sacrificed for another ho-hum house. Their woodsy neighborhood had already been inundated with new development. Unbridled spec builders were gobbling up every inch of land, knocking down shade trees and clearing native brush at a frightening pace. The wildlife was in revolt.
But when two galvanized steel rain barrels appeared on either side of the metal-roofed, native stone house still under construction, it was apparent that its owners were innovators. The shiny silver cisterns for harvesting rainwater had been added in anticipation of their future gardens. Jean and Michael also chose a host of other environment-friendly features, including geo-thermal air-conditioning & heating, a gray water recycling system, and solar tubes for indoor lighting. Soon the neighbors were intrigued with the new eco-home.
A traditional, water-gulping lawn was never a part of the plan. Outside of the garden, Jean and Michael have left the land in its natural post oak prairie and woodland state,
adding a few native plants as fillers. In the backyard, a swath of buffalo grass spreads out from the expansive wooden deck to the raised vegetable beds. Limestone rock culled from the building process has been recycled into low walls along the south property line and used as edging around the flowerbeds and pathways.
"We've kept all the pretty flowering weeds and native grasses that the insects love. After all, commercial flowering plants were derived from weeds," Jean reminds me. "While everyone else mowed and trimmed their grass throughout the hot summer, we sipped fresh mint mojitos and watched the sunsets. Our mower stayed in storage."
LESSON THREE
"In the spring, at the end of the day, you should smell like dirt."
~ Margaret Atwood, writer
After the building crews had vanished, Jean and Michael began the task of enriching the plot of sun-drenched dirt on the sloping south side of the house where their butterfly-rain garden would soon take shape. During the months of home construction, the good soil had been scraped away and all that remained was the packed East Texas clay, better known as muck during the rainy season. This is the same earth that the Native Americans who once lived here formed into pots.
"There's a big difference between dirt and soil," Jean explains. "Dirt's the stuff on the bottom of your shoes. It's the stuff that the dogs drag through the house before you can grab them. What we have created here is SOIL—the rich crumbly stuff where earthworms and other critters live—where the spring robins find their next meal. This soil is a living organism."
Over time, Jean turned depleted dirt into nutrient-rich soil organically. She started by gathering pine needles and forest leaves and layering them across the dirt clay surface. She canvassed the neighborhood and collected the gathered leaves that her neighbors had raked and bagged for the landfill. With her little yellow cart filled to the brim, she dragged it about, scattering chipped debris and clippings on top of leaves, which rested on top of the dirt. Later she experimented by adding granular molasses, green sand and volcanic ash to her mulch mix.
LESSON FOUR
"To one who does not know, a small garden is a forest."
~ Ethiopian Proverb
With this rich floor in place, it was time to wait for nature to do its thing. According to Jean, it wasn't long before the soil, grasses and leaves were bustling with activity.
"Tiny beneficial wasps, bees, caterpillars, garden spiders and interesting bugs of all sorts began to make themselves known as they skittered and climbed about," she says. "Earth worms, little toads, praying mantises, lady bugs, skinks and anole lizards miraculously appeared."
As she speaks, a dragonfly flits past us, its slender body the hue of molten lava. On a nearby passionflower vine, a spiny orange caterpillar munches on a glossy green leaf. Jean shows me a craggy brown chrysalis that hangs from a nearby branch and then some butterfly eggs on another part of the plant. There are several gulf fritillary butterflies
fluttering nearby. Scattered about the vine's serpentine limbs are all stages of a butterfly's life.
And there are other types of butterflies as well: skippers, named for their darting habits and buckeyes, with eye-like dots on their wings. There are hairstreaks, yellow sulphurs, and a regal amber-and-blackwinged monarch. They hover around the lavender verbena, the lantana and the clusters of butterfly weed.
LESSON FIVE

"A flower cannot blossom without sunshine
nor a garden without love."
~ Chinese Proverb
"In June, I planted a few perennials," Jean recalls. "First there was rosemary, which smelled divine when the wind blew, and Mexican salvia, with its long, white-fringed purple flowers. It endured the Texas heat with no problem. I also planted autumn sage, which bloomed red throughout the summer and attracted the hummingbirds, and a sprinkle of other plants that were drought tolerant."
By summer's end, the garden blossomed brightly with zinnias and petunias, with honey-scented black foot daisies and delicate rain lilies, with crimson cockscomb and purple asters. For the hummingbirds, Jean planted several cigar plants with firecracker-red, tubular blooms. For the kitchen, there were chives, curly parsley, Italian oregano, fennel, mint, and dill. Trellises with pastel yellow and white Lady Banks roses were built around the giant twin rain barrels, which stored more than enough water to provide for the plants throughout the summer and autumn.
Sunny yellow cosmos flowers created the garden's showiest display. Spanish priests cultivated these cheery flowers in the mission gardens of Mexico, their name derived from the orderly arrangement of their petals and the Greek word for an ordered universe or harmony.
With the butterfly-rain garden in place, Jean and Michael spent the winter months laying out plans for their phase two vegetable garden. They studied seed catalogues and placed their order with the Baker Creek Heirloom Seed Company. During the early weeks of January, Michael constructed four boxes of raised beds using recycled redwood planks from the deck of their former Dallas home. He filled each with an organic mix of mushroom soil, compost, lava sand and expanded shale to loosen the soil and assist with drainage. Two boxes measure 4' X 4' and the other two 4' X 6'. Each sits twelve inches on top of the ground and is edged with a small seating ledge to make tending easier. Jean and Michael are looking forward to their first batch of spring vegetables, which will include garlic, chives, spinach, carrots, broccoli and a variety of salad greens.
"When I reflect on my life, I realize that some of my best memories of bliss were in a garden," says Jean. "When I'm among green things, my blood pressure is noticeably reduced and I start to feel Zen-Full. I think the Far East folks are on the right track." And so is this East Texas woman who is passionate about her gardens.
Michael and Jean in the garden with her grandmother's pitchfork.

RESOURCE LIST

Jean and Michael's Gardening Gurus:

GARDENING STORES
Check out the demonstration gardening displays at the following locations:

RAIN BARRELS
As a kid, TERRI TAYLOR refused to eat her vegetables. Her veggie-phobia was cured in 1977 when she spent eight months working on farms in Norway and France. She studied journalism at UT-Austin and received a master's degree in liberal arts from SMU. Her short story "Virginia" can be found in Solamente en San Miguel, an anthology celebrating the magical Mexican town of San Miguel de Allende. She has written for Edible DFW since its inaugural issue in 2009. She became the magazine's editor in 2010 and is the editor of Edible Dallas & Fort Worth: The Cookbook.