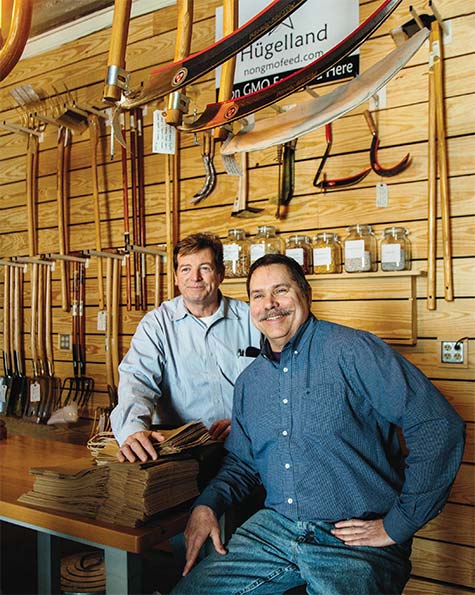 Bill Dougherty and Fred Owen
Photography by Kelsi Williamson
If you think the Dallas Design District is an unlikely location for a feed store, it's time to pay a visit to the Trinity Haymarket. Like the fashionable galleries and trend-setting restaurants that surround it, Trinity Haymarket is a purveyor of quality items. No, it doesn't sell designer sofas or dish up five-star cuisine—at least not to humans. But chickens swoon over the store's dried mealworms and non-GMO feed, and their high-end hen houses and European-style scythes are meant to impress. Dreamy stuff for small-scale farmers and their feathered friends.
Seeing the growing interest in edible yards with backyard chickens and beehives, Fred Owen and Bill Dougherty knew that the time was right for an urban feed store, particularly one that was in step with the sustainable farming movement.
"Our customers come from all over the city and from rural areas too," says Owen, a Fort Worth native who recently retired from a 35-year career in the oil business. "We're right across the bridge from Oak Cliff and close to the Oak Lawn exit off the Tollway. We're convenient to North Dallas, South Dallas and beyond. And parking's a breeze."
The specialty of the house is non-GMO, non-soy, and organic feed for chickens, turkeys, pigeons, doves and wild birds, as well as for larger barnyard creatures: dairy cows, swine, horses and goats. "Quality feed was our priority from the start," says Owen. "And because we have our own chickens [named after Dougherty's great aunts] and are experienced beekeepers, we wanted to promote those things too." Their expertly crafted henhouses would be the pride of any flock. They also sell hay, straw and fodder.
The store is located in the boiler room of what was once a warehouse for the Buster Brown Shoe Co. In the adjoining annex space (shared with fine art auctioneers), Owen and Dougherty display their model henhouses and offer monthly classes on topics such as the basics of raising chickens, straw bale gardening and composting, each taught by experts.
To attract apartment dwellers in the neighborhood, the store also carries artisan items—soaps, teas, lotions, candles—and locally sourced goods, like coffee from Noble Coyote Coffee Roasters, jams from JJ&B, honey from the Texas Honeybee Guild and Wackym's Kitchen Cookies.
The store offers a great selection of open-pollinated heirloom seeds. "The only way to truly know the origins of what you're eating is to grow it yourself," says Dougherty. "That's our motto. Whether a little or a lot, just try to grow something."
Like Owen, Dougherty began his post-college career with an oil company but he switched gears during the economic downturn of the '80s and jumped into the world of art restoration, which explains his deep–rooted connection to the Design District.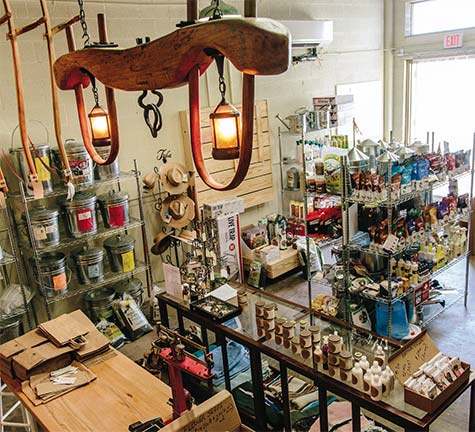 He calls himself an "ox guy," having grown up at a time when teams of oxen were still being used in New England. The store's centerpiece is an extraordinary chandelier Dougherty crafted from an oxen's yoke. Carved from American elm, it was sent to him from an Amish farmer in Ohio.
"Fifteen years ago—long before the store—my idea of getting away from it all was to attend workshops on animal husbandry and learn about farm tools," says Dougherty. "I would go to a place in Michigan called Tillers, run by a group of Mennonites who do philanthropic work all over the world. And they still use oxen. Somehow I knew that sometime in my life, this knowledge would come in handy."
An artful display of unique pitchforks, hoes, sickles and rakes—all for sale—hangs from the store's wood-planked wall. Others implements, like their Marugg scythe with its Austrian hand-forged blade and American-made oak shaft (snath), dangle gracefully from the ceiling "Look at that blade," says Dougherty. "You could shave with that thing."
He has a passion for tools, especially those with distinct design features. "You won't find most of these anywhere else in Texas," he says, pulling down a giant hoe. "This one is a grape hoe, the mother of them all. It's used in vineyards but it'll chop the daylights out of backyard weeds. Some tools will cripple you, but these are perfectly weighted."
Dougherty grew up 50 miles north of New York City in a small town, where his Irish parents and their neighbors kept cows, rabbits, pigeons and chickens, and planted kitchen gardens. When he was a boy, his grandfather gave him a rooster and two hens, purchased from a local rabbi, an affable man who owned a shop filled with cages of live birds. "Let's see what you can do with these," his grandfather told him. Before long, he was supplying the neighborhood with eggs. Trinity Haymarket is a full-circle return to the colorful memories of his childhood.
While other boys were being lectured about the birds and the bees, his dad sat him down for a serious father-to-son chat about caring for animals. "My parents and grandparents were full of Irish wisdom," he says. "When my dad put me in charge of our rabbit hutch, he gave me 'the talk.' He said, 'Always remember that animals are gifts to us. While they're in your care, treat them well. And give them your respect.' I've never forgotten those words."
"The only way to truly know the
origins of what you're eating
is to grow it yourself."
As a kid, TERRI TAYLOR refused to eat her vegetables. Her veggie-phobia was cured in 1977 when she spent eight months working on farms in Norway and France. She studied journalism at UT-Austin and received a master's degree in liberal arts from SMU. Her short story "Virginia" can be found in Solamente en San Miguel, an anthology celebrating the magical Mexican town of San Miguel de Allende. She has written for Edible DFW since its inaugural issue in 2009. She became the magazine's editor in 2010 and is the editor of Edible Dallas & Fort Worth: The Cookbook.