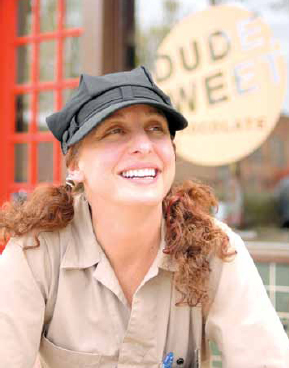 Push-Up. Pop. Float. I'm a kid in a candy store looking greedily over the shoulder of chocolatier extraordinaire Katherine Clapner. She is capturing summer in a glass, and I'm eager to have a taste.
Chef Katherine's pixyish auburn pigtails swing to and fro across the top of her khaki-colored Dickies workpants as she assembles her version of the effervescent seasonal classic, the ice cream float. Though best known for her artisan chocolates, today she is whipping up a Push-Up Pop Float for our Edible Dallas and Fort Worth photo shoot.  It's a new item, soon to be added to her Dude, Sweet Chocolate shop's summer menu. But "soon to be added" is not soon enough for this kid. Summer is still weeks away, and I don't think I can wait.
Dude. Come on. Let's taste it now. Lucky for me, the Head Dudette agrees.
S-W-E-E-T! Several of us take turns enjoying long selfish sips from a communal straw. I give no regard to germ-phobia. I'm too entranced with this chocolaty, peanut buttery, banana-tinged concoction. The master confectioner has added some unexpected twists to elevate her drink to the highest realm of delectability. Within minutes, the shared glass has been sucked dry, leaving us with nothing more to photograph. Umm, how about another one?
In Chef Katherine's own words, her Push-up Pop Float is "rad, fun and kinda wacked-out." In the best sense of that phrase, the same can be said about the entire Dude, Sweet Chocolate shop menu. A description insert from one of her chocolate boxes reads like a dreamy travelogue.  Some chocolates conjure up images of far-flung locales: a Tahitian beach, a village in Provence or a market in Marrakech or Oaxaca. Other morsels are nostalgic reminders of memories closer to home: Hill Country sunsets, mint juleps or our grandmothers' kitchens.
One would expect nothing less from a classically trained pastry chef with an armful of food-motiffed tattoos. (My favorite is the happy skull wearing a chef's hat and holding a whisk. Next week she'll be adding a leafy bunch of beets to go with the honeybees, the grapes, the cherries, the ring pop, the chocolate and the flowers.) A native of Arlington, she received her formal education at the esteemed Culinary Institute of America in Hyde Park, New York. Her impish good looks and friendly charm belie the fact that she has impressive credentials and takes her sweets quite seriously.
Chef Katherine's ice cream float begins with the notion that any food is more fun when eaten off a stick, particularly in the summer and particularly in a walking neighborhood like the Bishop Arts District where the Dude, Sweet Chocolate storefront is located. To prove this point, she starts by placing one of her homemade frozen push-up pops smack-dab in the middle of a soda glass, stick side up. (Togo cups will be available.) Today the cylindrical center is filled with chocolate, peanut butter and banana flavored frozen yogurt made with dairy products from Lucky Layla Farms in Plano. She's adamant about utilizing local ingredients whenever they're available.
"If you've got a great dairy resource right down the road, you'd be crazy not to use it," she says. "You can really taste the difference."
Other local favorites include Zip Code honey, Hill Country lavender, Shiner and Franconia beers, Helms Farm cane syrup, olive oil from the Texas Olive Ranch and anything the Spiceman (Tom Spicer, FM 1410) has available.
"I love his strawberries and Louisiana citrus. If I'm doing ice cream, I can take his fruit that's slightly bruised, and it's still perfect for my needs. I'm getting the fruit at its freshest. If necessary, I'll make it into jams, or I'll can it so that it's available for several months."
After placing the frozen push-up in the glass, she adds a shot of fresh, flavored foam. Holding the glass close, she sends a frothy blast into the mouth of the cup, and it billows over the frozen yogurt. The cloud, an infusion of white chocolate and orange blossom water, engulfs the push-up, leaving only the top of its stick uncovered.
Katherine Clapner has spent years perfecting her craft in some of the world's most renowned kitchens. Her resume includes stints at the Savoy Hotel in London, the Four Seasons and Charlie Trotter's in Chicago, and the Windsor Court in New Orleans. But it's the kitchen of Texas celebrity chef Stephan Pyles that she credits with giving her career its biggest boost.
"Working on and off with Stephan for nearly a decade has given me a huge advantage. Besides being super talented, he's just so much fun.  Holy Smokes—the meals I've gotten to taste because of him. He and Shane Gorringe (Zoë's Bakery, Covington, La.) taught me so much about being a pastry chef. They make it all look so easy."
Bubbles blossom toward the top of the glass as she adds the float's final ingredient, the pièce de résistance. Slowly she tips a bottle of Reed's Jamaican-Style Ginger Beer into the milky mixture. It is the Yang to awaken the Yin. This unorthodox choice of spicy soda, the blending of the peppery fizz with the cool sweet, gives the drink its complexity and a refreshing kick in the pants.
Inspiration for the Dude, Sweet float can be found just around the corner at another Bishop Arts store, The Soda Gallery, where shop owner Robert Gutierrez offers over two hundred varieties of soda pop from around the globe. Katherine says the day she walked in and took a gander at the bright rows of bottles, her culinary juices went wild. She knew that pairing Gutierrez's bubbly sodas with her own frozen confections would be heavenly. It was only a matter of waiting for summer.
She relishes the fact that the possibilities are endless. She has hundreds of sodas to choose from and numerous flavors of foam she could create. With the magic of liquid nitrogen, she can freeze any combination of ingredients to make her homemade push-ups in ten minutes flat. She envisions fruity sorbets and velvety sherbets, as well as other inventive ice cream flavors. The push-ups are also great when dipped in the store's drinking chocolate.
"Robert has a soda with Chinese herbs and twenty varieties of root beer. He's got stuff from Amsterdam and Columbia as well as all the old-fashioned favorites. Right now I'm imagining a frozen horchata with white chocolate and a chocolate soda. Maybe a hazelnut foam. I don't want to be put in a corner. If there's a day when Tom Spicer has a beautiful delivery of peaches, I'm using that for my ice cream push-up."
Though she refuses to limit her creativity, she recognizes the need for someone to hold tight on the financial reins of the operation. She credits her business partner Redding May with making it all possible.
"We're a perfect match," she says. "He's great with the money, and I'm not. He's a boy genius. Crazy smart. He works in the store several days a week and on Saturday nights, so I can have a night off. He's passionate about the business and can sell as well as I can. He told me as long as I keep creating, he'll take care of the other stuff."
They met through mutual friends. Hearing about her culinary background, May, a Private Wealth Associate with Merrill Lynch, contacted her in the fall of 2008 and asked her to create a unique Christmas gift for clients. She assembled a box of her signature chocolates, and what started out as a 100-box order mushroomed into 250 boxes.  He was so impressed with the product that when she came looking for investors, he didn't hesitate.
"Whoa—Redding will go crazy for these," she says, grabbing the empty soda glass from my clutched hand as I inhale the last dribble from the straw. "Hope he doesn't make himself sick with these. He's got such a sweet tooth."
Dude. Me too. Let's whip up another one before he gets here.
The Dude, Sweet Chocolate retail store is located at 408 West 8th Street in Dallas' Bishop Arts District.
214.943.5943
www.dudesweetchocolate.com
Dude, Sweet Chocolate Push-Up Pops are served at all Blue Mesa Grill restaurants in the Metroplex and at the Blue Mesa Taco and Tequila Bar in Austin.
In Dallas, Dude, Sweet Chocolate products are sold at Whole Foods (Park Lane), Central Market, the Belmont Hotel, Bolsa, Scardello's, Vert Fitness Center, Dr. Delphinium, Times Ten Cellars, and Natsumi Gelato. Find them in Fort Worth at the Fort Worth Museum of Modern Art and in Austin at Big Top Candy and Teo Gelato. Check the Dude, Sweet Chocolate website for additional outlets.
The Soda Gallery
408 N. Bishop Avenue, Suite 101
214-946-SODA
www.thesodagallery.com
For more information on Tom Spicer, see the online archives of Edible Dallas and Fort Worth, Issue 1, Spring 2009.
As a kid, TERRI TAYLOR refused to eat her vegetables. Her veggie-phobia was cured in 1977 when she spent eight months working on farms in Norway and France. She studied journalism at UT-Austin and received a master's degree in liberal arts from SMU. Her short story "Virginia" can be found in Solamente en San Miguel, an anthology celebrating the magical Mexican town of San Miguel de Allende. She has written for Edible DFW since its inaugural issue in 2009. She became the magazine's editor in 2010 and is the editor of Edible Dallas & Fort Worth: The Cookbook.