Photography by Margaret Wolf
n an Old East Dallas side street, a black iron fence festooned with sinewy vines stretches the length of an entire block. Peer through the fan of leaves, and you'll catch a glimpse of rows and rows of densely planted garden plots. Some vegetables are familiar—eggplant, squash, peppers, okra—and some are not— speckled green and white pumpkins, amaranth (appreciated for both its greens and grains), Chinese long beans, Malabar spinach and a plant with leaves the size of baby elephants' ears.
Passersby might easily miss this place near the corner of Live Oak and North Fitzhugh, a half of a block from Jimmy's Italian Market and a short drive from the huddle of downtown skyscrapers. Only a modest sign gives notice of its presence. Once abandoned, the Live Oak Community Garden has found new life thanks to the four women who are its caretakers. And thanks to this garden, the women—all refugees from Bhutan—have found a small square of Dallas to call their own.
This is my first visit but it already feels familiar. Two of the women gardening here are also English students at Vickery Meadow Learning Center where I teach. Through sign language and charades, they have tried to describe this place and what it means to them.
"Iskus," they say excitedly, when in class I display a type of squash known to me as chayote. I expect my students from Mexico to respond, but am surprised when the Bhutanese women recognize it.
Eyes bright, they let me know, with waving hands and broken English, that this vegetable reminds them of home.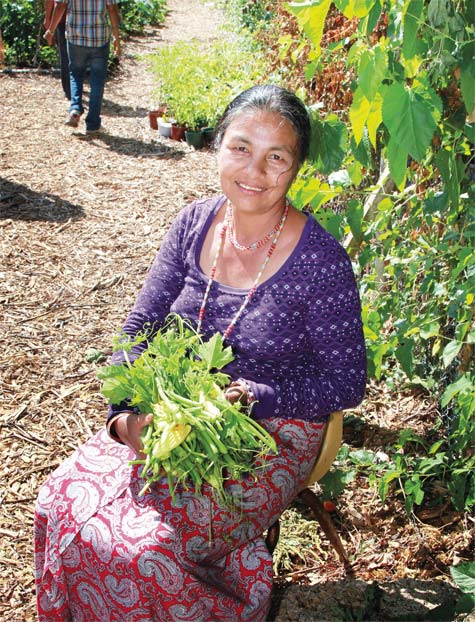 Nar Maya Bista
And so, I begin learning that growing food is their passion, though at first I am perplexed as to exactly where they are doing so. Our school and their tiny apartments are in the Vickery Meadow area of North Dallas, miles away and a long transit ride from Live Oak Community Garden.
Accompanying me on today's visit is Jim Stokes of the International Rescue Committee, an organization dedicated to restoring safety, dignity and hope to refugees fleeing from war and disaster. Also accompanying us is IRC caseworker Arun Chauhan, who serves as our translator. The Live Oak Garden is a result of the IRC's New Roots initiative, which provides recent immigrants with community garden spaces, helping them connect to their new home through planting. Through the efforts of volunteers and donations, the Dallas-based nonprofit, Gardeners In Community Development, partner with the IRC and help manage the project.
Once abandoned, the Live Oak Community Garden has found new life thanks to the four women who are its caretakers. And thanks to this garden, the women—all refugees from Bhutan—have found a small square of Dallas to call their own.
Standing beside the metal gate that separates the garden from the hubbub of the street, I am introduced to two Bhutanese women I don't know. There's Ganga Subba in American jeans and a madras shirt, and her cousin Anita, sporting a maroon shirt and a Texas A&M visor.
Another woman greets me with a hug. Though her warm smile is familiar, without her glasses, I almost don't recognize one of my favorite students Nar Maya Bista. Her thick black braid, decorated with a wisp of red ribbon, is draped across her delicate shoulders. She wears beads, a loose purple blouse and a long, paisley wrap skirt, fashioned from festive Nepalese fabrics. Though the morning temps are already approaching 100°F, she is joyful and elegant as she drenches the plants with a spray of water from a serpentine green hose. Nar Maya once farmed for a living in her native country. But in the 1980s, the Bhutanese government began taking repressive measures against her family.
Nar Maya and the other ladies of the Live Oak Garden belong to an ethnic group know as the Lhotshampa, who first migrated to southern Bhutan from Nepal in the late 19th century. After many generations, the Bhutanese government deemed the group a threat to political order. Their Nepalese language was stricken from the school curriculum; Sanskrit schools, important to their Hindu religion, were closed; and according to Amnesty International, thousands were tortured and imprisoned.
Over 100,000 fled to crude camps on the border of India and Nepal. Considered outcasts in Nepal and unable to return to their Bhutanese homeland, they continued living in these rudimentary encampments— many remaining there for over 15 years. During her time there, Nar Maya was part of a community group that was given land to plant gardens. In Dallas, after her husband found work and her children enrolled in schools, she too wanted to be productive. Growing food was what she knew best.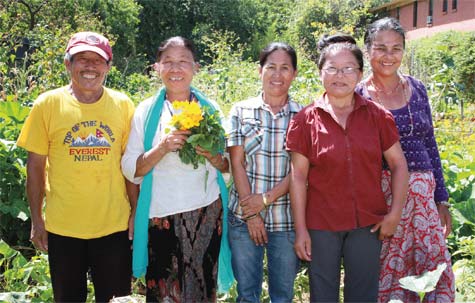 Left to right: Dal & Budd hi Rai, Ganga & Anita Subba, Nar Maya Bista
In 1991, the Live Oak Garden was begun by a different group of immigrants, when a wave of Southeast Asians settled in this area of Dallas. Only a block away, the lush and vibrant East Dallas Garden is still tended to by people of Laotian and Cambodian descent. But at the Live Oak Garden, as the first generation of Cambodian gardeners grew older and their children became more Americanized, the space became a tangle of weeds. Unpruned trees choked out the sun, and the land remained unmanaged until a year ago, when the women from Bhutan began nurturing it back to life. Beside the four Bhutanese families, there is also an African family and a Laotian family gardening here. Six more Bhutanese families have recently been assigned plots, and there is room for more.
"Namaste," with hands folded and a slight bow, another one of my students, Buddhi Rai greets me and introduces her husband Dal, whose bright yellow t-shirt reads "Top Of The World: Everest, Nepal." Buddhi's black hair, tinged with grey, is pulled back securely at the nape of her neck. A turquoise scarf and beads stand out against her white linen blouse. Her eyes crinkle into happy upturned dashes when she speaks. She laughs easily but there is a spiritual presence about her. The others seem to defer to her. She is a natural leader. According to the Nepalese calendar, the current year is 2069. Arun explains this to me in English when I asked Buddhi her age. "I think I was born in 1955," she tells me, making the conversion. For the first time, I understand why our class lesson on calendars and birth dates initially baffled everyone. Buddhi and the others practice their English skills while selling their vegetables every other Saturday morning at The White Rock Local Market, located in the parking lot of The Green Spot on Buckner Road. At the market, not only do the women reap profits to support the garden but they also enjoy the chance to interact with people outside of their community. They have even been bringing recipes so that potential customers will try new vegetables or rethink ways to cook the old standbys. As we talk, Buddhi peels off strips of pumpkin vine and offers a taste. She also offers to give me cooking lessons. "It's nice to produce food for my family," she says, "but it's also important that we are earning money doing this; that people are interested in what we're growing. It's really wonderful to have a place where I can use my knowledge to create something of value."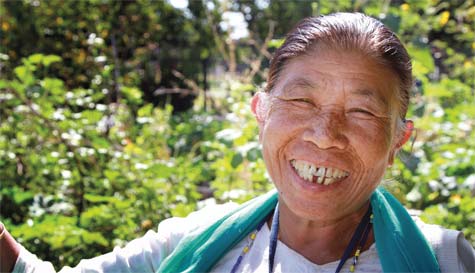 Buddhi Rai
As I leave, Jim Stokes gives me a sheet with recipes, Anita offers me a bouquet of golden-colored cosmos, and Nar Maya places one of the speckled pumpkins in my hands. Take notice all you cutting-edge North Texas chefs: inspiration and the next new exotic ingredient might be awaiting you behind a vine-covered fence in Old East Dallas.
The ladies of the Live Oak Community Garden will be selling their vegetables at the White Rock Local Market every other Saturday through December 8. For more info: whiterocklocalmarket.com
To learn more:
International Rescue Committee: rescue.org
Gardeners In Community: gardendallas.org
Vickery Meadow Learning Center: vmlc.org
As a kid, TERRI TAYLOR refused to eat her vegetables. Her veggie-phobia was cured in 1977 when she spent eight months working on farms in Norway and France. She studied journalism at UT-Austin and received a master's degree in liberal arts from SMU. Her short story "Virginia" can be found in Solamente en San Miguel, an anthology celebrating the magical Mexican town of San Miguel de Allende. She has written for Edible DFW since its inaugural issue in 2009. She became the magazine's editor in 2010 and is the editor of Edible Dallas & Fort Worth: The Cookbook.