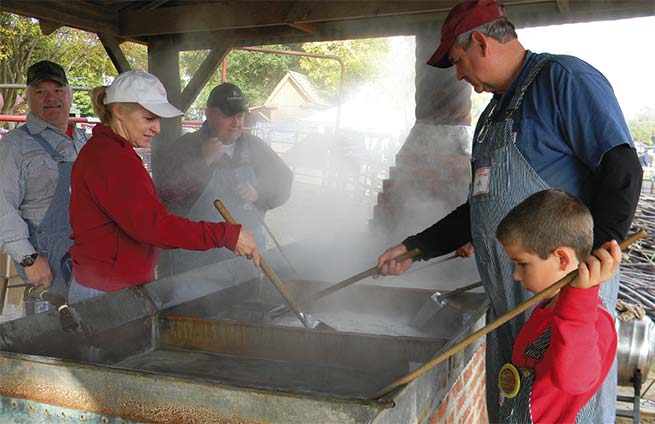 Photo courtesy Henderson Daily News
"Go into any East Texas café and ask about cane syrup," says 65-yearold Dudley Mosele. "Every old-timer has a story, and they all begin with 'when I was a child…'"
For Mosele, a retired lieutenant colonel with the U.S. Army Medical Service Corps, boyhood memories of ribbon cane are set on the banks of the Attoyac River in Nacogdoches County, where his grandfather Bertram Patterson made syrup for the folks around Garrison. It was a skill passed down from his father.
"In those days, making syrup was a community event," says Mosele. "People would come from all over with their cane and their containers." Once widely grown in the southern United States, ribbon cane, a type of sugar cane, originated in the tropics of Southeast Asia and derives its name from the purple bands around its ribs. A cash crop on large plantations, ribbon cane was also grown by small farmers and harvested in the fall for home kitchens.
The mill was a simple press powered by a mule, which walked in circles as the cane was fed into the machine. Large rollers crushed the stalks, sending a stream of juice into waiting buckets. "We'd siphon off some of it before it was cooked," says Mosele. "You'd drink so much, you'd nearly be sick. But you couldn't help it. It was that good."
The juice was transferred to a large divided metal pan (about 4 feet by 12 feet) that sat over a specially built furnace fueled by cord wood. A cloud of pine smoke scented the fresh East Texas air as it bubbled and cooked. His grandfather would stir the thickening liquid with a wooden paddle and skim it to remove the foam. "We could tell by watching the bubbles if it was getting close," says Mosele.
After long hours, the thin sweet juice was transformed into the dark amber syrup that would be jarred and stored in the cupboard. "Sure, we had honey," he says. "But cane syrup was special."
He remembers his grandmother's syrup pie and the syrup taffy they'd make at Christmas. But mostly, they poured the syrup onto his grandmother's "cathead" breakfast biscuits (fluffy and the size of a cat's head). "My other set of grandparents in Louisiana loved cane syrup too," he says, "but they ate it on cornbread after dinner as dessert." After traveling the world with the Army, Mosele made the decision to return to East Texas. "I had always envisioned myself living in a downtown loft in Houston." But then he inherited the family homestead.
Soon after his return, folks began talking to him nostalgically about syrup. I sure wish I had some like your grandpa's, they'd say. That's what sent Mosele on his five-state quest for cane syrup perfection. "I just got in the car and started driving," he says. He traveled to Alabama, Arkansas, Mississippi, Louisiana and back home to Texas. He tried a lot of syrup, including black strap molasses and corn syrup. "I'd go into a café in a small town, order a cup of coffee and ask whoever was next to me 'who makes syrup around these parts?'"
There were a lot of dead ends. He'd head down a dirt road only to find that the person had long since died, or that what others thought was good syrup didn't pass muster. "It would be green—not cooked enough—or burnt. Just awful." He returned home disillusioned and considered making his own. And then, out of the blue, he got a call from a guy who knew a guy in Louisiana. "He swore his was the best." Mosele sat on it a few weeks, finally relented and headed to Louisiana. It was love at first taste—as close as he could get to the memory of his grandfather's.
He won't divulge his Louisiana source, but for the past eight years, they've been in partnership. Mosele distributes his syrup under his own label—Ryan's Favorite Ribbon Cane Syrup. A Texas Rangers fan, he named the syrup after his favorite player Nolan Ryan. Ryan also happens to be the name of his grandson.
His product is sold at select East Texas retailers. Most of his sales come during the Heritage Syrup Festival in Henderson the second Saturday each November (visithendersontx.com). You'll find him set up in front of the opera house.
"When you're sopping your biscuit in it," Mosele warns customers, "count all your fingers after you sop. 'Cause the syrup's that good."
FB: Ryan's Favorite Ribbon Cane Syrup
As a kid, TERRI TAYLOR refused to eat her vegetables. Her veggie-phobia was cured in 1977 when she spent eight months working on farms in Norway and France. She studied journalism at UT-Austin and received a master's degree in liberal arts from SMU. Her short story "Virginia" can be found in Solamente en San Miguel, an anthology celebrating the magical Mexican town of San Miguel de Allende. She has written for Edible DFW since its inaugural issue in 2009. She became the magazine's editor in 2010 and is the editor of Edible Dallas & Fort Worth: The Cookbook.