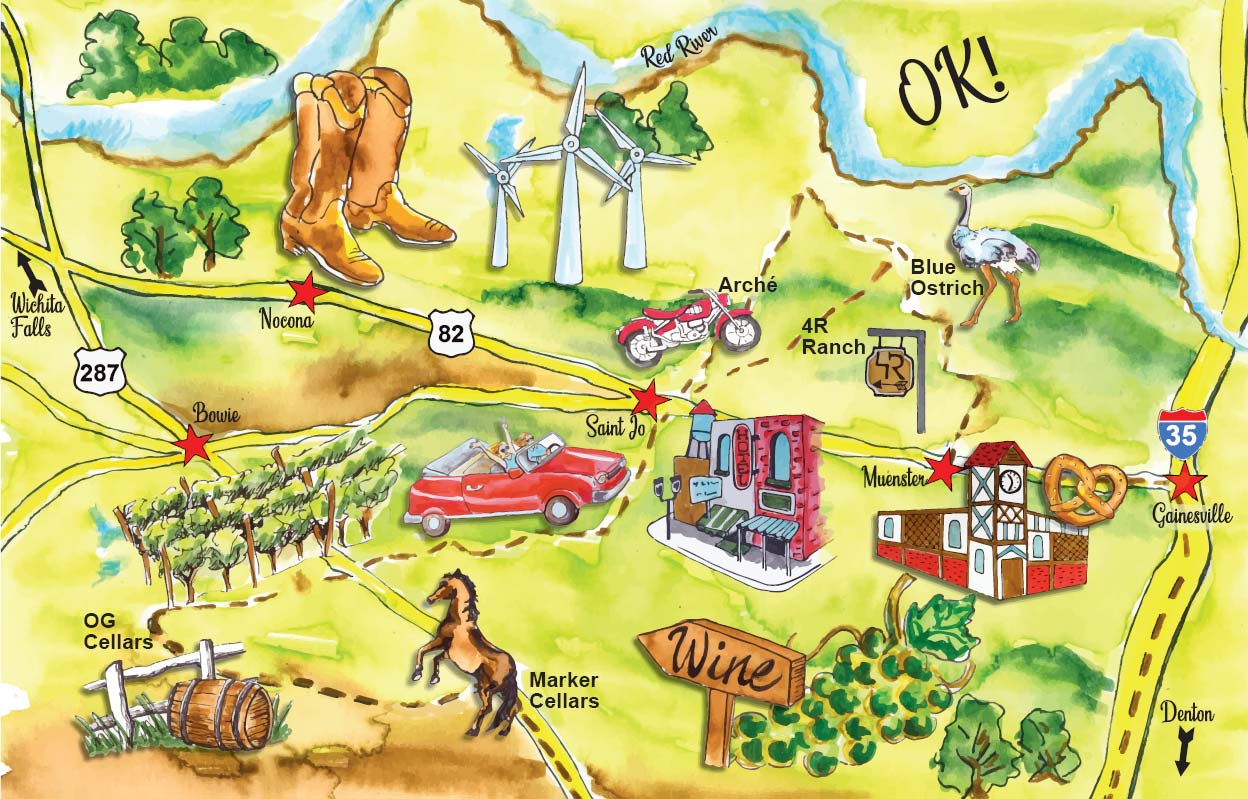 A Sister Trip to the North Texas Wine Country
---
Sponsored in part by the Texas Department of Agriculture—Texas Wine Marketing
---
Breezing down U.S. 287 near Decatur, I glance at my sister— my co-pilot—and think of the many times we've traveled this road together. On long-haul family trips to New Mexico and Arizona, this stretch of farmland and open sky has always been a pass-through zone. A road to somewhere else. But today, all roads lead here.
We pull off in Alvord, and our weekend winery jaunt begins. Our route will take us through the LBJ National Grasslands and into the hills and valleys along the Red River. Our five stops are part of the North Texas Wine Country, an association of 25- plus wineries within easy reach of DFW (See page 45).
If you still believe that all Texas wines are syrupy jug wines, or that Hill Country wines are the only Texas wines worth drinking, prepare to have your world rocked. North Texas, which also has hilly terrain, is home to a long list of award-winning wineries. (Two on our route received top honors at esteemed San Francisco competitions this year.)
On the following pages, meet the families behind the vines— the pioneers as well as the next generation, whose youthful enthusiasm has ramped up the vision. There's a spirit of camaraderie here, as everyone works to build a premier wine destination.
This is cattle country with plenty of Western charm. Saint Jo, once a stop on the historic Chisholm Trail, has a vintage square with a movie theater, the Texas Kings Hotel and artsy shops.
You'll find Walter's hamburger joint—the Windmill Grill— behind the library, and music at Red River Station BBQ.
Nearby, Ancient Ovens offers wood-fired pizza, but book early. The larger town of Nocona also has its share of Texas flair.
The folks in Muenster maintain their German roots with twice-a-year festivals. The iconic Fischer's Meat Market, with its Bavarian clock tower and rare glockenspiel, offers a great selection of Texas wines, along with specialty meats, cheeses and spices. Order local wine at Doc's Bar & Grill along with the daily special.
Though it's an easy day trip, consider staying the night. Two vineyards have guest houses, one has camp sites, and there's also in-town lodging and offerings on airbnb.com.
The best part? Unlike our state's busier wine region, North Texas wineries are known only to a savvy few. Enjoy these local gems (and join their wine clubs) before the secret is out.
MARKER CELLARS
California Dreamin' in the Texas Grasslands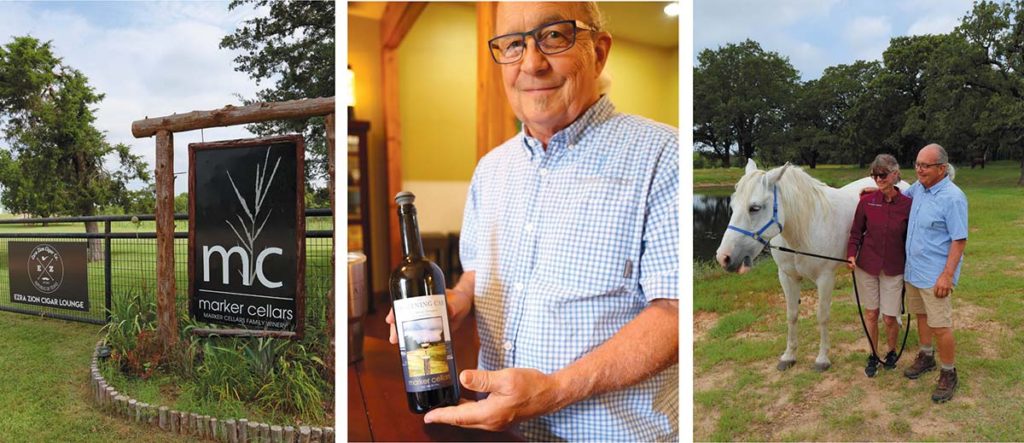 An autographed photo of 1960s television icon Fess Parker hangs on a wall at the Marker Cellars Family Winery—a reminder to co-owners Mark and Becky Rogers of their long-ago encounters with the actor-turned-winemaker.
In 1985, Mark's job in corporate finance took the Rogers family from Texas to Los Angeles where, on weekends, they explored the California countryside, including its mom-and-pop wineries.
"We were neophyte wine-drinkers back then," says Mark, describing the day they stumbled upon the Fess Parker Family Winery in the Santa Ynez Valley. "Mr. Parker and his family couldn't have been nicer. They took us back for a barrel tasting. They'd only been in business a couple of years."
A friendly relationship developed, and the Rogers visited regularly. They returned to Texas in 1995 with that autographed photo—a going-away gift—and the dream to craft their own wine someday.
In the course of 25 years, the Rogers have transplanted their California dreamin' to the rolling hills of the Texas Cross Timbers region, in Alvord north of Decatur.
"Our winery is in the middle of the grasslands," says Mark, sweeping his hand across the horizon as his ATV Mule crests a hill. The serene view is accompanied by birdsong and breezes rustling through the native, blue-stem grasses.
Their 90-acre property is nestled beside the LBJ National Grasslands, public land managed by the U.S. Forest Service. Mark admits he knew nothing of this natural treasure until Becky, an avid horsewoman, began riding here.
In the early 20th century, the area was filled with farms, but during the Depression and Dust Bowl years, properties were taken over by the banks and, eventually, the federal government. Today, this patchwork of 29,000 acres offers trails for hiking, biking and riding. "It's one of the best-kept secrets in Texas," says Mark.
"Not sure if we want that secret out," laughs Becky as she leads her horse, Thief of Hearts, from the corral. The offspring of a wild mustang, he is Becky's "heart horse," her equine soul-mate. The winery and surrounding land allow husband and wife to follow their passions: Becky, a Master Naturalist, has her horses and trails, while Mark crafts wine.
Soon after returning to Texas, Mark planted his first ¼-acre vineyard with seven varietals at their then-home in Argyle.
Three years later, he made his first batch of wine, and in 2005, he enrolled in the Viticulture & Enology program at Grayson College. Mark was still at his corporate job in 2007 when Becky spotted the "For Sale" sign in front of the property that would become their vineyard. It would take years to tame the land, but the hobbyist was now on his way to becoming a vintner.
"I buy the majority of my fruit from the Texas High Plains," says Mark, including Cabernet Sauvignon, Viognier and Tempranillo. Their recently replanted estate vineyard has 500 Tempranillo and 500 Tannat vines, which will be producing mature fruit in two years.
Unique features of their tasting room are the two humidors filled with Ezra Zion Cigars from his neighbor's Nicaraguan cigar factory. Cigar aficionados often bring a book and their personal traveling humidor and relax on the porch.
Mark loves to share each bottle's unique backstory. "When tour groups come in and get boisterous," he says, "I ask for two minutes to talk about the wines…and then they can drink."
Best-selling Red: Lightning Cab
Best-selling White: Viognier
OG CELLARS
Pinot Noir Sparks Passion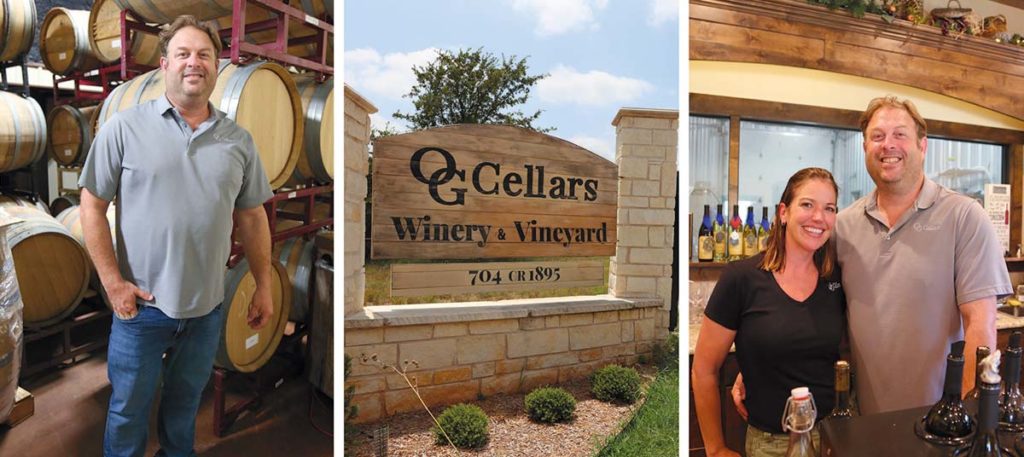 James Hanger, the co-owner of OG Cellars, remembers the exact bottle of Pinot Noir that ignited his passion for wine. The flame was lit during Restaurant Week 2008 when he and friends were dining at The Mercury in Dallas. "I can't tell you what I ate that night," says James. "But I can tell you what I drank."
From the first sip of the 2005 Pinot Noir from Sonoma's Emeritus Vineyards, he was hooked. "I just kept looking at the bottle and saying—'I'm in love with this wine!'" It wasn't long before he traveled to California's Russian River Valley to immerse himself in the vineyards there.
When it comes to wine, James exudes an infectious enthusiasm, especially while playing host in the OG Cellars' tasting room with wife/co-owner Sammi.
Though his love affair with Sonoma deepened when he and Sammi were married there in 2012, James is now laser-focused on North Texas, which he believes is poised to become a prime destination for wine lovers—starting with those in the DFW area, a short drive away.
"People think you have to go to the Hill Country for good Texas wine. Only a few know about the world-class wines that come from the hills up here," says James. As the president-elect of the North Texas Wine Country Association, which represents 25 local wineries, he is ready to spread the word.
James began to experiment with wine-making shortly after his first visit to Sonoma, where several winemakers suggested he start with a home kit. The Winemaker's Toy Store in Carrollton (now closed) provided what he needed: pressed juice, yeast, a 6-gallon bucket with a spigot. He began by making Tempranillo and Pinot Blanc and, with encouragement from friends, decided to enter the T.V. Munson Cup, a competition sponsored by Grayson College for non-commercial wine made by Texans.
When James medaled with a gold and a silver, he knew he had a knack. When he won two golds the following year for Cabernets, he was convinced that he could take it to the next level.
He and Sammi were also ready to begin a family. "It was a matter of starting the winery immediately," says James, "or waiting until the kids were out of college."
They opted to do both, and their winery, built on ranchland owned by James' family, is named after their first-born Olivia Grace, now 5. Son Grayson Oliver, 18 months old, was given the OG initials in reverse. "So I didn't have to open another winery," laughs James.
A graduate of Texas Tech, James still maintains his day job in the oil-and-gas business in Decatur, while Sammi, who has a background in retail, manages the OG tasting room.
He honed his wine-making skills at Grayson College and says he's more chef than scientist. "I'm not a stickler on 'It has to be this pH or have this much sugar.' I'm designing wines to have a long, smooth finish."
He cold-soaks his fruit to enhance its color and aromatics and uses only Texas-grown grapes, including Syrah, Cabernet Sauvignon, Tempranillo and Albariño. He's excited about the potential of Mediterranean varietals like Negroamaro, which produces a wine that satisfies the Pinot Noir lover in him.
He describes his wines as terroir-driven and eschews predictability. "I don't want my 2016 Tempranillo to taste like my 2017. But I want them to be equally fantastic."
Best-selling Red: Tempranillo
Best-selling White: Albariño
ARCHÉ
Finding Roots (and Romance) in Saint Jo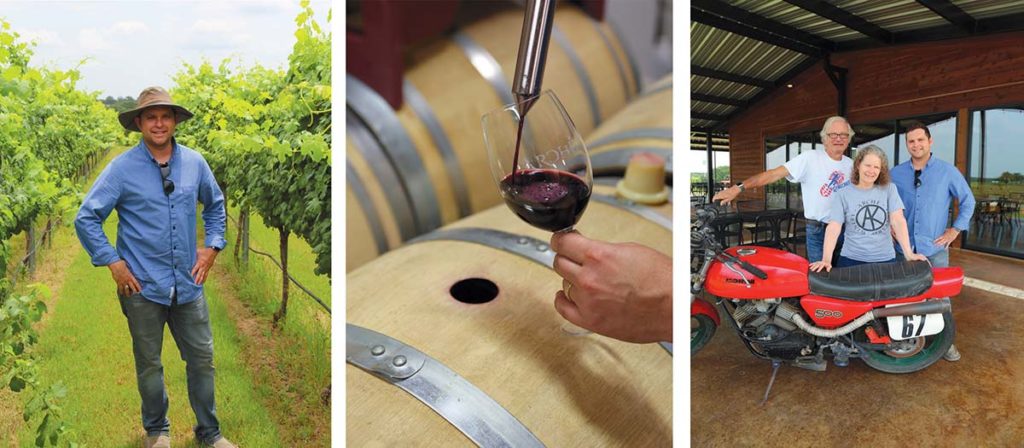 There's a glint of excitement in Grayson Davies' eyes as he peers down a row of vines and talks of crush season at Arché, his family's vineyard. Only weeks away, the harvest will be the culmination of months of nurturing, coaxing, worrying and hard work.
When the 32-year-old winemaker was a suburban teen at Plano Senior High, he never envisioned a rural life for himself.
"On weekends," says Grayson, "when I had to help my parents in the vineyard, I'd think, 'I'm going to work in an air-conditioned cubicle someday. Never out here!'"
He still remembers the day in 1998 when his parents, Howard and Amy Davies, retrieved him and his brothers from summer camp and, out of the blue, announced their plans to start a vineyard.
It had long been his father's dream and, after a trip to Sonoma, his mom said, "Let's go for it!" The couple was still running a printing company in Addison in 1999 when they began planting outside Saint Jo. Early harvests were sold to others, like the late veteran winemaker Les Constable at Brushy Creek Vineyards in Alvord.
After a bumper crop in 2007, they established their winery, the first in Montague County, and Howard served as winemaker until 2010, when he handed over the reins to Grayson, the first graduate of Texas Tech University's viticulture and enology program. (Another son, Patrick, a Texas A&M grad, works for L'Aventure Winery in California.)
Last year, Howard and Amy were awarded the Louis F. Qualia Award for their pioneering role in the Texas wine industry.
Grayson points to where the walls of Arché's old tasting room once stood. "In 2014, we wanted to make this more of an experience for visitors, and we began expanding."
The spacious, light-filled facility with its expansive patio sits on a rolling hill overlooking the winery's 10-acre vineyard of mostly Rhone varietals—Syrah, Roussanne, Viognier, Marsanne and Grenache. Another mainstay, unusual for Texas growers, is Chardonnay.
Two vintage motorcycles—a red 1974 Moto Morini and a white 1977 Can-Am—are parked on the patio, a nod to the elder Davies' other shared passion, motorcycle racing. "That's how my parents met," explains Grayson.
Howard chimes in with a description of that long-ago encounter, a scene worthy of a Hollywood rom-com. In 1979 at a race in Fort Worth, Howard watched a hot-shot rider tear up the course and was curious.
"Because he was small, I figured it was a young guy," he says. Until the rider took off his helmet, and a mane of curly brown hair spilled out. The rider was a plucky young woman named Amy Sterling, and Howard was smitten.
Grayson has his own romantic tale, one that began at Muenster's Germanfest in 2012, when Arché shared a table with Blue Ostrich, a new Saint Jo winery. As luck would have it, Presley Whitehead, the daughter of owners Patrick and Julie Whitehead, was also working the table that day, and the two hit it off—though it would take a while for Grayson to muster up the courage to ask her out.
The couple, who married in 2017, are poised to continue their parents' legacy in this burgeoning wine region. "Saint Jo has so much history and potential," says Grayson.
High praise from the guy who never thought he'd live in the country.
Best-selling Red: Ryan's Red, a Cab/Syrah blend honoring Grayson's late brother
Best-selling White: Chardonnay
BLUE OSTRICH
A Story of Three Generations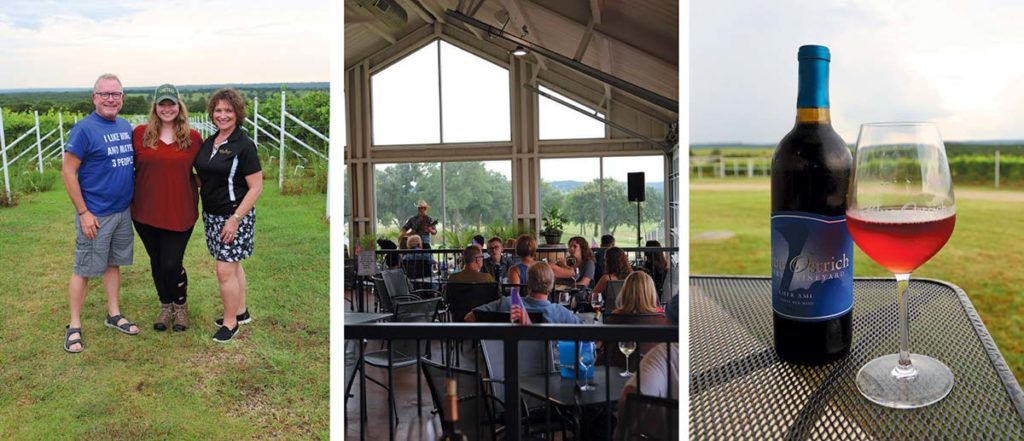 As our car rounds a curve on FM 2382, a gleaming white barn and glass-walled pavilion come into view. Stretching across the distant hilltop like a mirage, Blue Ostrich Winery and Vineyard makes a splendid first impression.
This is a family affair, a story of three generations.
"Ostrich ranching is part of our history," says co-owner Julie Whitehead, whose father, Stan Fredrick, wears the hat of winery founder. A rancher for 50 years, he operated the Fredrick Ostrich Ranch here from 1988 to 2003 with his nephew, John Fredrick, Jr.
The ranch once provided ostrich meat to Dean Fearing at The Mansion on Turtle Creek in Dallas and to Reata in Fort Worth. Their ostrich eggs were used by a San Antonio resort for their "Texas-sized" breakfast buffets, and the birds' supple hide was sold for premium boots and handbags.
When demand for the meat waned, the Fredricks began to look for other endeavors, and it was a family decision to make wine.
"I was transitioning out of my broadcasting career," says coowner Patrick Whitehead, Julie's husband, who deejayed and managed radio stations around the DFW area for 20 years.
"If Robert Mondavi could start a winery at 52," he says, referring to the California wine icon, "we figured we could, too."
Patrick assumed the role of winemaker; John took on vineyard duties; and Julie managed the business side of things. "We were a good team," she says.
In the spring of 2011, they planted their first vineyard—three acres of Cabernet Sauvignon, Tempranillo and Viognier—and then the heat hit. The summer was one of the most brutal on record.
"We thought we'd thrown away our money," says Julie, "but we hardly lost a thing." It was proof that these varietals were well suited for the terroir. In 2012 and 2013, they planted four more acres, adding Petite Sirah, Merlot and Sangiovese. Julie credits Howard and Amy Davies of Arché for taking them under their wing. "Howard became John's mentor," she says.
And then, the unthinkable occurred when in 2014 John died suddenly, a tragedy for both family and business.
Patrick and Julie's daughter, Presley, was in college at the time.
"When Presley came home," says Julie, "she hit the ground running and got to work in the vineyard. It didn't hurt that she was dating Grayson," she adds with a smile. (Grayson Davies of Arché would become Presley's husband in 2017.)
To be sure that the vineyard was her calling, Presley accepted an internship at the esteemed Cakebread Cellars in Napa, and the six-month stint solidified her decision."This was our kid who was going to be the urban hipster," says Patrick. "Now she's driving a tractor and operating a fork lift."
"In California, I learned about stamina," says Presley, "and 12-hour work days. I also got to taste a lot of quality wine." She came home with knowledge about better ways to utilize equipment and about safety-and-sanitation protocol.
"Which has been so important to us," adds Patrick. "If you screw up five gallons with a home-kit, you throw it down the sink. It's another story with 500 gallons."
Fortunately, screw-ups are a rarity these days. At last year's esteemed San Francisco International Wine Competition, their 2017 Viognier was deemed the best of the competition and honored with a double-gold.
"Can you believe it?" beams Patrick. "Against Viogniers from the Rhone Valley."
Best-selling Red: Tempranillo
Best-selling White: Viognier
4R RANCH
Young Winery, Deep Roots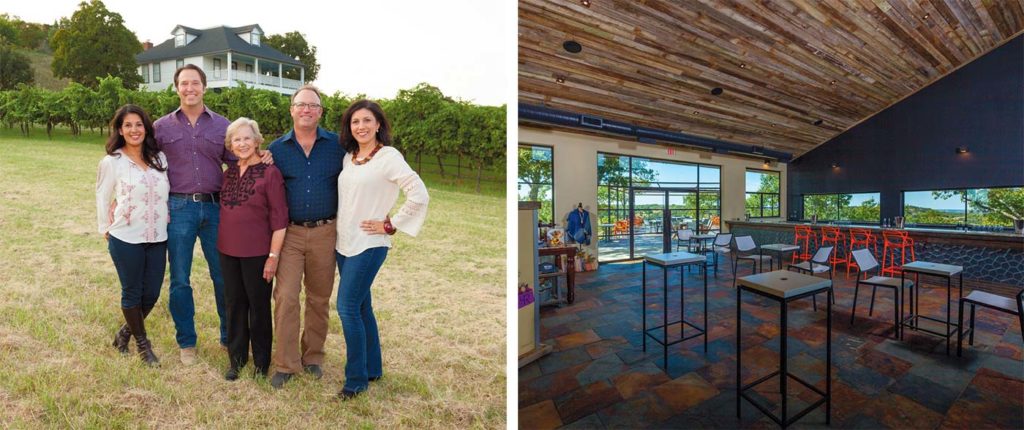 Though stylishly modern and only three years old, 4R Ranch Vineyards and Winery is deeply rooted in a family's love of their rugged ranchland.
"This place was always meant to be shared," says Nicole Roper, speaking of the 1,100-acre retreat that her in-laws, W.C. and Suzanne Roper, purchased in 1992.
Nicole's husband, Walt, first brought her here on their second date, a July Fourth get-together in 2011, a year after the vineyard had been planted.
"I'll never forget the impact it had on me," says Nicole, "and the beauty of it all when we reached the top of Windmill Hill."
"That's what the mountain bikers call it," says Walt, speaking of the crest of nearby Wolf Ridge, where one gets a first glimpse of the Red River Valley from the county road.
Today, The Wind Shed—the winery's sleek tasting room with deck—offers equally impressive views from its treetop perch at the end of another craggy ridge.
"My brother, Chris, discovered this spot on a hike," says Walt.
Further along the ridge, the restored, timber-beamed Barnhaus serves as both a production facility and wedding venue. Every facade here seems lifted from the pages of Architectural Digest. Two vintage homesteads, the Ropers' residences, are nestled beside picturesque vineyards.
"Walt's dad (who passed away in 1997) knew this place was special," says Nicole, "and hoped the family would do something more with it."
When looking at business ventures that would allow them more time here, the Ropers considered a variety of options—expanded hunting, olive groves. Encouraged by the success of the area's other vineyards, they decided to grow grapes.
Plans quickly expanded to include a winery. "Our mom loves fine wine," says Walt, "and she also has an executive MBA from the University of Texas at Dallas. She's our C.F.O."
With busy lives in Dallas—Walt is an attorney, Chris is a dentist—the brothers divide their time between the city and the winery, where they're free to explore a range of skills.
An artist at heart, Chris designs wine labels and decorative elements, like the chandelier he crafted for the Barnhaus. He's also helping install 12 miles of mountain-bike trails. Nicole, who had a long career in luxury retail—Escada, Hermes and Cartier—presides over the tasting room, events and the wine club. With his love for the outdoors, Walt manages the ranch and oversees vineyard decisions. Currently, there are three acres of Cabernet Sauvignon and Viognier, with a seven-acre expansion planned for 2020.
In 2015, when the Ropers began their hunt for a winemaker, Willem Johnson stood out among the applicants. Trained as a sommelier and winemaker assistant (aka "cellar rat") in Burgundy and Alsace, the Cape Cod native had decades of experience, including 22 years with Vail Resorts in Colorado and a private-barrel winery. "When he makes wine," says Nicole, "he's always thinking of food."
Willem's winemaking skills were celebrated on a grand scale this year when the winery's 2017 Nectar Nero Texas Rosé was one of only nine sweepstakes winners at the revered San Francisco Chronicle Wine Competition—a first for any Texas wine.
Selected in the Specialty Wine category, the Nectar Nero is best paired, says Willem, with a chunk of aged Parmigiano Reggiano. "Great wines are right here in our own backyard," says Nicole. "When I look at this land, I see so much opportunity."
Best-selling Red: Tempranillo/Malbec
Best-selling White: Viognier 2017
NORTH TEXAS WINE COUNTRY
From suburban wineries to back-road vineyards, these producers beckon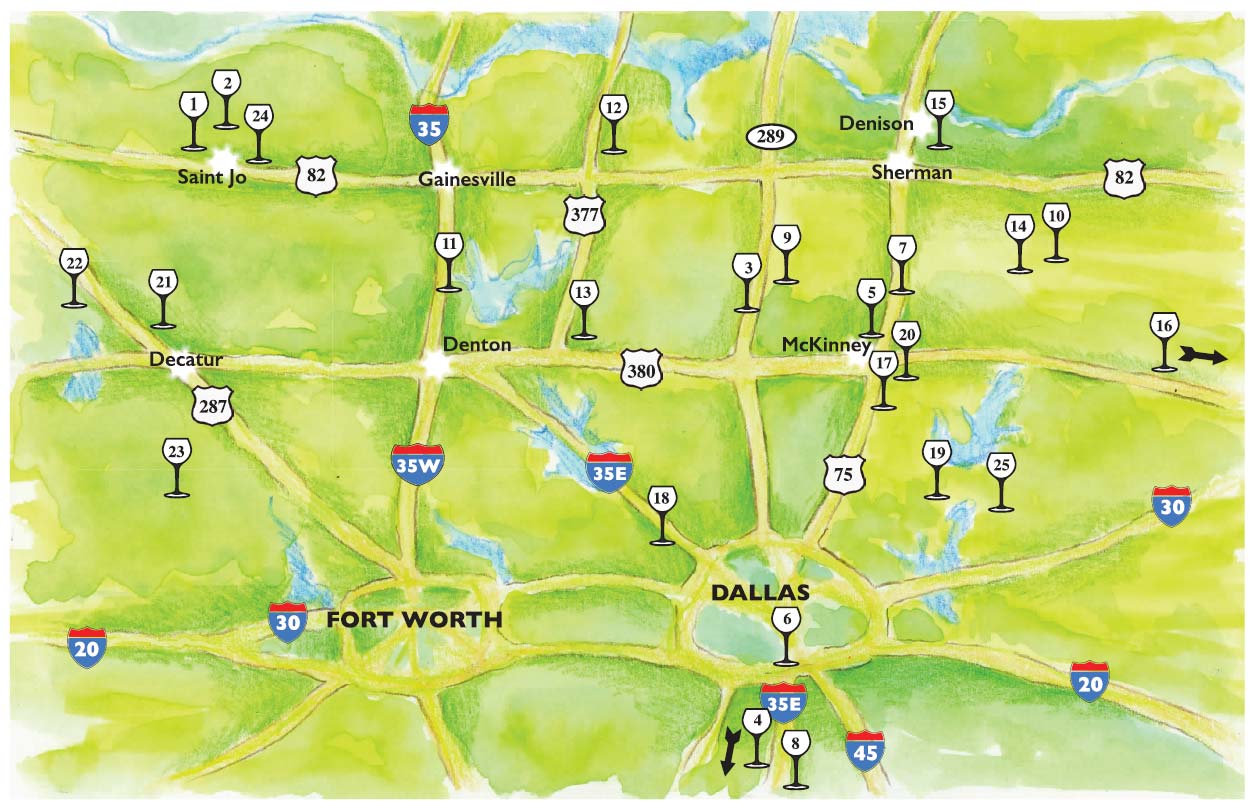 Arché
Saint Jo
Archewines.com
Blue Ostrich Winery & Vineyard
Saint Jo
Blueostrich.net
Carmela Winery
Celina
Carmelawinery.net
Cassaro Winery & Vineyards
Ovilla
Cassarowines.com
Caudalie Crest Winery
Celina
Goatsngrapes.com
Checkered Past Winery
Dallas
Checkeredpastwinery.com
Cooley Bay Winery
Van Alstyne
Cooleybay.com
Cork House Winery
Waxahachie
Corkhousewinery.com
Eden Hill Vineyard
Celina
Edenhill.com
FarmResort
Whitewright
Farmresort.com
Firelight Vineyards
Valley View
Firelightvineyards.com
Fitzel Winery
Gordonville


Fortunata Winery & Vineyard
Aubrey
Fortunatawinery.com
Grayson Hills Winery
Whitewright
Graysonhillswinery.com
Homestead Winery at Denison
Denison
Homesteadwinery.com
Landon Winery-Greenville
Greenville
Landonwinery.com
Landon Winery-McKinney
McKinney
Landonwinery.com
Landon Winery-The Sound
Dallas
Landonwinery.com
Landon Winery-Wylie
Wylie
Landonwinery.com
Lone Star Wine Cellars
McKinney
Lonestarwinecellars.com
Marker Cellars
Alvord
Markercellars.com
OG Cellars
Sunset
Ogcellars.com
TF Vineyard & Winery
Boyd
Tfvineyard.com
4R Ranch Vineyards & Winery
Muenster
4rwines.com
VineCrafters
Rockwall
Vinecrafters.com
As a kid, TERRI TAYLOR refused to eat her vegetables. Her veggie-phobia was cured in 1977 when she spent eight months working on farms in Norway and France. She studied journalism at UT-Austin and received a master's degree in liberal arts from SMU. Her short story "Virginia" can be found in Solamente en San Miguel, an anthology celebrating the magical Mexican town of San Miguel de Allende. She has written for Edible DFW since its inaugural issue in 2009. She became the magazine's editor in 2010 and is the editor of Edible Dallas & Fort Worth: The Cookbook.