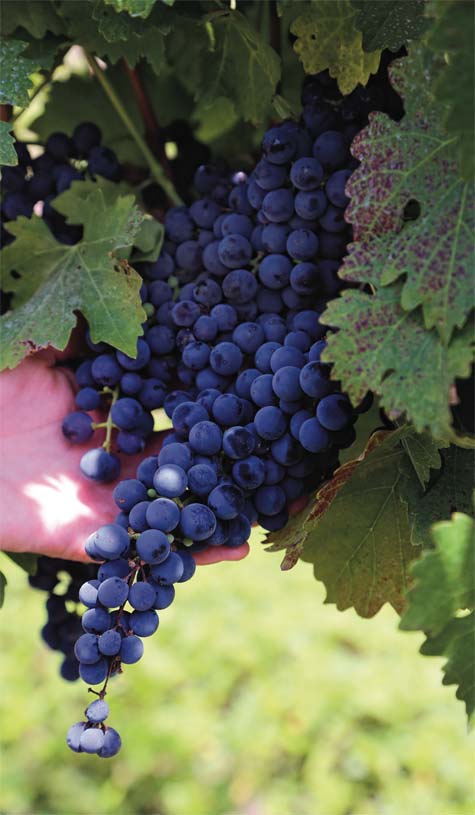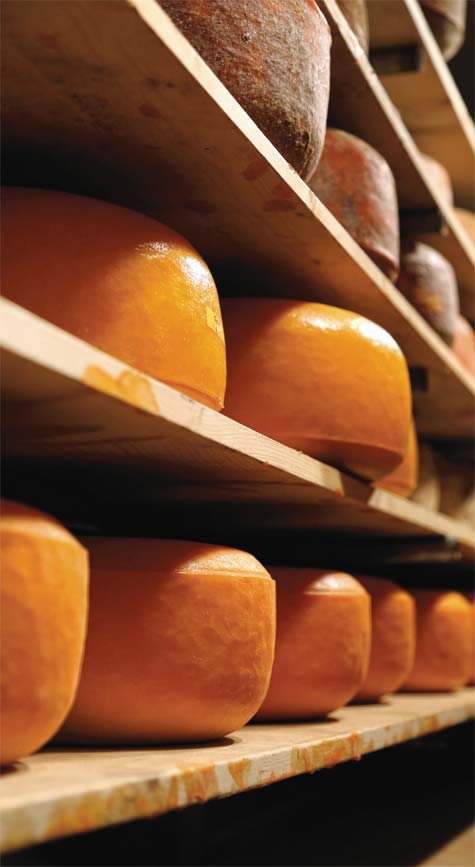 Photography by Terri Taylor
If you're a food and wine enthusiast who prefers driving the back roads to white knuckling it on the Interstate, there's an undiscovered culinary route through the center of Texas. Here, you'll find homegrown treasures and a tranquil retreat, halfway between the hubbub of DFW and San Antonio.
THE DRIVE
Head southwest from the Metroplex and venture onto U.S. 67, a trade route that spans from Texarkana to Presidio. Somewhere near Glen Rose, the city sprawl turns to rolling pastures, and you begin to relax. The route meanders through pretty farm country, and at Stephenville, merges with U.S. 377, dipping closer to the state's geographical center and the evening's destination. The base camp for your slow food adventure is Brownwood (brownwoodchamber.org), a central Texas town that fast trackers often bypass. But this journey is meant to be savored, and frequent stops are encouraged.
Knowing that wines are your future, turn left onto Country Road 458, just north of Dublin, and follow the signs to Veldhuizen Family Farm (veldhuizencheese.com), home to Veldhuizen Texas Farmstead Cheese. On Saturdays, Stuart, Connie and family give a morning tour of their cheese caves and demonstrate how their dairy's raw milk cheeses are made. At the farm store—open everyday but Sunday—choose from rows of cheese wheels, among them: Redneck Cheddar, Bosque Blue, Greens Creek Gruyere and Paragon Reserve. Or grab a gallon of raw milk. With plenty of wedges packed in your cooler, wave good-bye to the grazing Jersey girls and point your car toward Dublin.
If you're aching for something sweet, belly up to the bar and order a root beer float at Old Doc's Soda shop in downtown Dublin. Dublin Bottling Works (dublinbottlingworks.com) lost the battle with the Dr Pepper Snapple Group, and Dublin Dr Pepper is now a thing of the past. But the Kloster family, who operates the 122-year-old company, has moved on. Today, DBW produces a slew of flavors, including Texas XXX Root Beer, made with pure cane sugar and sold in retro-styled bottles. Take a tour and learn more about the historic bottling facility. With sticky pop and ice cream trailing down your arm, it's time to head to your B&B.

THE RETREAT
On the outskirts of Brownwood, off Farm Road 2125, you'll find secluded Morelock Lane, a narrow drive where deer and wild turkeys will cross your path then disappear like a dream into the surrounding woods. You'll wonder if you're on the right road just about the time the Star of Texas Bed and Breakfast (star-of-texas.com) appears in the distance.
Go straight to your room or cottage. The key is in the lock. Each of the four accommodations has a sitting porch, and several have outdoor soaking tubs. After you've unpacked, head to the porch and enjoy a glass of the local wine that owners Don and Debbie Morelock have left for you. Friendly housecats might come to check you out, but expect privacy. This is a great place to finish your next novel.
Or—to celebrate your elopement. Discrete, intimate weddings— with or without guests—is a house specialty. Don is authorized to perform the ceremony. Debbie and daughter-in-law Becca are master bakers and gourmet cooks, a fact that will become evident when your breakfast tray is delivered each morning. You'll swoon over Debbie's baked French toast and her unique fluffy pancakes with orange whipped cream and thick slices of country ham. Each morning, fresh eggs are collected from the Barred Rock chickens you've watched hunting for grub in the pond outside your room.
Debbie's a yoga enthusiast, and there are classes on Monday and Thursday. You'll also find a one-mile nature trail decorated with art objects and guarded by two sweet Sicilian donkeys. A vintage trailer serves as the spa. The Morelocks will be happy to arrange your massage.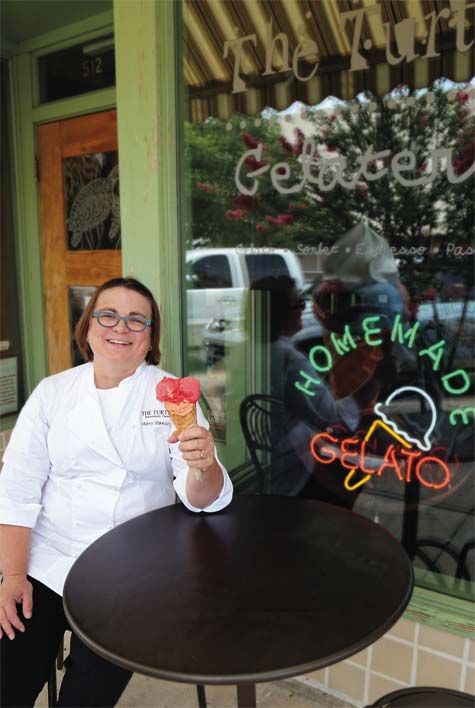 Turtle Restaurant owner Mary Stanley
BEHIND THREE DOORS
You have dinner reservations at the upscale yet relaxed Turtle Restaurant (theturtlerestaurant.com) in Brownwood's historic district. Under a span of striped awning on Center Street, look for three doors with etched glass panels bearing the Turtle insignia. Tonight you'll enjoy the main dining room but before you sit down, take a peek behind the other doors.
The newest one leads to the Turtle Enoteca, an Italian-style wine bar that serves up small plates—like antipasto, baked Caciovera with homemade bread or Roman-style pizzas. The bar specializes in Texas and Italian wines and craft beers.
Outside the next door, you see café tables and a giant swirl-cone trashcan. Inside, you're surprised to find an authentic Italian Gelateria with an assortment of house-made gelato and sorbetto. The flavors change weekly and always include Italian classics like chocolate hazelnut and lemon, as well as quirkier combinations—jalapeño peanut brittle—inspired by local ingredients.
The visionaries behind the doors are owners Mary and David Stanley, who stand at the epicenter of efforts to revitalize the city's historic buildings. David, an architect, is currently converting a block of sandstone buildings, circa 1893, into chic work-live multilevel condominiums. The couple has also begun a massive project creating a 1930s-style entertainment arcade in the vintage building next door to the restaurant. What was once the Montgomery Ward Department Store will house an old-time bowling alley (employing pin-boys rather than machines), a competition grade Skee-ball court, reproduction Foosball and shuffleboard on the mezzanine with a high-tech sports bar featuring Texas brews and gourmet bar food.
Mary, who is at the helm of the Turtle eateries, strongly believes in supporting local agriculture. Their food is made scratch and Mary is the artisan who crafts the pasta, gelato, desserts and breads. A fifth grade trip to Germany to attend her grandfather's funeral sparked her intense interest in the culinary world. She never forgot the beauty of the desserts, the market full of fresh vegetables and the hot fresh bread from the village baker. "I came home and asked my mother if I could start doing the cooking. I taught myself."
It would be years before Mary returned to Europe, but when she did, it was on a business trip with David to Italy, and she fell hard for all things Italian. "I love the Italian lifestyle," she says. "The leisurely two hour meals with extended families sitting, drinking and talking. We don't rush you at our restaurant." She continues to travel to places far-flung to expand her knowledge, and she often brings a staff member so they might learn also.
Dinner is waiting you in the restaurant where Chef Stephen "Bubba" Frank creates cuisine that rivals his big city contemporaries. (Living up to his name, he also makes a mean chickenfried for Sunday brunch.) Beside him is young sous chef Melanie Hedley, whose father Mark is the founder of Spiral Horn Apiary (spiralhornapiary.com), dedicated to protecting central Texas bees. The Turtle Commissary stocks local products like Spiral Apiary honey, Texas Olive Ranch Olive Oil and Dublin sodas.
Serving up tonight's cocktails and wines is mixologist and aspiring sommelier, Hayley Fowler. She chooses a rosé from nearby Wedding Oak Winery to accompany your house-made angel hair pasta with spicy Gulf shrimp. Your meal ends with a serving of Mary's warm breading pudding made from chocolate apricot bread with Applejack brandy hard sauce. You head back to your B&B, and dream of returning for their Sunday brunch.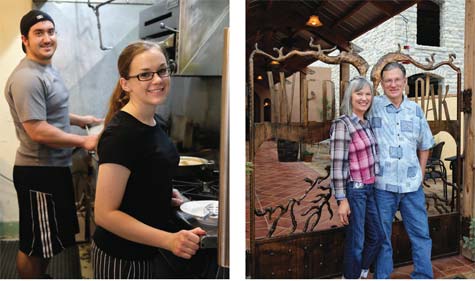 (above): Chef Bubba Frank and Melanie Hedley;
(left): Lynn and Mike McHenry, Wedding Oak Winery
THE WINE TRAIL
The Morelocks have devised a nifty wine trail map with a suggested loop of vineyards within a 70-mile radius of the B&B. Call ahead to find out the hours of each tasting room. Brownwood is situated in the midst of the Way Out Wineries (wayoutwineries.org), which stretch from Granbury to Lampasas. The northern reach of the Texas Hill Country Wine Trail (texaswinetrail.com) is a 45-minute drive away near San Saba—"the pecan capital of the world" (sansabatexas.com).
First, head 28 miles north to Comanche (comanchechamber.org). The tasting room of Brennan Vineyards (brennanvineyards.com) is housed in one of the oldest remaining homesteads in Texas. Vineyard owner Pat Brennan is a retired Fort Worth physician who had no intention of making wines when he and his wife Trellise purchased the property in 1997. "It was a place to get away," says Pat.
"Then one thing led to another." Sixteen years later, Brennan wines can be found in some of the state's most prestigious restaurants. Ask to sample their signature Viognier. "We describe it as a white wine for red wine lovers," say Brennan. Their 2011 vintage was recently awarded a Double Gold Medal at the 2013 Finger Lakes International Wine Competition.
On the road south, you'll find Alamosa Wine Cellars (alamosawinecellars.com) in Bend. Their tempranillo "El Guapo" is on the Turtle's discriminating wine list. Near Lampasas, there's Pillar Bluff Vineyards (pillarbluff.com) and Texas Legato Winery (texaslegato.com).
The new kid on the trail is San Saba's Wedding Oak Winery (weddingoakwinery.com), named for the town's 400-hundred-year-old oak, a popular wedding site since the earliest settlements. Managing partner Mike McHenry and his wife Lynn have been growing Mediterranean varietal grapes for other area wineries for over a decade. Last year, with the help of 20 investor friends and seasoned winemaker Penny Adams, Wedding Oak Winery was born. "Our tagline is 'Our Texas Roots Run Deep'" says Mike. "There's a rich history here, from the old San Saba mission to the centuries-old Wedding Oak. The winery is deeply connected to the community and the land, and you can taste it in our wines." The tasting room and production facilities located in a restored 1920s building will soon be expanded, which should further ignite this growing little town perched on the Hill Country's northern corner. You're wise to get here before the crowds. Great food, wine and vintage Texas towns—these back roads won't be a secret for long.
RECIPE
ROAST PORK & BUTTERNUT SQUASH PURÉE
As a kid, TERRI TAYLOR refused to eat her vegetables. Her veggie-phobia was cured in 1977 when she spent eight months working on farms in Norway and France. She studied journalism at UT-Austin and received a master's degree in liberal arts from SMU. Her short story "Virginia" can be found in Solamente en San Miguel, an anthology celebrating the magical Mexican town of San Miguel de Allende. She has written for Edible DFW since its inaugural issue in 2009. She became the magazine's editor in 2010 and is the editor of Edible Dallas & Fort Worth: The Cookbook.