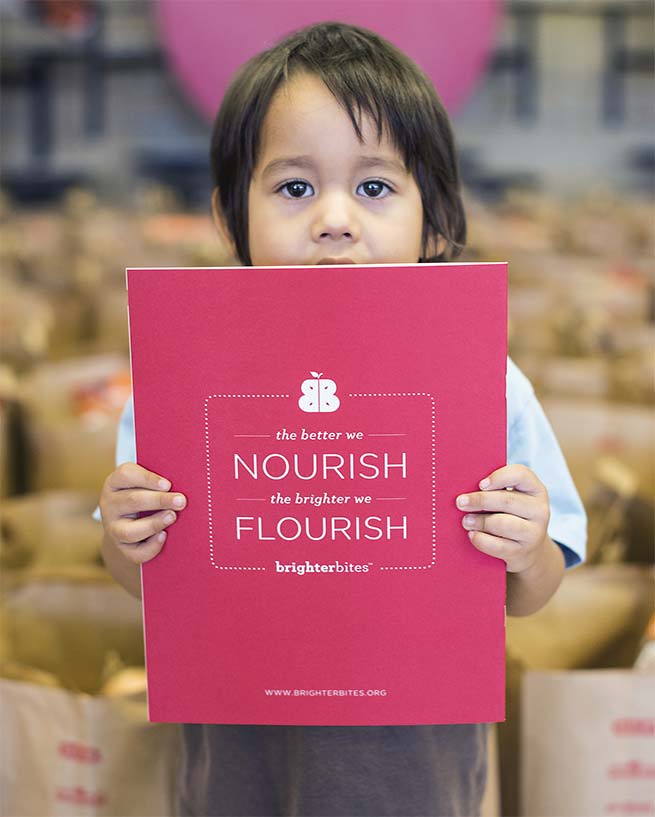 Photography by Teresa Rafidi
From his resting spot in the middle of Phinney Avenue, a wirehaired Chihuahua eyes my car as I pull up to L.O. Donald Elementary School. I imagine he resides at one of the tidy houses nearby, and this is how he passes the day, waiting for the final bell and his gang of playmates to emerge and join him.
Inside the school's 1950s-era building, lunch has ended, but the cafeteria is awash with red t-shirts emblazoned with the words "Brighter Bites." The snappy moniker belongs to a Texas-based nonprofit dedicated to delivering fresh fruits and vegetables to low-income families via schools, primarily those located in areas without sufficient grocery stores. Much like a food co-op, participating schools receive eight deliveries a semester, along with easy recipes, tips for parents and lesson plans for teachers to help make healthy choices more fun.
It takes teamwork to build a community of health. On the day of my visit, there are at least 15 parent volunteers and five Brighter Bites staffers—all in red t-shirts—filling 430 grocery bags, two bags each for the 215 participating families. Bags are distributed at the end of the school day, and with only two hours to go, the team is in high gear. Flatbed dollies zoom through the shiny corridors, each stacked high with crates and boxes unloaded from the North Texas Food Bank truck that's docked behind the kitchen.
All the volunteers are women, except for agile 80-year-old Felipe Baca, who does most of the heavy lifting. Baca has lived for 40 years in the red brick house across a side street. Though decades have passed since his grown children attended this school, he's happy to lend a hand.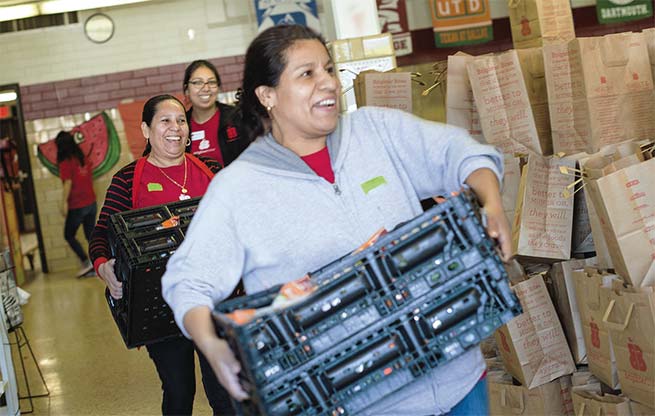 It take a village. Parent volunteers (front to back) Maria Isabel Morin, Maria Rangel and Brighter Bites Program Coordinator Magaly Solis carrying vegetable crates.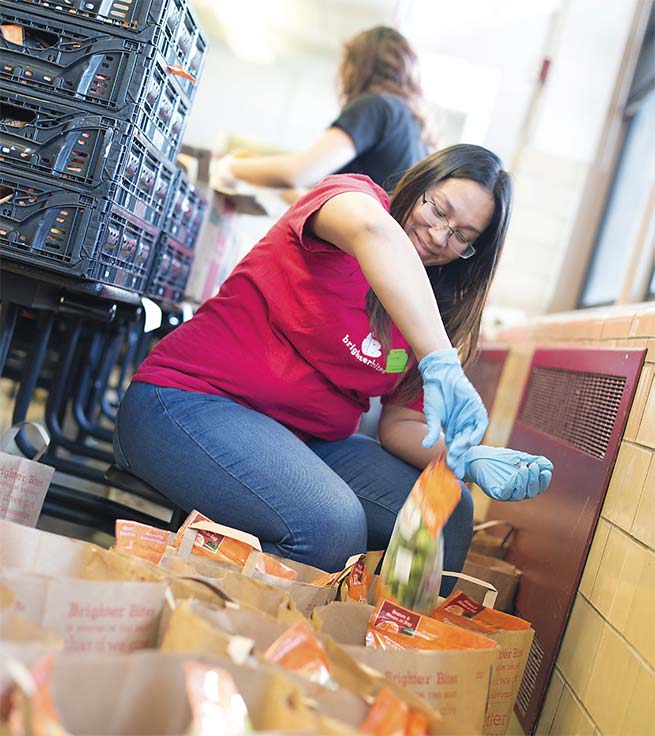 Volunteer April Vargas filling bags.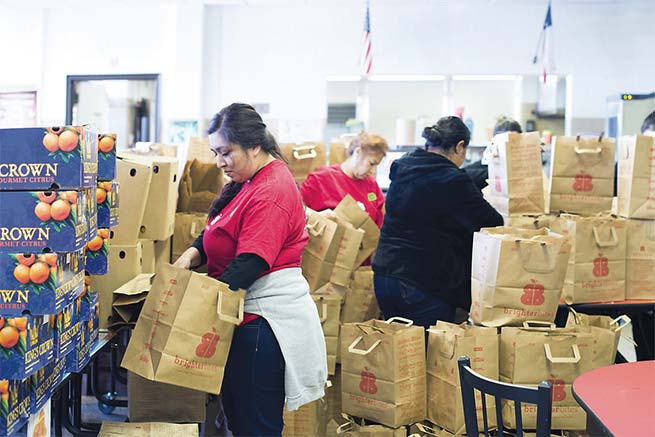 Volunteers Malerie Galvan, Claudia Medina and Lourdes Gutierrez sorting produce.
"You see such pride in the faces of our volunteers," says Alicia Farhat, Brighter Bites' Dallas Program Director. "They know they're helping their community. That's a beautiful thing to see."
"And to feel—don't you think?" adds Kathryn Carter, L.O. Donald's dynamic principal. "We are very thankful for them, but it's also great they can have this experience and share it with their children."
The cafeteria is a scene of controlled chaos as boxes are ripped open, produce sorted and written materials assembled before being dropped into each bag. Today's harvest includes onions, potatoes, tomatoes, apples, bananas, butternut squash, oranges and bell peppers. The items were selected a few days earlier by Alicia on her daily visit to the North Texas Food Bank warehouse. Perishable produce, usually excess stock or items slightly bruised, is regularly donated to NTFB by retail and wholesale partners like Kroger, FreshPoint, Sam's Club, Sprouts Farmers Market, Walmart and Whole Foods Market, to name a few.
"We always include at least one surprise food," says Alicia. "Something that most of our families have never tasted. Today, it's Brussels sprouts!"
Not something you find on an average kid's plate. But this risk-free sampling enables families on a limited budget to take a chance on a new food and expand their palate. It might take 12 tries for a child (and many adults) to learn to like an unfamiliar vegetable. Brighter Bites' easy recipes have been created with kids (and finicky eaters) in mind.
The organization's founder, Lisa Helfman, was inspired by her own family's food experience after joining a Houston food co-op. She discovered that this weekly exposure to more and varied produce dramatically changed their eating habits. When she witnessed her son turn down birthday cake at a party in favor of fresh blueberries, she wanted to replicate that type of positive change in underserved communities. In partnership with Dr. Shreela Sharma of the UTHealth School of Public Health in Houston and the Houston Food Bank, Lisa founded the organization in 2012, and since that time, millions of pounds of fresh produce and nutrition education have been provided to students in Austin, Dallas and Houston. This year Brighter Bites celebrates its fifth anniversary with plans to expand nationwide.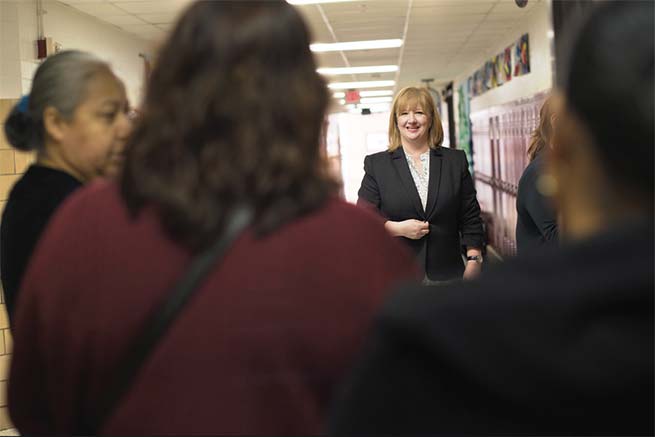 Principal Kathryn Carter visits with L.O. Donald Elementary School parents.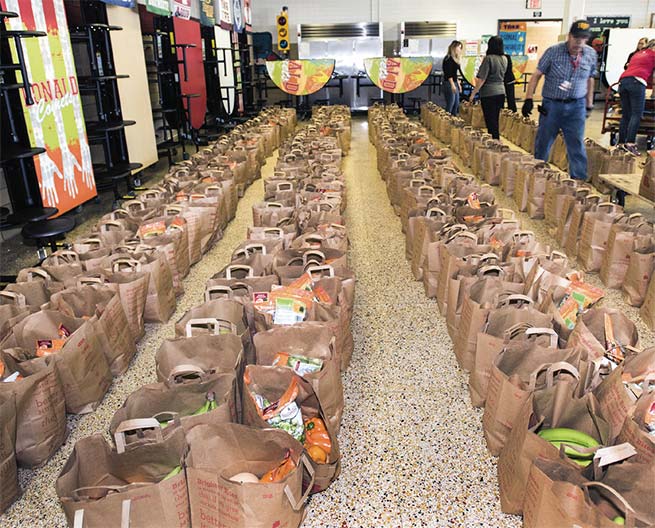 Volunteers arrange rows of grocery bags.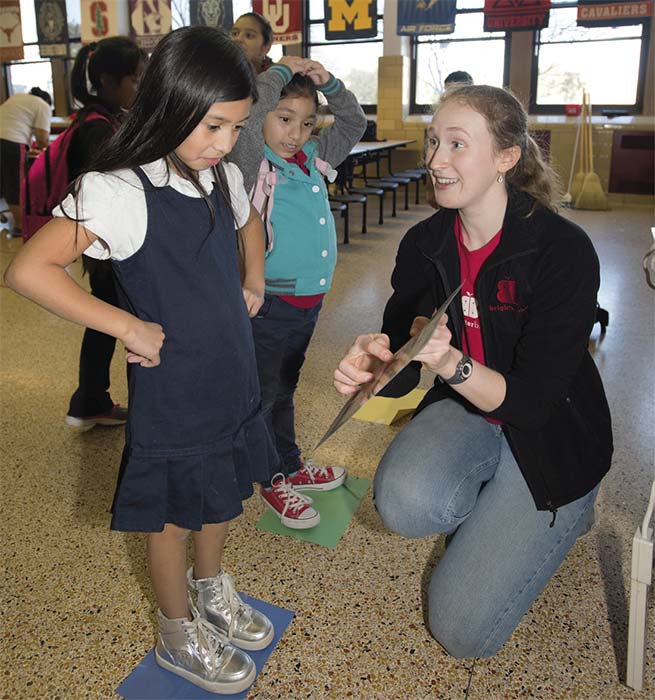 Students Alyssa Lara and Brianna Martinez jump across the rainbow with Brighter Bites Program Coordinator Catherine Miller.
The Dallas program is in 15 schools and nine summer camps. This fall, after three years in the program, L.O. Donald is taking a hiatus from the produce distribution piece of the program to make room for other local schools that want to participate. Says Alicia, "We'll continue to support L.O. Donald with cooking demonstrations and written materials that reinforce the lessons of the last three years." The goal is to jumpstart healthy eating habits that will continue past the duration of the program. L.O. Donald will be eligible to rejoin at the end of the three-year cycle, when a new set of parents and children are enrolled in the school.
After chatting with Alicia and Principal Carter, I turn around and find the lunchroom transformed. Instead of a hodge-podge of boxes, orderly rows of produce-filled bags extend the length and nearly half the width of the room. Backpack-clad students and their parents are filing in beneath the college banners that line the cafeteria's perimeter.
This isn't a grab-it-and-go scenario, but more a gathering. Parents are talking, kids are playing. Everyone's enjoying samples of the freshly made Minty Citrus Salad that has been prepared by the Brighter Bites staff. Though the recipe calls for grapefruit, oranges have been substituted because that's what's available this week. They have also added jicama to give the dish extra crunch.
"Brighter Bites gets the entire school involved … to completely remove the stigma from food distribution," says Anna Kurian, North Texas Food Bank's Director of Communications. "We know that the kids who participate … are learning valuable lessons about health and wellness that they will carry on for a long time."
On the far side of the lunchroom, students are invited by Program Coordinator Catherine Miller to "Jump Across the Rainbow," a game that encourages them to fill their plates with color, an indicator of the nutrients within fruits and vegetables.
"What foods are red?" Catherine asks the kids.
"Strawberries, tomatoes and apples!" they answer, moving from one square to the next.
"How about blue or purple?"
"Blueberries. Grapes."
And there are yellow bananas, brown dates and orange carrots.
"And green?" she asks finally.
"Avocados, cucumbers—and—Brussels sprouts!" they laugh, heading out the door where an eager Chihuahua sits waiting.
RECIPE

As a kid, TERRI TAYLOR refused to eat her vegetables. Her veggie-phobia was cured in 1977 when she spent eight months working on farms in Norway and France. She studied journalism at UT-Austin and received a master's degree in liberal arts from SMU. Her short story "Virginia" can be found in Solamente en San Miguel, an anthology celebrating the magical Mexican town of San Miguel de Allende. She has written for Edible DFW since its inaugural issue in 2009. She became the magazine's editor in 2010 and is the editor of Edible Dallas & Fort Worth: The Cookbook.