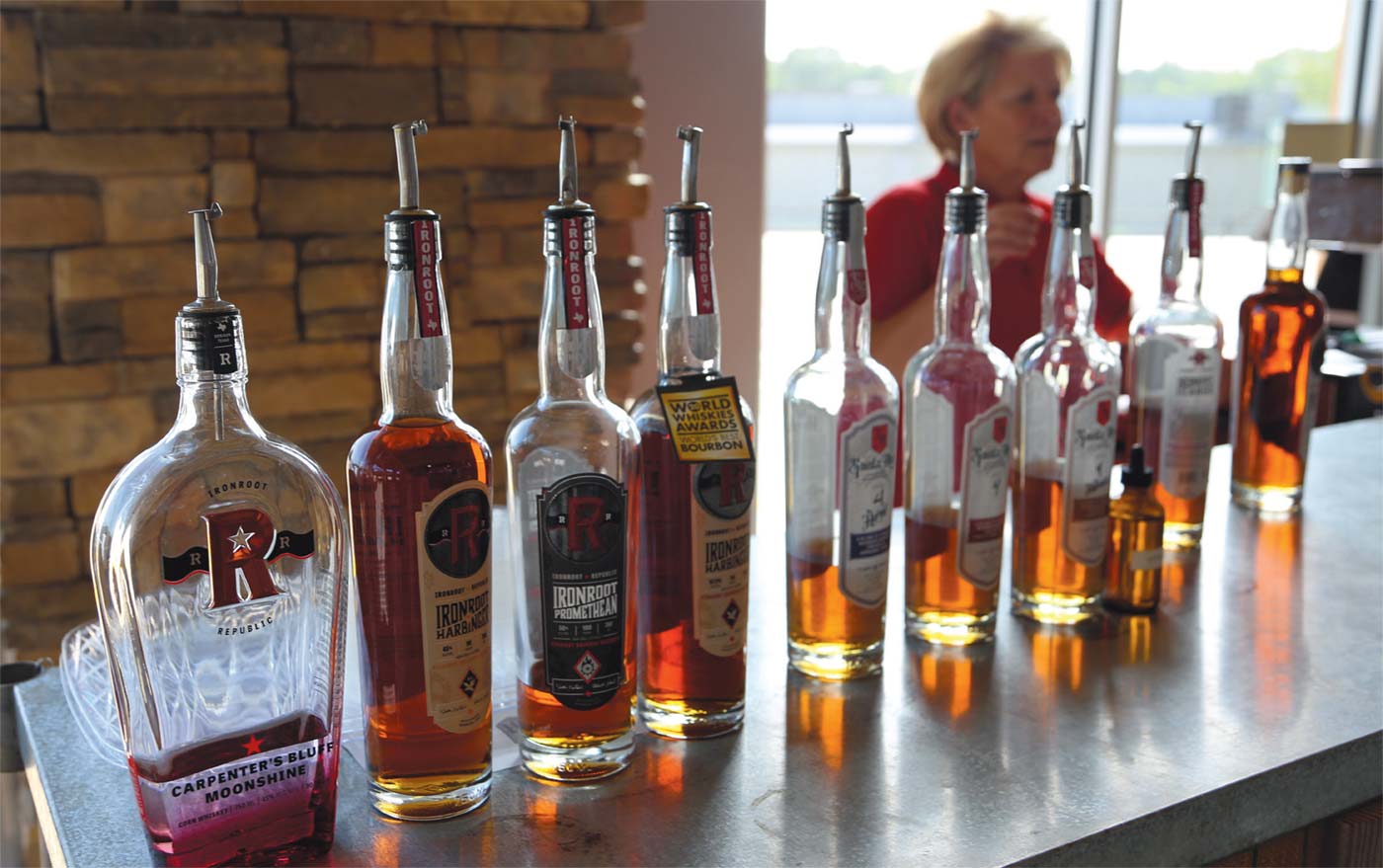 IRONROOT REPUBLIC DISTILLING
Just before graduating from the University of St. Louis School of Law, Robert Likarish announced that he was veering from his life plan.
"I don't want to practice law," he told his family at Christmas dinner. "I want to be a distiller."
After a moment of silence, his older brother Jonathan, a biomedical engineer, broke the ice, "Well, if you're doing it, I'm doing it, too."
To that, Jonathan's wife Jessica added, "I don't care, as long as we can live in Texas."
In truth, the Likarish brothers had been lured o course several years earlier at a family reunion in Spokane, Washington when, as luck would have it, they dined at a restaurant next to Dry Fly Distilling, a renowned farm-to-bottle distillery.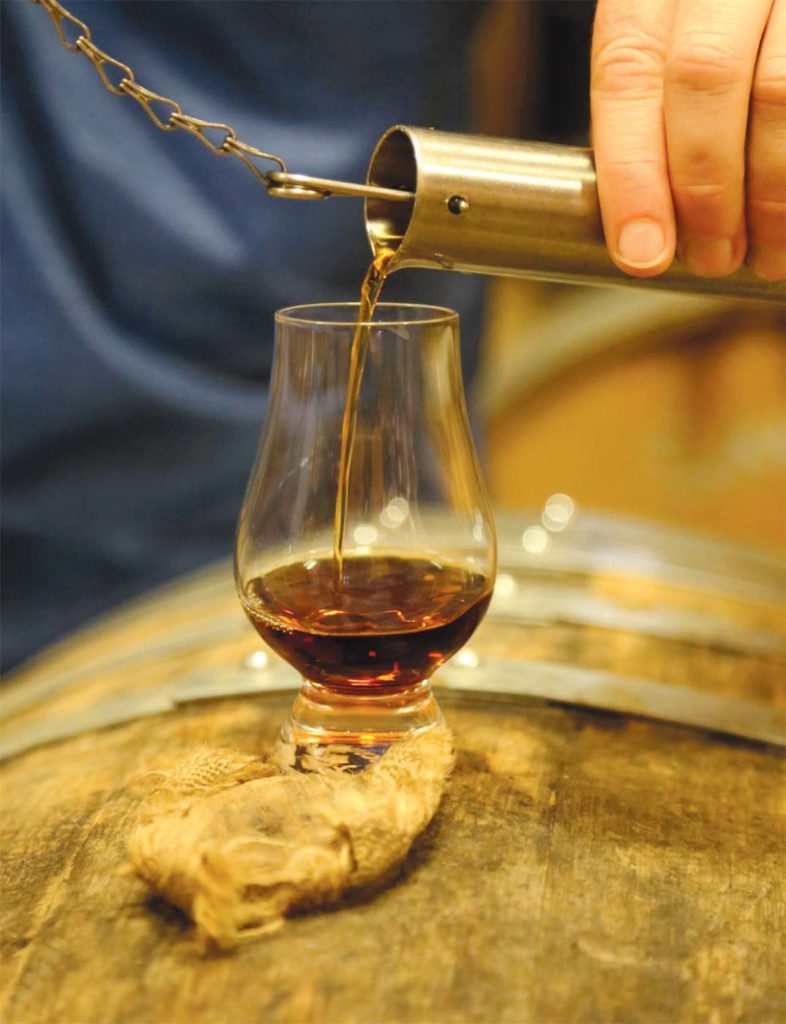 "Oh, we need to do that," one of them said. "When we retire." But the siren call of Dry Fly's copper stills continued to haunt them.
"We'd been to wineries and breweries and their stainless steel tanks are gorgeous," says Robert. "But when you walk into a distillery and see all that copper." He pauses and sighs. "There's just something about the warmth of copper." Robert admits that in the planning days of what would later become Ironroot Republic they were passionate and clueless in equal measure. It was a happy accident when he and his mother, Marcia, wandered into Vendome Copper and Brass Works, the premiere Louisville still maker, while fact-finding along Kentucky's Bourbon Trail.
"We weren't prepared for their questions," he says. "They asked us to talk about the still we wanted, and how much we wanted to produce. We knew so little."
They muddled through and signed on to Vendome's two-year waiting list. In the interim, Robert and Jonathan dug down and studied, interning at cra distilleries like Dry Fly, Koval in Chicago, and Balcones in Waco.
Their first French connection came while working with consultant Nancy Fraley and her esteemed mentor Hubert Germain-Robin, a 10th generation Cognac distiller, who had spread his wings and flown to California in the 1980s to make brandy from non-traditional grapes.
They admired Germain-Robin's brandy and decided that in addition to creating Texas whiskeys, they wanted to be the first distillery to cra brandy from Texas grapes.
During their studies, the Likarish brothers embraced the French art of élevage, where distillers interact with each barrel, intimately learning its qualities through frequent tastings. Rather than sealing the cask and leaving it to mature, the distiller fine-tunes it along the way—adding water, transferring it into different types of casks—to achieve the optimum flavors.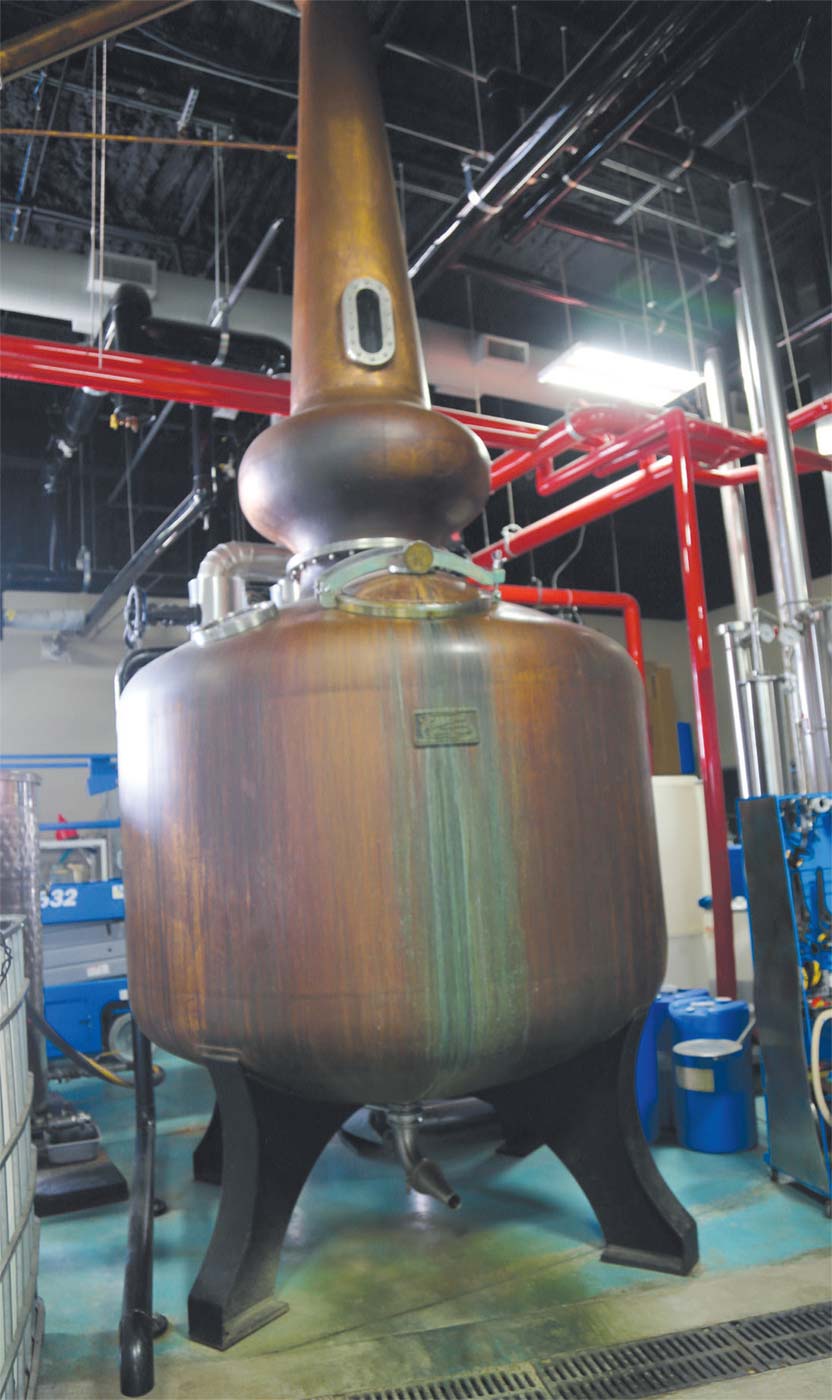 Germain-Robin emphasized terroir—a term rarely used among whiskey makers in those days—and encouraged them to source ingredients close to home.
They had decided to set up shop in North Texas but still hadn't chosen a location. Robert had received his bachelor's degree in economics and international studies at Austin College in Sherman. A former professor suggested that they consider nearby Denison and reminded him of the city's historic connections to French wine.
"I'd completely forgotten the T.V. Munson story," says Robert. "Munson helped save Cognac. Cognac and Denison are sister cities. We wanted to make brandy. All the dots began to connect. Of course, we were meant to be here!"
They chose "Ironroot" to honor Munson's tough Texas rootstock and "Republic" for the state's historic years as an independent nation. Now, nine years later, Ironroot Republic is at the forefront of the growing buzz surrounding Texas whiskeys. Among their many awards, their Harbinger bourbon was named the "World's Best Bourbon" in 2020 at the World Whiskies Awards in New York. They were the first non-Kentucky distillery to receive such an honor.
It's always been a family affair. Jonathan assumes the role of Head Distiller, while Robert calls himself "The Gladhander." As General Manager, Marcia keeps everyone in line and their dad John lends a hand in the tasting room. There's even a corner play area for Jonathan's 6-year-old son Grainger and 10-year-old daughter Danica.
The decision to settle in Denison has proven to be the perfect choice in ways they could not have imagined. Says Robert, "It's a close community that works well together."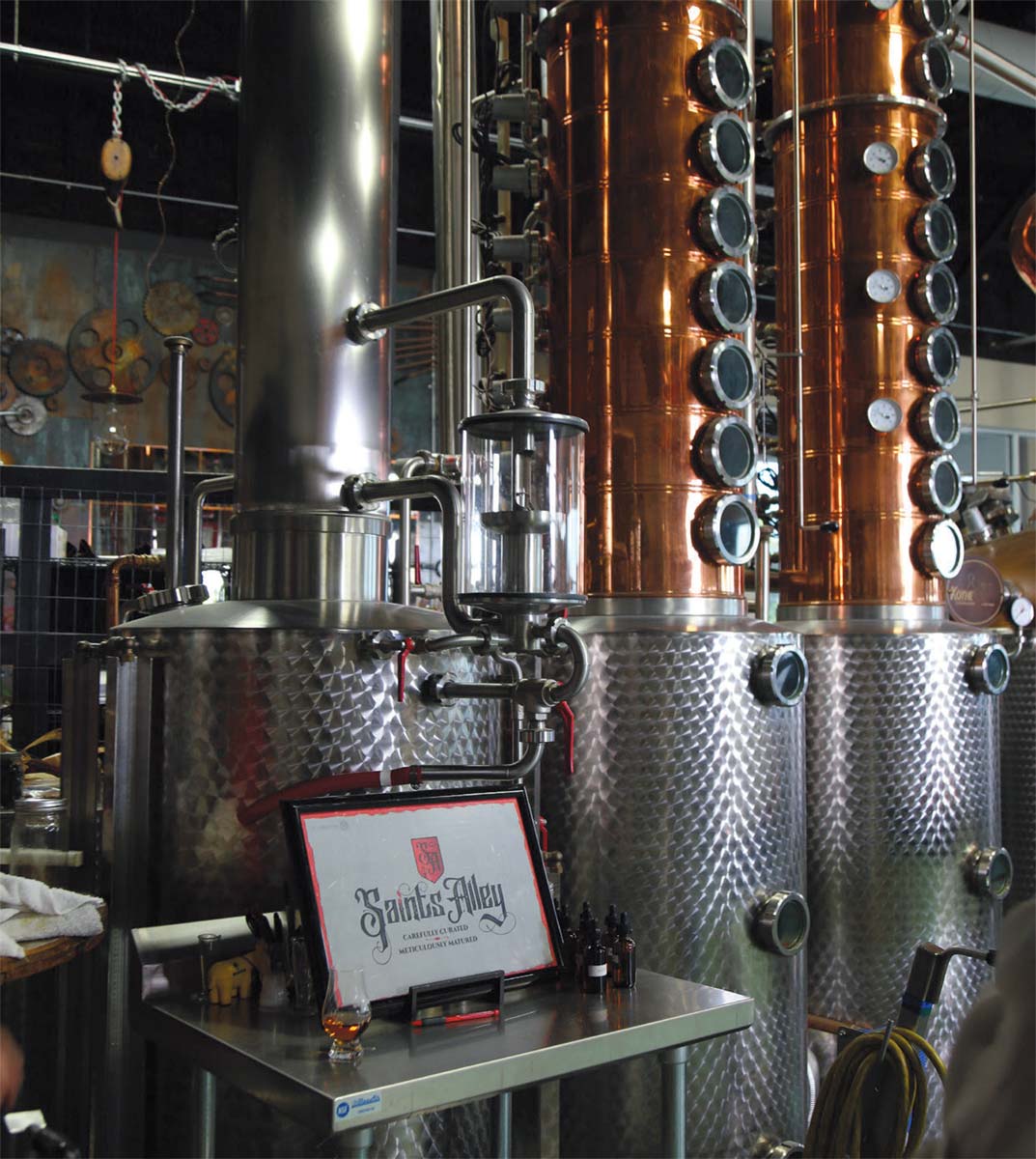 This summer, when they needed lodging for their Scottish intern, Grayson College offered them a dorm room. In turn, Jonathan helps with the distilling classes in Grayson College's new state-of-the-art teaching distillery up the hill from the Munson Vineyard.
The most impactful connection has been Denison's century-plus relationship with Cognac. This exchange of ideas initiated by T.V. Munson is now being carried forth by the Likarish family. In 2018, Robert and Marcia spent a month in France, distilling and touring. In Armagnac, they celebrated La Flamme de l'Armagnac when the distilleries open their doors and give tastings of the latest vintage straight from the newly kindled stills.
"We joked that there aren't too many vacations where you wake up at 4 a.m. and work," says Robert. "But the experience was incredible."
This fall, their French connection is finally being realized in a bottle. On November 12—Ironroot's 9th anniversary—they will unveil their "Sister Cities Blend," the inaugural brandy from their new Sleight of Hand line. The spirit is a union of their own 8-year-old brandy, distilled from North Texas chenin blanc, and a 13-year-old Cognac from their friends in France.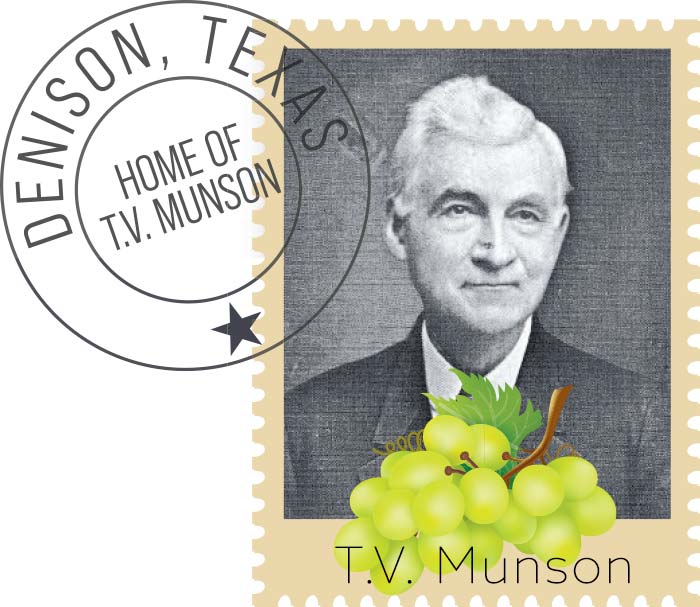 Looking to the future, the Sleight of Hand collection will continue to add limited-release blended brandies and perhaps whiskeys, which marry Ironroot spirits with spirits from outside of the U.S. "I don't know exactly which path we'll go down," says Robert, "but we want to celebrate what inspires us."
To share that journey, Denison has gifted them the most perfect vineyard partner. In a delicious stroke of serendipity, they found the riesling they needed to create their dream brandy growing just across town in Stormy Cansler's Hidden Hangar vineyard.
"You just don't expect to come across riesling in Texas, especially in your own backyard," says Robert, "but Hidden Hangar has found the magic. We've distilled many grapes from Texas over the years, but nothing quite like this."
He believes that the riesling's struggle to grow here has only made the vines more resilient and full of character.
"The French speak often about 'terroir,' says Robert, "In my opinion, Hidden Hanger's rieslings are the most beautiful expression of the North Texas terroir."
As a kid, TERRI TAYLOR refused to eat her vegetables. Her veggie-phobia was cured in 1977 when she spent eight months working on farms in Norway and France. She studied journalism at UT-Austin and received a master's degree in liberal arts from SMU. Her short story "Virginia" can be found in Solamente en San Miguel, an anthology celebrating the magical Mexican town of San Miguel de Allende. She has written for Edible DFW since its inaugural issue in 2009. She became the magazine's editor in 2010 and is the editor of Edible Dallas & Fort Worth: The Cookbook.