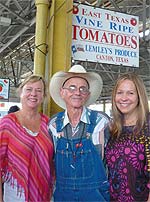 I awoke this morning to the sound of thunder, and it made me smile. Radar showed a skinny arc of August showers drifting across North Texas, and I thought of the farmers and ranchers I'd visited throughout the summer. I wondered if these patchy clouds were hovering over their crops and animals also. In my own suburban yard, the leaves glistened, and the squirrels and birds seemed ecstatic. I didn't tell them that the forecasters had predicted only a temporary break, that the dry, triple-digit days would soon return. The light steady drizzle gave reason for hope.
"It's the worst I've ever seen," farmer J.T. Lemley told me when I visited him in late summer. This is a man who should know. Mr. Lemley has been bringing his produce to the Dallas Farmers Market for 35 years. That's half of the market's 70-year existence. It takes an hour to get to Dallas from his farm in Canton, and he makes the drive several times a week for his loyal following of chefs and home cooks who treasure, among other things, his legendary tomatoes.
By mid-July, farmers all around the state were facing unusually parched fields as temperatures continued to climb. Many ranchers struggled to sustain their herds, and animals were being auctioned off too soon. Frail seedlings withered without rain. By early August, the pickings at farmers markets had dwindled to only the heartiest varieties. What—if anything- –would be harvested in the fall if this weather pattern continued?
In Mr. Lemley's Kubota RTV, we toured his farm with his dog Lucy, and he showed me the empty greenhouses where he nurtures his tomatoes during the cooler months. Earlier we'd flipped through his seed catalogues, and he'd pointed out his favorites: Celebrity, Big Beef, Early Girl and Cherokee Purple. We drove past a line of peach trees that had just produced their final fruit of the season. They looked exhausted. "Even a few clouds would be a help," he sighed.
Our food producers are forever tied to the whims of the weather. For the most part, the rest of us are several generations removed from that day-to-day worry. While we grapple with astronomical utility bills, we still have the option to find our daily nutritional sustenance from sources outside of our region. But for those who bring their produce to our North Texas farmers markets, who sell the fruits of their labor to grocery stores and restaurants, this eternally long hot spell is much more than an inconvenience. Mother Nature gives and takes and controls the very existence of a life's work.
Mr. Lemley has experienced a great deal during his thirty-five years of farming, and he will continue to roll with the punches. On his desk is a quote from John Wayne, one of his heroes: "Courage is being scared to death—but saddling up anyway."
Support your local farmers with your well wishes and prayers, and when you take your first bite of whatever the new season brings, appreciate how that hearty morsel struggled to get to your plate.
— Terri Taylor
As a kid, TERRI TAYLOR refused to eat her vegetables. Her veggie-phobia was cured in 1977 when she spent eight months working on farms in Norway and France. She studied journalism at UT-Austin and received a master's degree in liberal arts from SMU. Her short story "Virginia" can be found in Solamente en San Miguel, an anthology celebrating the magical Mexican town of San Miguel de Allende. She has written for Edible DFW since its inaugural issue in 2009. She became the magazine's editor in 2010 and is the editor of Edible Dallas & Fort Worth: The Cookbook.