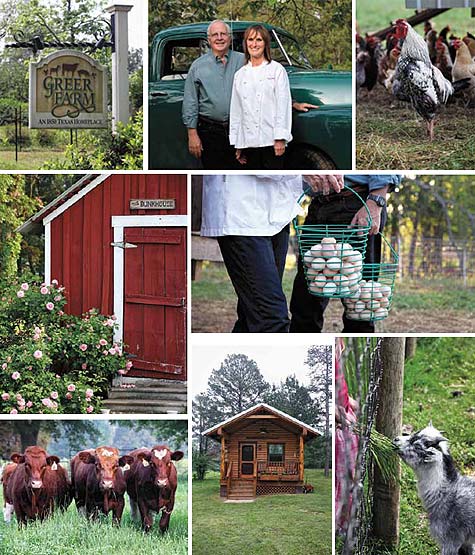 PHOTOGRAPHY BY KELLY YANDELL
reezing down Highway 49 between Mount Pleasant and Daingerfield, we are 150 miles east and a world away from Dallas. The cut-off to the farm is a curvy country road lined with broad oaks and wispy pines. Our car passes fields and lone houses, and then suddenly, manicured rows of blackberry and blueberry bushes pop into view. Where the road narrows, past a canopy of trees, the sign reads: "Greer Farm— An 1850 Texas Homeplace."

Our small group has come here to catch-up, to unwind and to cook farm-to-table cuisine with Chef Eva Greer. Two years have passed since I last visited Sid and Eva Greer's sustainable farm with its youpick- it fields and lakeside guest cottages. Looking around, it's just as I remembered. I notice Eva's antique roses as I bound up the steps onto the planked porch that stretches the length of the white farmhouse. Sid opens the screen door and welcomes us with keys to the log cabins, which are just across the road. Eva peeks her head out and waves from the kitchen, where she's washing and prepping vegetables for our afternoon class. The front porch rocking chairs invite us to sit a spell, but there's unpacking, exploring and cooking to be done.
Unlatching the gate, we spot the newborn twin lambs Sid has told about. We snap photos then notice their mother's dark eyes giving us the once-over. Taking the hint, we continue down the red dirt road toward the four cabins at the edge of the lake. There are kayaks nearby and a dock for fishing.
Flower boxes skirt the porch of each cabin. Inside, ceiling fans whirl and an East Texas breeze drifts through the screened windows. The cabin is neatly arranged with a quilted queen, a pullout sofa, a kitchenette and an extra large bath.
It's nice to have Wi-Fi and a flat screen television, but those conveniences are quickly forgotten when we find a basket of Eva's homemade bread and preserves.
We grab goat cheese and summer sausage from our grocery sacks and chilled Texas Viognier from the ice chest, then head to the lakeside picnic table where, under an umbrella of pecan trees, we toast to our arrival and enjoy our impromptu feast al fresco.
Spanish and French explorers traversed this land, and the Caddo Indians called it home before Anglo-American homesteaders settled here around the time of the Texas Revolution. The front section of the main farmhouse dates back to 1850, and several old structures, like the two-seater outhouse and the timber-framed barn with wooden pegs, are still standing. The windmill that sits over the hand-dug well dates back to 1928. Electricity didn't find its way to the farm until 1952.
The original kitchen, the heart of the old homestead, was a 24' X 16' clapboard building. Legend has it that a hungry panther, drawn to the kitchen's savory aromas, sauntered through its side door one sunny afternoon.
The front porch rocking chairs invite
us to sit a spell, but there's unpacking,
exploring and cooking to be done.
It was Christmas Eve in 1998 when the Greer family, then based in London, decided to make this place their home. Sid grew up in East Texas, but during his 25 years in the oil business, he, Eva and their four children traveled the world, living in exotic locales like Tunisia and Madagascar. As his job demanded more time away from the family, Sid knew it was time for a lifestyle change. This 400-acre spread, originally purchased to be their retirement home, offered a radical, new start in farming and ranching.
Though Eva initially had a few concerns about an isolated life in the country, she quickly found it to be the perfect place for pursuing two life-long passions: gardening and cooking. The daughter of a Polish physician and his wife, Eva grew up in Belize, then known as British Honduras, where her family relocated at the end of WWII , following her father's release from a Nazi labor camp.
Eva's European heritage, her years in Belize, her love of cookbooks and her travels abroad have given her vast knowledge of ingredients and a unique culinary style. Before moving to the farm, she honed her skills at the International Culinary School at the Art Institute of Houston.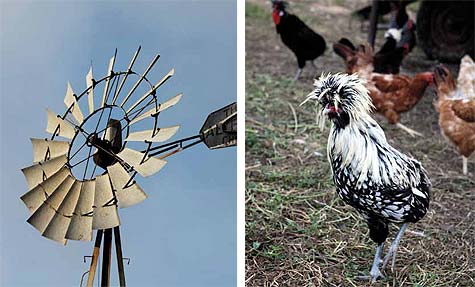 The couple takes great pride in creating beauty here. Eva's flowers are everywhere, and there is no shortage of happy bees. Her kitchen garden has figs and fruit trees, lots of dill, mint, basil, Italian parsley, cilantro and several rows of corn. On the backside of the house, there's a second, larger garden with lettuce, potatoes, English peas, French green beans, white carrots, turnips and squash.
In total, the farm has six vegetable gardens scattered around the property. Recently they started a CSA (community-supported agriculture) venture distributing vegetables, herbs and berries to subscribers in Plano, McKinney and Daingerfield. The farm also offers grass-finished beef from their herd of French Maine-Anjou cattle. Year-round, visitors stay in the guest cottages, and in the summer, they can pick baskets of fruit to take home. Farm stays and Eva's cooking classes are an important part of the operation. For those removed from their country roots, the opportunity to experience life on a sustainable farm, especially one as charming as this one, is an intriguing way to spend a day—or a week.
When it's almost time for our class, we walk up the hill with Sid and Eva to gather eggs. A menagerie of hens and roosters are congregated around the mobile chicken coop. The roosters don't always play nice, but their fearlessness means they're willing to fend off any red-tailed hawk that comes looking for supper.
The farm's brood of over 140 birds is the most fashionable-looking group of poultry I've ever seen. There are New Hampshire and Rhode Island Reds, Silver-Laced Wyandottes, Black Australorp, Ameraucana, Buff Orpingtons and—everyone's hands-down favorite— the Polish. Sid calls them his Polish Punk Rockers, but their wild crest of cascading feathers could easily be mistaken for a fancy French chapeau. Like everything else around here, these birds have style.
Walking down the slope toward the house, we stop for a moment. At the base of the rolling hill sits the pretty white farmhouse. "Look at this view," Sid says proudly. He points beyond the trees to the lake and our cabins. Fat red cows and their calves quietly graze nearby. Only the squawk of a noisy rooster interrupts the serene landscape. "This is where I come with a beer at the end of day," he says, "This is my favorite spot in the world."
As a kid, TERRI TAYLOR refused to eat her vegetables. Her veggie-phobia was cured in 1977 when she spent eight months working on farms in Norway and France. She studied journalism at UT-Austin and received a master's degree in liberal arts from SMU. Her short story "Virginia" can be found in Solamente en San Miguel, an anthology celebrating the magical Mexican town of San Miguel de Allende. She has written for Edible DFW since its inaugural issue in 2009. She became the magazine's editor in 2010 and is the editor of Edible Dallas & Fort Worth: The Cookbook.