Cookbooks make great gifts, easy to pack if your holiday plans include travel. Pair your favorite with a festive apron, kitchen utensils or a gift certificate to a local food store. Make one the centerpiece of a gift basket filled with farmers market finds. We're partial to cookbooks that inspire with their evocative photos and recipes deeply rooted in a community. Here are excerpts—recipes for winter salads—from four of our favorite new titles. We list three more without recipes. There's something for everyone on your gift list.
FOR AFICIONADOS OF TEXAS CUISINE
United Tastes of Texas
Authentic Recipes from All Corners of the Lone Star State
By Jessica Dupuy
jessicadupuy.com
Oxmoor House ($24.95)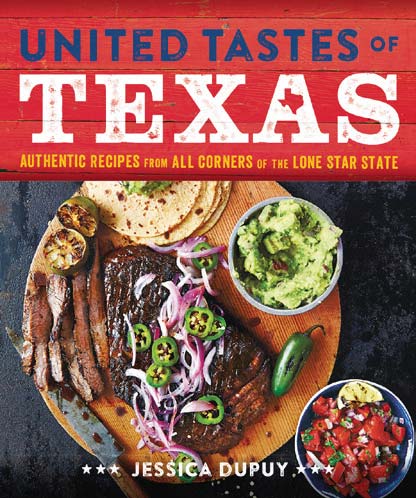 United Tastes of Texas is Jessica Dupuy's culinary love letter to the Lone Star State. A fourth generation Texan and frequent contributor to Texas Monthly, Dupuy guides us on an epicurean journey, region by region. Along with quintessential Texas recipes, Dupuy dishes up historical tidbits, suggests foodie pit stops, and profiles local chefs. She explores the cult of barbecue and our passion for Tex-Mex. From chicken-fried steak to cream cheese kolaches, it's all here. Below, Dupuy tops a bed of greens with avocado slices and juicy red grapefruit from the Rio Grande Valley. '
RECIPE
Grapefruit, Avocado, and Butter Lettuce Salad
---
FOR RELUCTANT ENTERTAINERS
Effortless Entertaining Cookbook
80 Recipes That Will Impress Your Guests Without Stress
By Meredith Steele
Steelehousekitchen.com
Page Street Publishing Company ($22.99)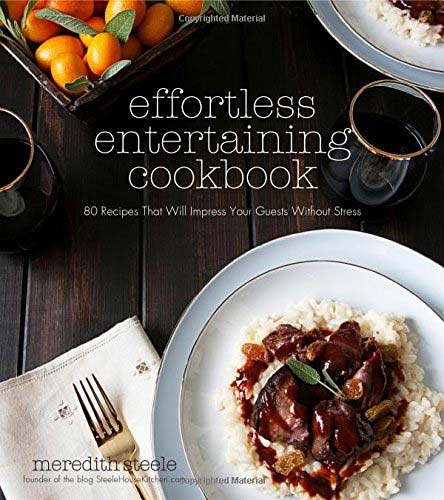 We love local writer Meredith Steele and her beautifully photographed recipes, which regularly grace the pages of Edible DFW. A recipe developer for JamieOliver.com and a finalist for Saveur's best food blogger, Steele has just published her first cookbook. It's a stylish gem focused on entertaining with ease. Steele offers themed menus, divided by the seasons, with preparation timelines, approachable recipes and suggested wine or beer pairings—the essentials for stress-free entertaining. Steele's tip for the recipe below: prepare various elements a day ahead to eliminate kitchen chaos on the day of your party.
RECIPE
Chilled Butternut Squash Salad
With Roasted Shallot Dressing
---
FOR ASPIRING KITCHEN GARDENERS
A Year On The Plate
Sharing Our Passion for Cultivating the Earth
By the Dallas County Master Gardener Association
dallascountymastergardeners.org
Wimmer Cookbooks ($40)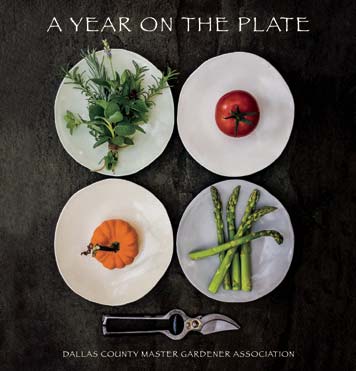 With its striking cover, A Year On The Plate makes a great coffee table accessory, but don't be fooled by its beauty. Chock full of down-to-earth recipes and expert gardening tips, this is a must-have reference guide for every North Texas cook who digs dirt. Straight-from-the-garden vegetables and fresh herbs are the stars of each seasonal recipe. "Trowel tips" offer advice for growing your own. In this excerpt, ribbons of Brussels sprouts get a sprinkling of cheese and nuts and a splash of lemony vinaigrette. Purchase at North Haven Gardens while supplies last or at dallascountymastergardeners.org.
RECIPE
---
FOR HEALTH-CONSCIOUS GOURMANDS
Lighten up , y'all
Classic Southern Recipes made Healthy and Wholesome
By Virginia Willis
virginiawillis.com
with photos by Angie Mosier
Ten Speed Press ($24.99)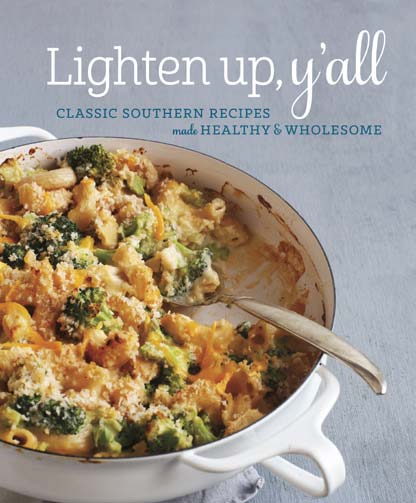 In her new book, acclaimed food writer Virginia Willis gives fat-laden classics a makeover. There's no skimping on flavor in the leaner, healthier versions of broccoli mac and cheese, biscuits with (turkey) sausage gravy and oven-fried chicken on a stick. Recipes list calorie count and grams of fat, fiber, carbs and protein. The book earned Willis a 2016 James Beard Award (Focus on Health). Below, she lightens up the traditional French chèvre chaud (fresh goat cheese melted on a baguette slice, served with greens), substituting an apple for the bread, adding tons of kale and using slightly less cheese.
RECIPE
Bacon-Wilted Greens With
Warm Pecan-Crusted Goat Cheese
---
FOR FAMILY HISTORIANS
From Tea Cakes To Tamales
Third-Generation Texas Recipes
By Nola McKey
nola-mckey.com
Illustrations by Cora McKown
Texas A & M University Press ($29.95)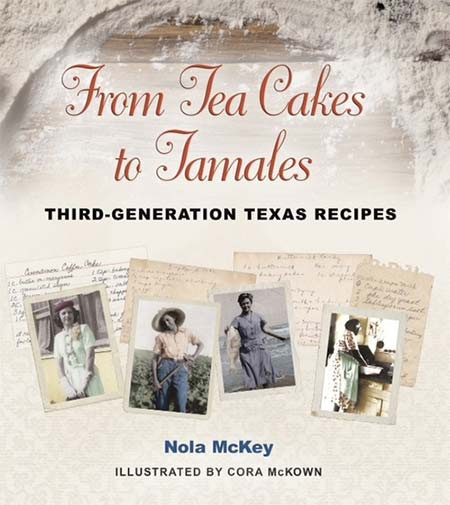 Like Proust and his childhood madeleines, Nola McKey writes of the "whiff of memories" associated with her grandmother's tea cakes. A former Texas Highways editor, McKey has assembled a fascinating collection of third-generation recipes. Ancestor cooks are remembered through photos and anecdotes, and the book embraces Texas' cultural diversity. There's Nannie's cornbread dressing (African American), Momo's caldo (Mexican), Grandma Knudson's Rosettes (Norwegian) and Zimtsterne (German Christmas cookies). Once-common regional ingredients make an appearance in Aunt Earle's Cushaw (an heirloom squash), Wild Mustang Grape Wine and Ribbon Cane Syrup Pie. My favorite recipe is Taffy (for pulling your teeth out)—"more fun to make than eat." In the final chapter, McKey offers advice for preserving your family's food memories.
---
FOR LOVERS OF ALL THINGS TEX-MEX
The Tacos of Texas
By Mando Rayo and and Jarod Neece
tacosoftexas.com
University of Texas Press ($19.95)
"Texas is more than cowboys and barbecue," writes Mando Rayo and Jarod Neece. "It's tacos, too."
These self-described taco journalists logged 7000 miles, visited 10 major Texas cities and conducted countless interviews on their decade-long quest to create the definitive guide to the divine taco. Five hundred tacos later, they've birthed their well-researched The Tacos of Texas. Though a chunky 450 pages, the book is compact and nicely designed with colorful graphics. Besides a wealth of recipes, the book chronicles this humble food's history through interviews with taco aficionados. There's a map of taco regions, a newbie's guide to tacos and a glossary of taco terms—everything you need to know about the beloved melding of tortillas, fillings and salsas.
---
FOR VEGANS, PALEOS & EVERYONE
WHO ENJOYS DESSERT
Frozen Paleo
By Pamela Braun
mymansbelly.com
Countryman Press ($17.95)
My first encounter with this book and its recipes was at a weekly gathering of friends, where someone—a food writer, of course— dished up mounds of Cuckoo For Coconut Ice Cream. Savoring its luscious mouthfeel, we were surprised to learn that this chilled decadence flecked with toasted coconut bits was dairy-free. Frozen Paleo is a compilation of 50 dairy-free desserts devised by local recipe developer and food blogger Pamela Braun. An ice cream maker is required for most, but there are also popsicle and granita options that are completed in the freezer. Braun uses organic ingredients, adds coconut and/or cashew cream for richness and sweetens with raw honey or maple syrup. If you make your own, she says, you're in control. No additives, preservatives or ingredients you can't pronounce.
As a kid, TERRI TAYLOR refused to eat her vegetables. Her veggie-phobia was cured in 1977 when she spent eight months working on farms in Norway and France. She studied journalism at UT-Austin and received a master's degree in liberal arts from SMU. Her short story "Virginia" can be found in Solamente en San Miguel, an anthology celebrating the magical Mexican town of San Miguel de Allende. She has written for Edible DFW since its inaugural issue in 2009. She became the magazine's editor in 2010 and is the editor of Edible Dallas & Fort Worth: The Cookbook.