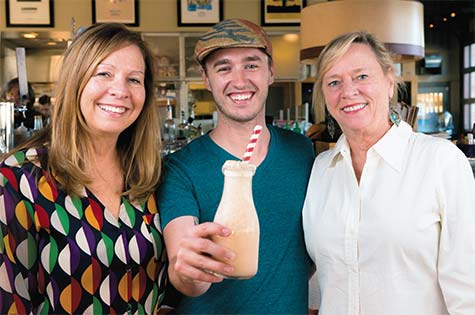 Behind the bar, Bolsa's Kyle Hilla with Terri and Nanci
Ring in the New Year! 'Tis the season for enjoying some of nature's healthiest offerings: dark leafy greens, earthy root vegetables and dazzling citrus from the Rio Grande Valley. With an eye on what's fresh, this issue is filled with flavorful ways to localize your holiday celebrations. Cowgirl Chef Ellise Pierce offers up some no-fuss recipes for festive appetizers. Serve them with your favorite bubbly or a holiday cocktail infused with local spirits—recipes provided here courtesy of Bolsa's Kyle Hilla.
Pairing the fruits of local vineyards with the bounty of the Gulf Coast, Terry Thompson- Anderson and Russ Kane have assembled a seafood extravaganza called the Feast of the Seven Fishes. It's their Lone Star interpretation of a Christmas Eve tradition celebrated by many Italian-Americans.
Speaking of traditions, don't overlook Closing Time and Bambi Edlund's clever illustration on making tamales, another of our local holiday delights.
This issue spotlights entrepreneurs who have followed their dreams and turned food into a business venture. Photojournalist (and farmer) Marshall Hinsley visits Amelia's Farm where Ben and Amelia Von Kennel are producing gorgeous greenhouse tomatoes. Writer Valerie Jarvie gets the low-down from some enterprising food artisans who have turned their family recipes and homemade goodies into profitable ventures.
A nostalgic breeze courses through these pages. Writer Vivian Jones talks with Celebration's Ed Lowe about his beloved restaurant's forty-four years of success, offering fresh vegetables and family-style dining. On the national stage, Tove Danovich eavesdrops on a conversation between Slow Food founder Carlo Petrini and Alice Waters, the mother of American farmto- table cuisine. Veteran food writer Kim Pierce interviews five of our own culinary visionaries about then and now.
As we say goodbye to 2014, let's toast to the good things to come and pay homage to our roots—the people, places and events that have led us to this juncture called the present. From Victorian poet Lord Alfred Tennyson:
Ring out the old, ring in the new,
Ring, happy bells, across the snow:
The year is going, let him go;
Ring out the false, ring in the true.
Happy Holidays to you and yours from Edible Dallas & Fort Worth.
As a kid, TERRI TAYLOR refused to eat her vegetables. Her veggie-phobia was cured in 1977 when she spent eight months working on farms in Norway and France. She studied journalism at UT-Austin and received a master's degree in liberal arts from SMU. Her short story "Virginia" can be found in Solamente en San Miguel, an anthology celebrating the magical Mexican town of San Miguel de Allende. She has written for Edible DFW since its inaugural issue in 2009. She became the magazine's editor in 2010 and is the editor of Edible Dallas & Fort Worth: The Cookbook.