On the Dallas College's Culinary, Pastry and Hospitality Program
Photography Cesar Garcia and Greg Pajo / Blue Pottery Provided by Michael Bodhan
The culinary program at the El Centro campus of Dallas College (formerly Dallas County Community College District) has been a forty-year success story with an illustrious cast of alumni and instructors. Some of the industry's most qualified food and hospitality professionals have trained and taught there, and the reach of this tightly knit group can be found in restaurants, hotels, hospitals and myriad institutions throughout North Texas and beyond.
With admission applications soaring, the program opened its Webb Chapel satellite location in January 2020, a dreamy 50,000-square-foot culinary center (once home to Le Cordon Bleu College of Culinary Arts) with ten instructional kitchens, six classrooms, a fully operational restaurant and an abundant space for developing industry and community activities. With two locations and a vastly increased capacity to teach, the newly named Culinary, Pastry and Hospitality (CPH) program was poised to answer the labor crunch of a rapidly expanding industry.
And then came the plot twist. Enter COVID-19.
"Our classes at the new location were set to begin the week the Governor shut everything down," says Steve DeShazo, department chair in the college's School of Business, Hospitality and Global Trade. By the end of April 2020, upwards of 770,000 of the restaurant and hospitality workers in Texas found themselves out of work. It was a moment to reflect and regroup.
In the restaurant industry, one is forever adapting, and the CPH program teaches its students to be problem solvers, which is exactly what the program had to do. Staff and students pivoted, juked and pirouetted their way out of a paralyzing pandemic, devising new ways to instruct and learn. Online classes were quickly put in place and instructors adapted their teaching tools. At both their downtown El Centro and Webb Chapel locations, in-house lunches, cooked and served by students, became three-course meals to-go. At the bargain price of $15 a person, they've done a brisk business.
Many of these new tools and tricks, says DeShazo, have worked well and are here to stay. "We are even building ingredient boxes that our online students are picking up curbside!"
In-class learning resumed in the fall, with physical distancing and a limited number of students. The program will continue to adapt to whatever comes next, a testament to the dedication of the school's faculty. This is no surprise to former students who remember their pivotable years at the school.
"My instructors have been with me every step of the way," says Dunia Borga, founder of La Duni Restaurants, who graduated over twenty years ago. "There has not been an award or recognition that I've gotten that I haven't looked into the crowd and seen an old professor of mine sitting in the audience."
Coming full circle, Borga now gives back to the program through her involvement in Les Dames d'Escoffier, which offers scholarships to young women in the program. The Dames are just one of the many organizations, community groups, businesses and industry associations that help fund CPH programs, scholarships and equipment purchases. Their generosity has helped keep the tuition at Dallas College affordable and a fraction of what it costs to attend other culinary schools.
With new eyes on the world, DeShazo says the program has an even greater commitment to the environment and sustainability. It's important for students to be knowledgeable about the waste generated by foodservice and its environmental impact. CPH alumna Lauren Clark started Turn Compost, a commercial composting service, and members of her team help educate CPH students on ways to implement sustainability practices in commercial foodservice operations.
After a year, we all see things a little differently and for most of us, the horizon looks brighter. As more in our community receive their vaccines, they are dining out again, traveling and entering all aspects of the world, which in turn creates jobs.
Because many who lost their jobs have found new employment, DeShazo estimates that another 300,000 professional employees will be needed across the state in restaurants and foodservice during the next two to three years. This workforce will need to have solid technology and workplace skills, and Dallas College is ready to take on this task that is crucial to restoring the economic health of our community.
"Our program offers students a pathway to a professional career in the hospitality industry and often, that means a better life for themselves and future generations," says DeShazo. "Our mission to educate has never been more important than now."
For more information, please visit dcccd.edu/culinary
Look for link—Weekly Lunch Service—to order meals to-go.
Meet four CPH students, past and present, and enjoy their spring recipes!
Fennel-Cured Lamb Loin
Recipe by Marc Cassel – 1991 graduate
This succulent lamb dish is a showstopper when plated. Arrange wilted greens tossed in warm bacon vinaigrette on a serving plate and top with slices of lamb loin. Drizzle with chimichurri.
Parsnip and Carrot Soup
with roasted fennel bruschetta
Recipe by Lisa Roark – current student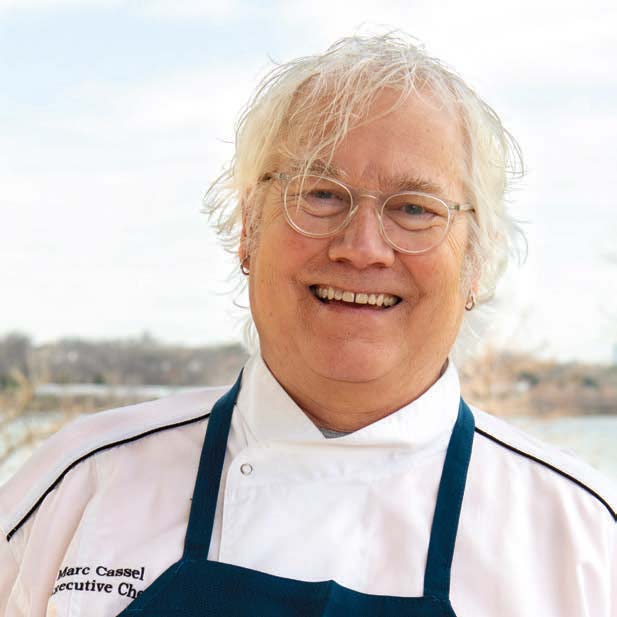 Marc Cassel – 1991 graduate
Since his first apprenticeship under Certified Master Chef Ernst Gruch at The Dallas County Club, Marc Cassel has cooked for some of Dallas's most renowned dining rooms: The Rosewood Mansion at Turtle Creek (Chef de Tournant), Baby Routh (Line Cook/Sous Chef ), Star Canyon (Executive Chef ), The Green Room (Executive Chef ) and Hotel ZaZa (Executive Chef ). In 2013, he and his wife Suzan Fries opened their own fast and casual, high-quality seafood restaurant, 20 Feet Seafood Joint in East Dallas.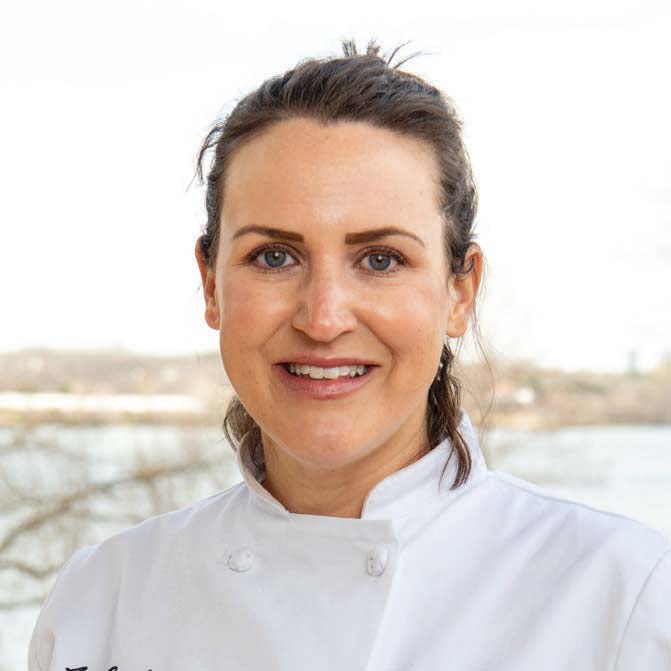 Lisa Roark – current student
Lisa Roark's culinary training at Dallas College's El Centro campus pairs well with her certifications in Urban Farming and Holistic Nutrition from the Southwest Institute of Healing Arts. She is passionate about teaching others how to grow and prepare nutrient-rich foods, and her popular cooking demonstrations at the Dallas Arboretum's A Tasteful Place are focused on plant-based dishes. Lisa is an advocate for zero-waste in all aspects of life.
Ora King Salmon with caramelized cabbage purée and roasted cauliflower medley
Recipe by Rinmachui Kaping – 2020 graduate
While we are frequently reminded that vegetables have growing seasons, we often forget that fish follows a similar cycle. From the months of March to early November, you can find several varieties of salmon in markets around the US. I chose Ora King Salmon, not only because it is in season and super tasty, but also because it is one of the most sustainably resourced fish.
Strawberry and Mint Scones with strawberry lemon glaze
Recipe by Guadalupe Joaquin – current student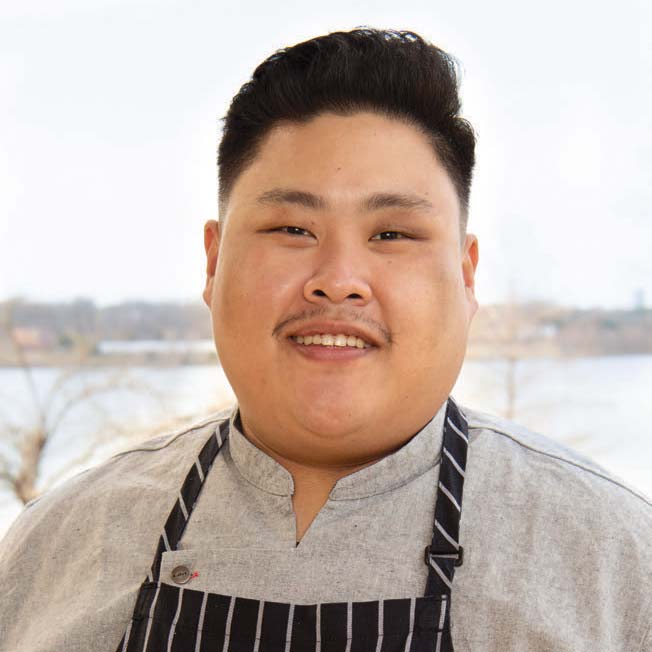 Rinmachui Kaping – 2020 graduate
Born in Manipur, India, Chui Kaping was seven months old when his father enrolled in the Perkins School of Theology at SMU and brought his family to Dallas. A graduate of Lake Highland High School, Chui got his start working as a line cook and in management at Rusty Taco and then at Start Restaurant. These days Chui cooks at the Rosewood Mansion on Turtle Creek where he enjoys working with Executive Chef Sebastien Archambault. One day he hopes to have own restaurant.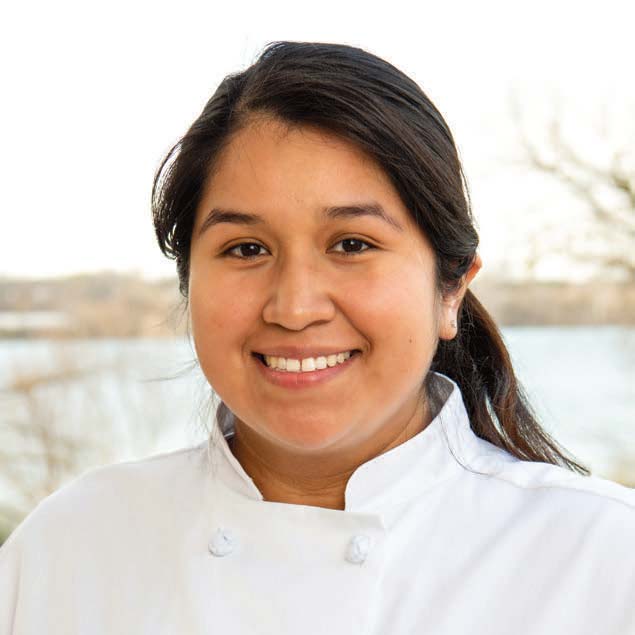 Guadalupe Joaquin – current student
Since childhood, Guadalupe Joaquin has loved helping her mom make cookies, cakes and her family's favorite dessert, capirotada, a cinnamon-spiced bread pudding with peanuts, raisins, queso fresco and topped with sprinkles. While working in the catering department at UTD, her executive chef believed in her skills and pushed her to make desserts that were out of her comfort zone. She credits her instructors at El Centro for skillfully preparing her to become the first pastry chef in her family.
As a kid, TERRI TAYLOR refused to eat her vegetables. Her veggie-phobia was cured in 1977 when she spent eight months working on farms in Norway and France. She studied journalism at UT-Austin and received a master's degree in liberal arts from SMU. Her short story "Virginia" can be found in Solamente en San Miguel, an anthology celebrating the magical Mexican town of San Miguel de Allende. She has written for Edible DFW since its inaugural issue in 2009. She became the magazine's editor in 2010 and is the editor of Edible Dallas & Fort Worth: The Cookbook.