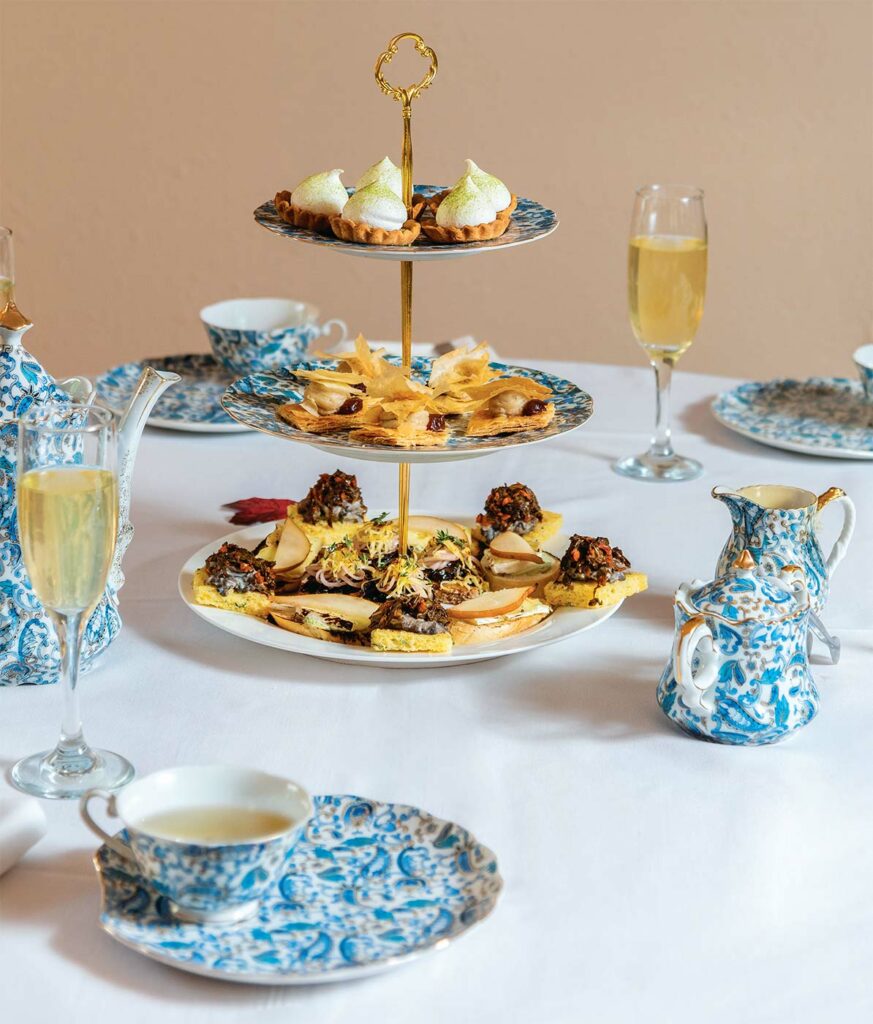 THE TEAHOUSE HOSTS AN ECLECTIC MENU AND WELCOMES ALL
PHOTOGRAPHY TERESA RAFIDI | RECIPE ANDRÉS BARREIRO
The little yellow teahouse sits under a leafy canopy of boughs at the edge of the Bishop Arts District. Pass through the property's scrolled iron gate and follow the brick walkway skirted with garden beds and flowerpots. In a courtyard, splashes from a fountain mingle with the mellow riffs of a jazzy soundtrack drifting from the cottage. Come closer. Pull open the white French doors and put the world on pause: it's teatime at Potpourri Boulangerie.
The Barreiro family's charming establishment at 317 N. Zang fits its name, a mix of this and that—a boulangerie, a teahouse, and a chef-inspired dining room with a grab-andgo counter. A place where one immediately feels at home. Service is offered Friday through Sunday from 10 a.m. to 4 p.m. For the full experience, choose a table—beside the glowing fireplace or in a sunny nook—and linger over an array of teas paired with a six-course tasting menu ($65) seasonally curated by Chef Andrés, the second Barreiro to live out a dream here.
"We've ventured outside the box of traditional afternoon tea," says Andrés, whose vegetarian menu taps into a range of international cuisines including the Latin specialties of his childhood. He credits both his mother and grandmother for inspiring his love for cooking." The kitchen is such an important part of a Latin home."
Forget ho-hum finger sandwiches and think instead of flights of veggie-centric small plates that celebrate the seasons, like summer's flaky pastelitos with chimichurri, and the chef's house-made pita with za'atar yogurt spread and roasted eggplant. Or fall's tri-color gnocchi and the dandelion salad with pillows of pumpkin mousse and sprinkles of crunchy granola.
The traditional tea tower, served as a separate course, offers tiers of sweet and savory bites with a modern twist, like gingerbread scones, campfire s'mores, pumpkin pie millefeuille and persimmon crostini. Options for tea and mocktails range from delicate to richly flavored— white tea with rose hips, cream oolong with vanilla bean, spiced Ceylon black tea, to name but a few. Guests are welcome to bring wine or champagne for a $10 corkage fee.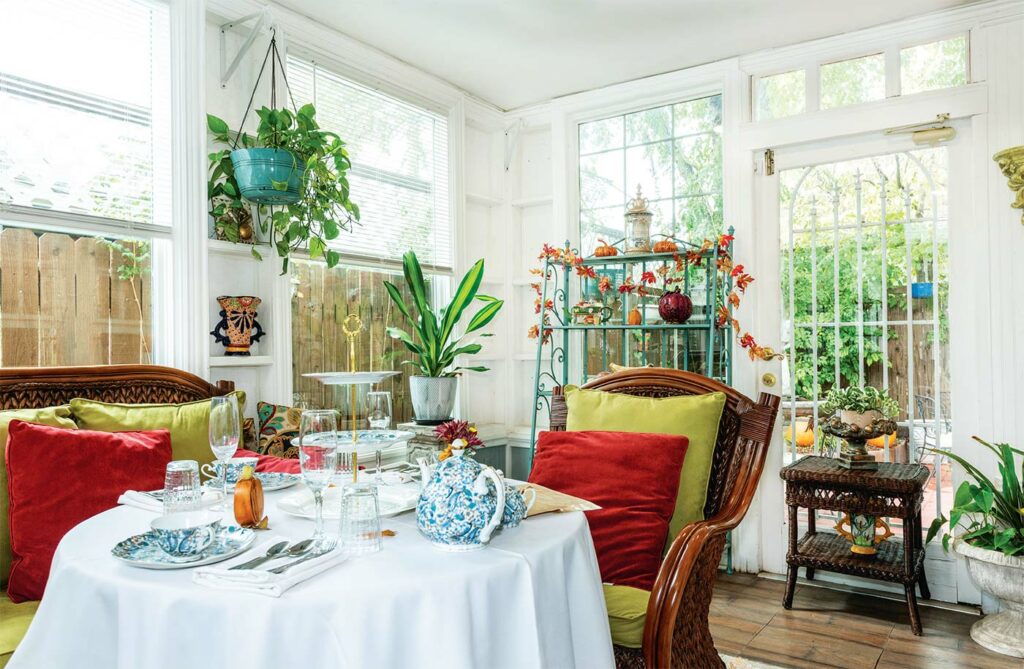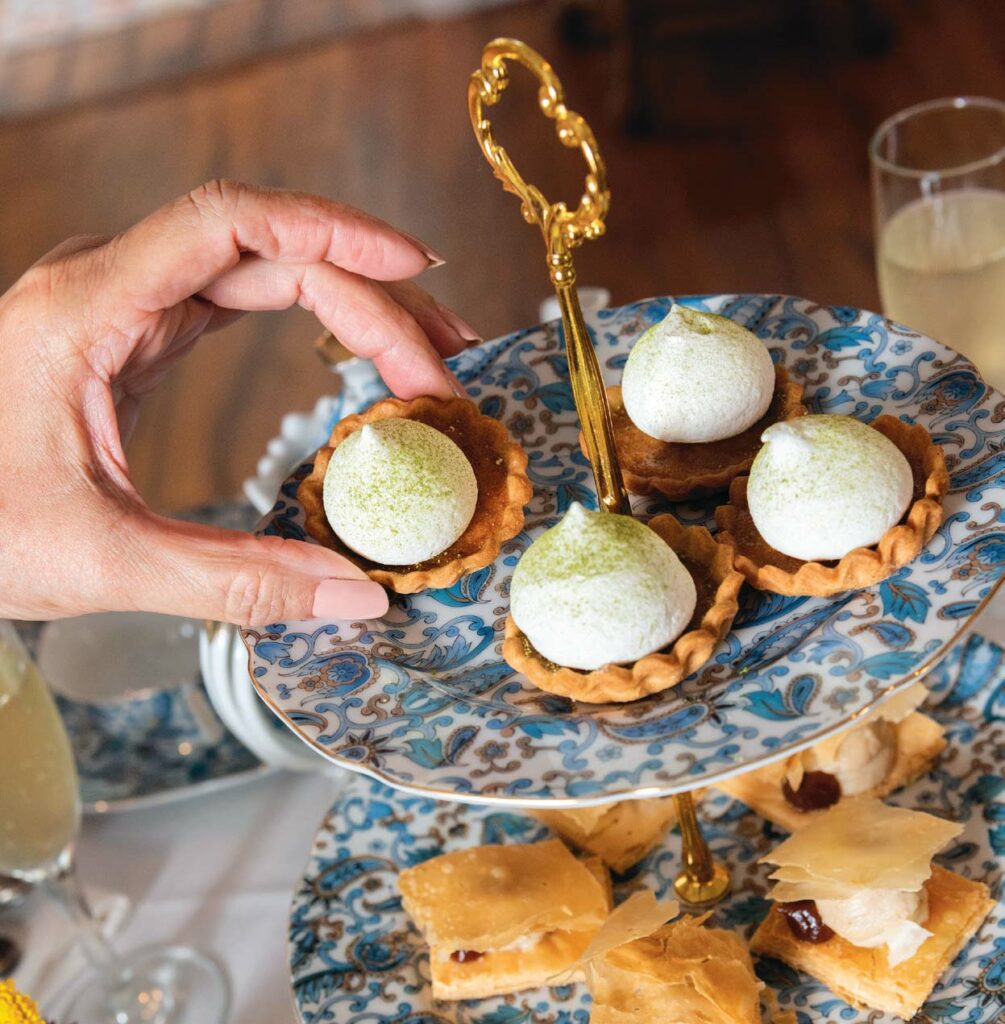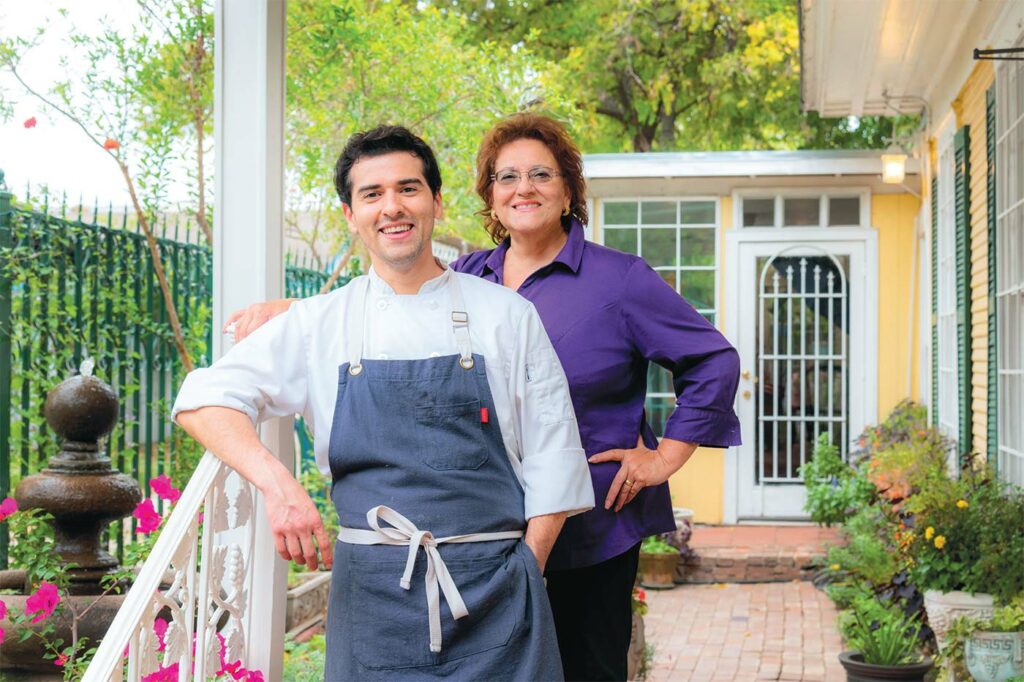 The yellow cottage is perfectly suited to serve as a teahouse, but this is just its latest incarnation, and Chef Andrés is not the first Barreiro to command the kitchen here. That distinction goes to his mother Criseida "Cris," the vivacious family matriarch who purchased the house in 1996 when she expanded her cake-baking business.
"I wanted a comfortable place outside my home where I could meet with customers and have room for my little guys to play," says Cris. When she purchased it, Andrés, now 33 years old, was only six and his brother Estevan, now 35, was eight.
Creating cakes melded two of Cris's passions: baking and art. She took her first Wilton cake decorating class at age 14 and studied art after graduating from high school. For years, she gifted her special-occasion cakes to family and friends who appreciated her artistry and use of fresh flowers. It wasn't until she became a stay-at-home mom, after a seven-year stint as a graphics designer/art director at the Baylor College of Dentistry, that she took her baking skills to a new level and accepted her first commercial job from a church acquaintance who needed a quinceañera cake. The word soon spread, and Cris's business expanded to cakes for all occasions.
"I've baked cakes for two generations of many families," says Cris. "First for a girl's quinceañera, then her wedding cake, and then cakes for her children."
Born in Nicaragua, she was 10 when the company that employed her dad and uncle offered the men jobs in Texas. After a year of waiting, Cris, her mom and her two brothers joined them in Waco where they'd settled.
"We really came with nothing," she says, "That's what I love about this country. The opportunities are there if you are willing to work hard." It's a credo that Cris has embraced. Oak Cliff real estate was still years away from spinning into a frenzy when she and her husband Constantino "Tino", a structural engineer whose family had fled Cuba, purchased the cottage and adjoining lot from the heirs of the chiropractor who'd officed there.
"I told them what I could pay, not knowing that the parking lot came with the house," Cris laughs. Amazingly, they took her offer and within five years, she and Tino had paid off the loan.
Through the years, ongoing renovations have been a family affair, and each member seems comfortable wielding a nail gun and a hammer. Cris and her boys built the interior's dark-wood cabinets and the courtyard's Adirondack chairs. The windows flanking the fireplace, installed while the business was shuttered for COVID, were originally French doors purchased at a Habitat for Humanity store. The grapevine- patterned iron fence bordering the front comes from a demolished house in Highland Park.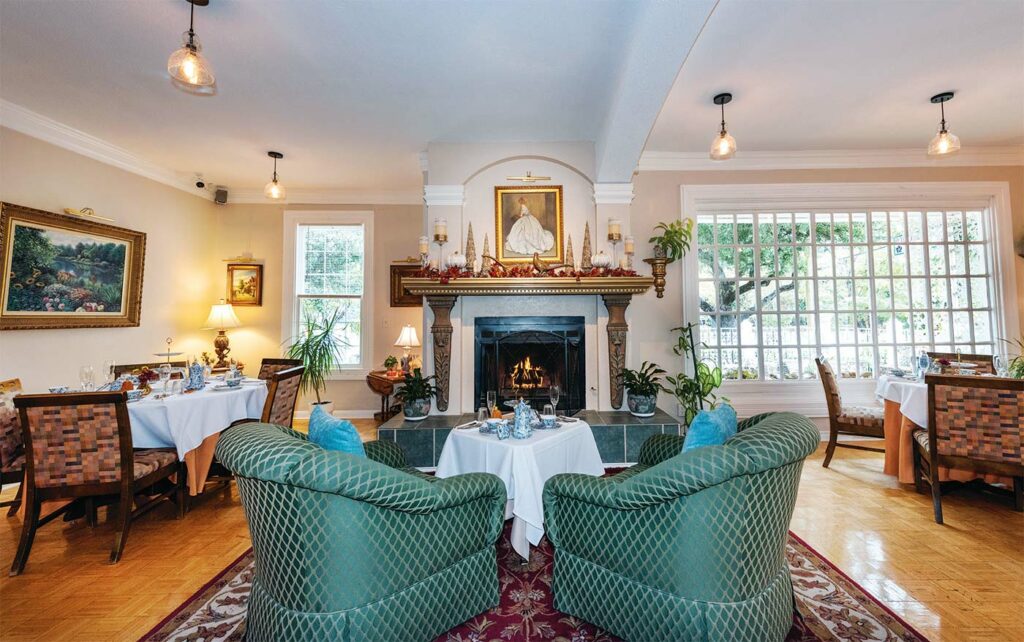 This is where Andrés and Estevan hung out after school, washing pans and doing homework while their mom baked and met with brides and grooms for tastings. Cris's cakes helped pay the boys' tuition at Dallas Baptist University Lab School and Trinity Christian School.
By the time Andrés graduated from high school, he knew he wanted to be a chef. (Also following in his mother's footsteps, Estevan is a studio artist, and some of his paintings decorate the tearoom, where he often works as a sous chef.)
Andrés honed his skills at Texas Culinary Academy in Austin and then at Tim Creehan's Cuvee Bistro in Destin, Florida and at Rick Bayless's famed restaurants in Chicago. When a cousin moved to Paris, Andrés became obsessed with studying in France, but his parents suggested Montreal, where his aunts lived, as an alternative.
"My first reaction was—Why would I want to go to Canada to learn about French cuisine?" he says, grinning at his own innocence. "I had no idea about Quebec's history."
When he arrived in Montreal, he was smitten. He worked and studied in French-Canadian kitchens until the realities of getting a work visa, coupled with his mom's desire to retire, brought him back to Dallas. He continued to learn his craft at beloved seasonal-and local-produce-leaning restaurants like Bolsa, Boulevardier, Parigi and Campo.
When Tino retired, Cris knew that it was time to take a break from professional baking and pursue the couple's shared desire to travel. "There is never a weekend off when you bake wedding cakes," she says. "I'm very hands-on with decorating and delivery. It's all very personal. And the years take a toll on your back."
Andrés and Cris began to dream of how to transition the cottage to suit his skills—a coffeehouse, perhaps, or a French bistro. By their side in the planning was Daryl Pippins II, Andrés's childhood friend who became his front house manager.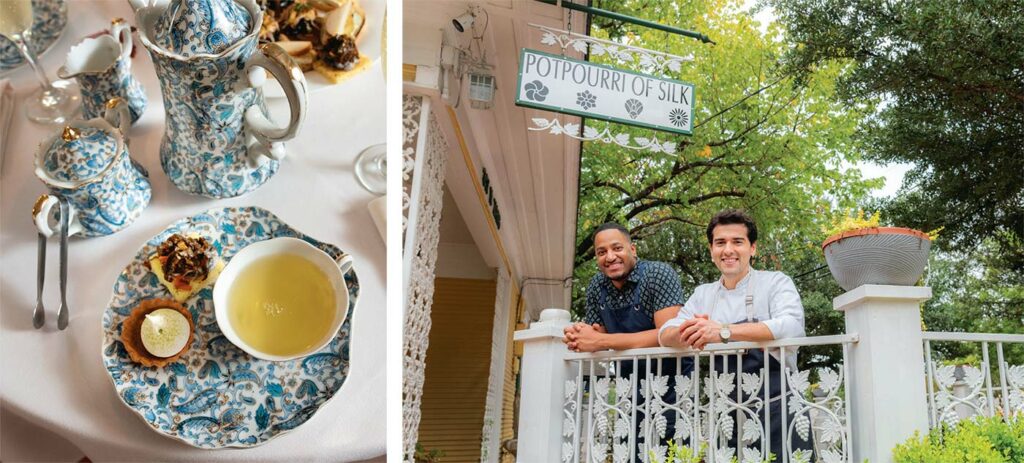 In fits and spurts, through the death of Cris's mom and during COVID, the long conversion from commercial kitchen to restaurant was completed, and Andrés settled on the idea of a coffeehouse with brunch and light lunch.
When their coffee supplier, Bonnie Itzig of Cavellini Coffee paid a visit after their renovations, her response was, "This place is gorgeous. It looks like a teahouse."
Nope, Andrés explained, it's a coffeehouse. Still, she insisted on crafting some signature teas for them "just in case."
"When we reopened, everyone fell hard for our tea blends," Andrés says. As customers began asking if they could book an afternoon tea, he and his crew changed course. "We knew very little, but Daryl and I jumped right in and immersed ourselves in books and websites about the culture of tea."
Montreal, with its blend of British and French influences, has its share of teahouses, but formal high tea was never what Andrés had in mind.
"We want ours to be fun," he says. "With a prix-fixe menu that's playful and more substantial." Much thought is given to reflecting the four seasons as well as diverse cultures through the pairings, the wording on the menus, the background music and table settings.
Like the Oak Cliff neighborhood that surrounds it, the yellow cottage has changed with the generations, but the warm, upbeat spirit of the place has not. Like his mother before him, Andrés wants all types of people to feel welcome here. "Our guests come from all over Dallas and beyond," he says. "We want everyone to enjoy themselves. Whether you come in shorts or dress up, you'll be treated the same."
"Like royalty," says Cris.
And what's next for Cris as she hands over the reins of the business to her son? She and Tino are in Quebec now, looking to buy a second home outside of Montreal.
"We love its peaceful vibe," Cris says, "the mountains, cafes and markets. And our boys love Canada." What she'd like is "a small place we can fix up and eventually leave for them to enjoy. A place for new traditions."
potpourrioakcliff.com
IG: @potpourri_boulangerie
FB: @potpourri-boulangeriee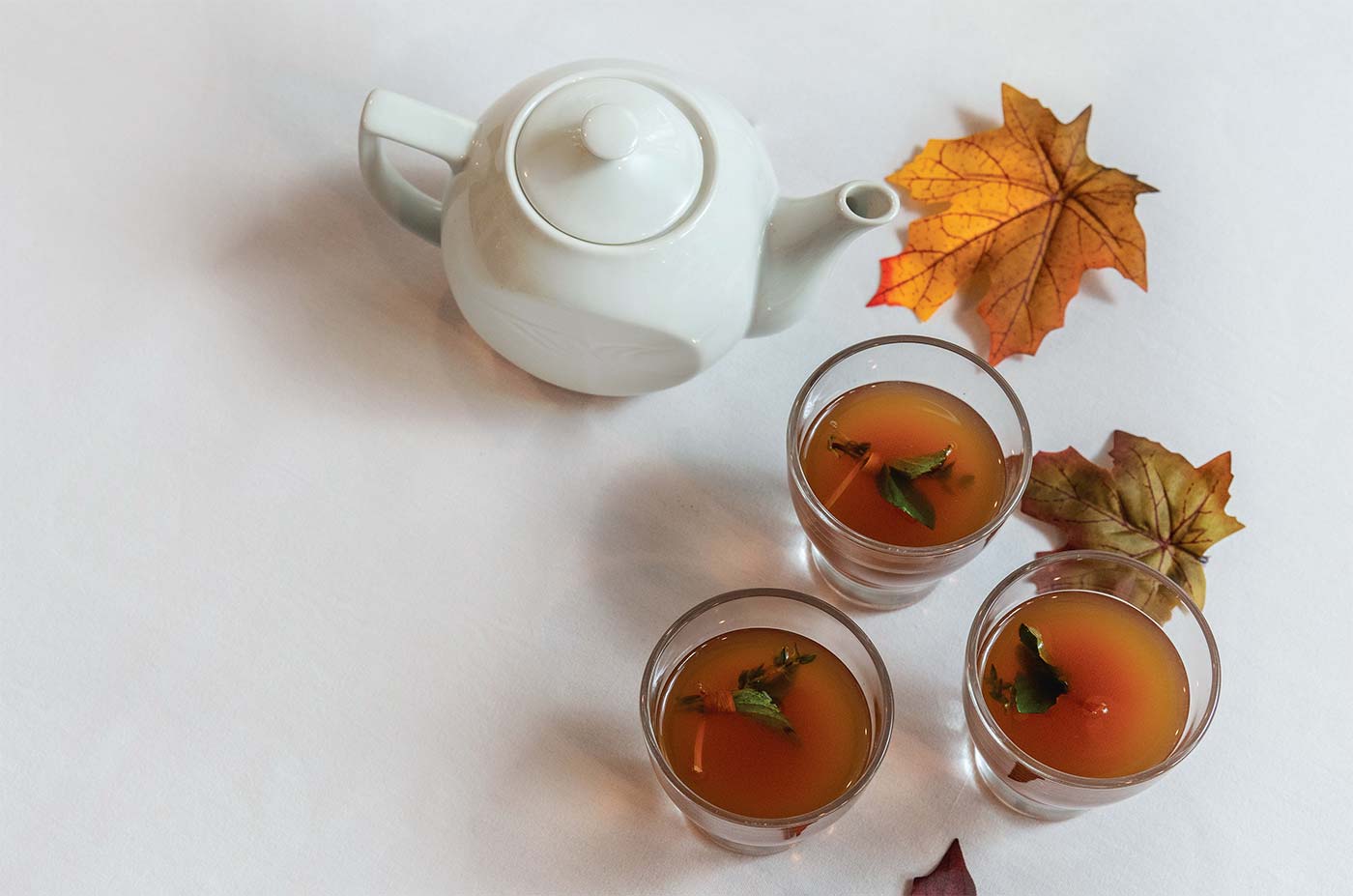 As a kid, TERRI TAYLOR refused to eat her vegetables. Her veggie-phobia was cured in 1977 when she spent eight months working on farms in Norway and France. She studied journalism at UT-Austin and received a master's degree in liberal arts from SMU. Her short story "Virginia" can be found in Solamente en San Miguel, an anthology celebrating the magical Mexican town of San Miguel de Allende. She has written for Edible DFW since its inaugural issue in 2009. She became the magazine's editor in 2010 and is the editor of Edible Dallas & Fort Worth: The Cookbook.