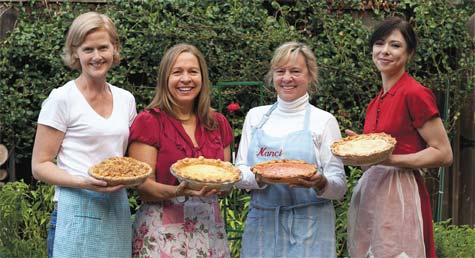 (L-R) Food writer Kelly Yandell, editor Terri Taylor,
publisher Nanci Taylor and baker Kate Nelson (Photo by Pitts Yandell).
Being editor of Edible Dallas & Fort Worth certainly has its perks. Here was food writer Kelly Yandell, standing at my front door with a plate of sweet potato-squash pie in one hand and a mug of creamy parsnip soup in the other. As the magazine's recipe developer, she'd whipped up these goodies and figured her editor might want a taste. Well, heck yeah.
Christmas came knocking again when Piecurious Catering's Kate Nelson delivered a sampler of pies. Publisher Nanci Taylor had discovered Piecurious and was impressed with Kate's commitment to using seasonal ingredients. Kate comes from a long line of bakers, and her Nana Fran's Pot Pie graces the cover of this edition.
"Pie is a metaphor for life," Kelly begins in her ruminations on the deeper meaning. "It is imperfect." Those old recipes on tattered index cards are what connect us to earlier years, to past gatherings, to friends and family, some here and some gone.
Our family's holiday meals are usually chaotic, sometimes full of drama and, for the most part, a whole lot of fun. They always include a multitude of both pies and generations. No, we're not Italian—though our extended family sounds a lot like Jim Blumetti's. As a child, the Dallas filmmaker lived with his Italian-American grandparents, and he loved hanging out in his Nonna's kitchen. He developed his gourmet line of pasta sauce to give his own children a sense of heritage. Writer Nancy Krabill, who tells Jim's story, is an aficionado of all things Italian. She and her husband Gary take tour groups there several times a year.
Though unintentional, there's an Italian thread running through the weave of this entire issue. When I joined writer Kim Pierce and City Archivist John H. Slate to choose photos for our Dallas Farmers Market pictorial, I spotted the face of one of my former neighbors, Joe-Joe LaBarba, in a photo from the 70s. Joe-Joe, whose family began American Produce Company, was proud of his Italian heritage.
Alfonso Cevola, author of the popular Italian wine blog: On the Wine Trail in Italy, tells a delightful story about the hoja santa leaves he grows for the ladies at the Mozzarella Company. They wrap the peppery leaves around their prize-winning goat cheese, one of six local cheeses chosen by Rich Rogers of Scardello's for our holiday cheeseboard. We've included local wine recommendations from sommelier Hunter Hammett and local beer pairings from Scardello's Lance Lynn. In a related story, writer Teresa Gubbins gives us the scoop on new craft brews coming soon to North Texas.
As Peter Scardello, Rich Roger's Italian grandfather, taught him: Food is more than something you eat. It's something you share with friends and family. Savor this holiday season and be generous. Edible Dallas & Fort Worth wishes you and our local food producers a prosperous and happy New Year with plenty of rain.
– Terri Taylor
As a kid, TERRI TAYLOR refused to eat her vegetables. Her veggie-phobia was cured in 1977 when she spent eight months working on farms in Norway and France. She studied journalism at UT-Austin and received a master's degree in liberal arts from SMU. Her short story "Virginia" can be found in Solamente en San Miguel, an anthology celebrating the magical Mexican town of San Miguel de Allende. She has written for Edible DFW since its inaugural issue in 2009. She became the magazine's editor in 2010 and is the editor of Edible Dallas & Fort Worth: The Cookbook.