Photography: Teresa Rafidi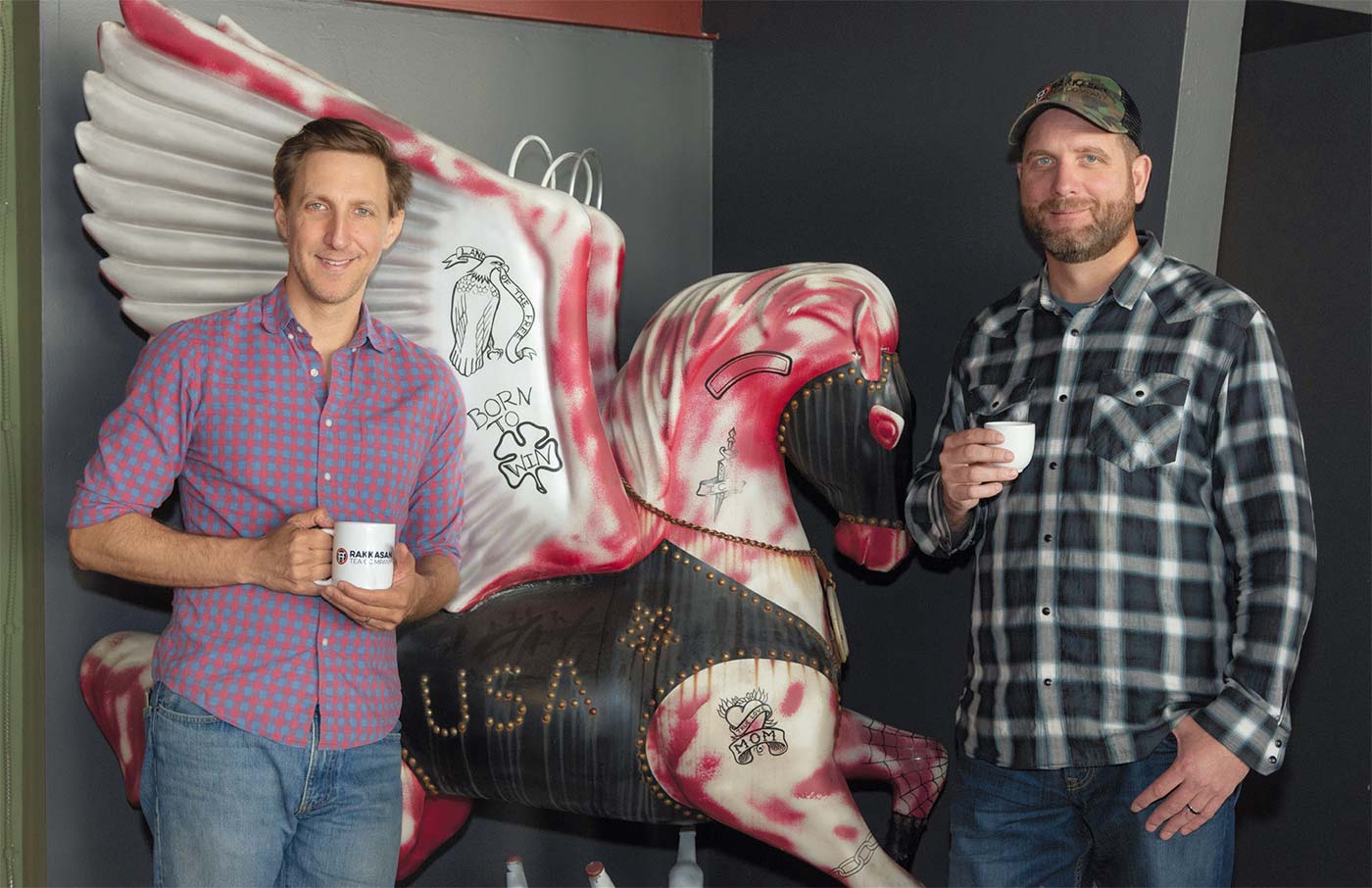 As Brandon Friedman holds up the tiny, stick-like, brown-golden bud between his thumb and index finger, he explains that I am looking at "just the tips, just the fertile buds" that make up his Himalayan Golden Tips, what you might call an ultra-premium, loose-leaf tea from Nepal. It smells of hay and cocoa.
Premium loose-leaf tea, he explains at his Rakkasan Tea Co. in Deep Ellum, is defined as two leaves and a bud. A single leaf attached to a single bud is even higher quality. And then there are the buds by themselves, among the most treasured forms of loose-leaf tea.
How exactly do these tiny aromatic filaments find their way into Rakkasan's canisters? Someone half a world away—in a place like Nepal, or Rwanda, or Sri Lanka— picks each leaf-bud cluster or each single bud by hand, one at a time. But there is more than this artisanal aspect to Rakkasan's mission. Brandon and his partner, Terrence "TK" Kamauf, seek out teas from estates in countries rebuilding in the aftermath of war or conflict. As their labels say: "We promote peace and development by importing and selling premium loose-leaf tea grown solely in post-conflict countries."
"There's a lot of good tea in [these] countries, where it is a challenge to put communities back together," Brandon says as he pours water heated to just below the boiling point into a small pot with the Golden Tips. "They didn't have a pipeline to U.S. markets for their tea." Starting in 2017, he began providing that pipeline to three former hot spots. Now it's up to seven: Nepal, Ethiopia, Sri Lanka, Vietnam, Colombia, Rwanda and Laos.
Rakkasan Tea Co. is the culmination of a dream that was seeded more than 15 years earlier in the streets of Iraq and the mountains of Afghanistan, where Brandon and TK were infantrymen in the U.S. Army's 101st Airborne Division. Rakkasan, the old Japanese word for parachutist, was their unit's nickname. Tea was integral to their operations.
"My introduction to tea was sitting around eating kebabs with tough guys wearing bandoliers and AK-47 rounds," Brandon says, the polar opposite of our dainty Western teatime. "We didn't do any business with anybody without tea," he says. "When we would meet with locals, they would serve tea. [It was] a respite, an oasis amid the chaos and combat." He marveled at how the beverage was such "a social or communal drink, unlike coffee. Coffee is a very solitary drink."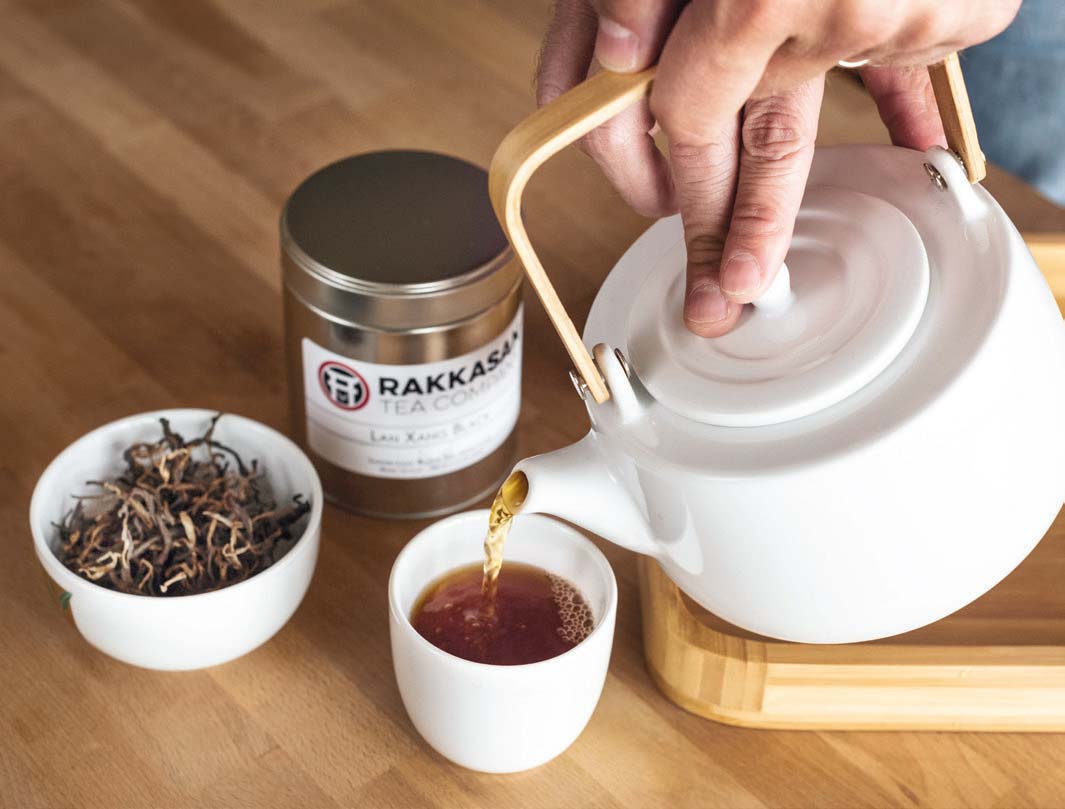 He fell in love with tea drinking, but could find none of the communal Middle Eastern culture back in The States in 2004. After serving in government, then starting a public relations firm in Washington D.C., he ultimately settled in Dallas and started the tea company—a way to do well by doing good and spreading the word about tea drinking. His war buddy, TK, was immediately on board and moved up to the Dallas area from Houston.
At the modest Deep Ellum space that serves as Rakkasan's world headquarters, Brandon removes the Golden Tips from the teapot after three minutes. The most common error people make when brewing tea, he says, is oversteeping. The cup is so hot in my hand, I hold it by the rim, as he suggests. Slurping, which helps cool the tea, is allowed. It tastes like it smells, with soft tannins and a bright aroma. No wonder it's Rakkasan's best-selling black tea. Other varieties include green, white, pu'er (dark) and oolong as well as a handful of herbal teas and blends. The world of tea can be as complex as the world of wine. Variety, terroir, climate, sunlight, rainfall all affect the final harvest— and then there is the wild Vietnamese tea Rakkasan imports, from the upper reaches of 300-to-400-year-old tea trees.
As with wine, tea can overwhelm a beginner. Brandon and TK have a selection for that: their bright, spicy Amba Thieves Tea from Sri Lanka. "That's our Whataburger tea," Brandon says. Accessible and delicious to everyone.
Talk with Brandon or TK in person at Coppell Farmers Market, where you can begin your tea journey by sniffing the individual teas. They also are available at 1890 Marketplace in Dallas, Fair & Square in McKinney and other locations as well as online. They are sold by the canister, about 2 ounces each and priced from $9.99 to $27.99. Samplers also are available, by tea or by source. Upcoming special selections include aromatic Himalayan Spiced Chai and a black tea blended with cacao. Subscriptions—tea of the month—are another way to go.
KIM PIERCE is a Dallas freelance writer and editor who's covered farmers markets and the locavore scene for some 30 years, including continuing coverage at The Dallas Morning News. She came by this passion writing about food, health, nutrition and wine. She and her partner nurture a backyard garden (no chickens – yet) and support local producers and those who grow foods sustainably. Back in the day, she co-authored The Phytopia Cookbook and more recently helped a team of writers win a 2014 International Association of Culinary Professionals Cookbook Award for The Oxford Encyclopedia for Food and Drink in America.