Those of us who love the concept of fresh foods, small farms and sustainability—the kind of people who love this magazine—will find plenty to enjoy in this new crop of selected cookbooks. Good reads among them? Yes. Good recipes? You bet. Check them out for holiday giving, and don't forget your own stocking
THE CHILI COOKBOOK
by Robb Walsh
(Ten Speed Press, $18.99)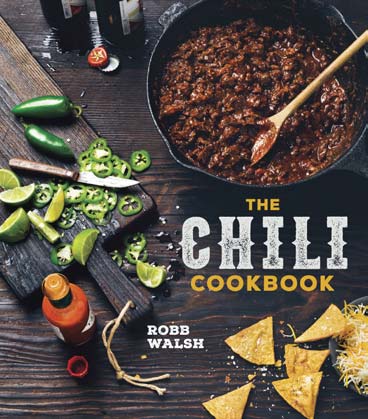 After preaching the gospel of chili according to Texas for years, Robb Walsh branches out with this tidy volume to take chili back in time, across the oceans to Hungary and Japan and deep into various cultures across the United States. His engaging approach carries you effortlessly along, from demystifying chiles (and why we roast and peel long, green ones) to explaining why the official spelling of the stew is "chilli" in Illinois. Besides favorites, recipes include classic Cincinnati chili, Hungarian goulash (also associated with a cowboy culture) and President Obama's favorite chili, all the while honoring the "savory trinity of beef, suet and chili powder."
GROWING TOMORROW
by Forrest Pritchard
(The Experiment, $24.95)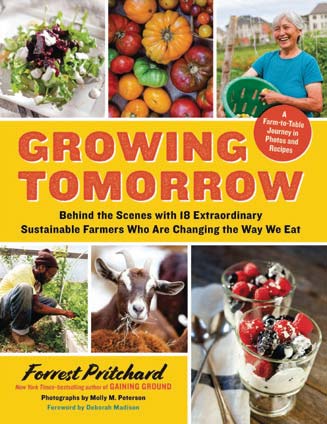 The subtitle says it all: Behind the Scenes with 18 Extraordinary Sustainable Farmers Who Are Changing the Way We Eat. With a foreword by farm-to-table doyenne Deborah Madison, Forrest Pritchard takes us on a tour of each farm to show how it contributes to the larger mosaic of sustainable farming.
Among the pages, find Haystack Mountain Goat Dairy in Colorado, which taps a prison herd of goats; wild rice grower Red Lake Nation Foods in Minnesota; and Kiyokawa Family Orchards in Oregon, a fruit tree grower. Also included: Dallas' own Brandon and Susan Pollard and their Texas Honeybee Guild. Like the stories in this magazine, each vignette immerses you in farm life, if only for a few, sweet pages.
THE BACKYARD HOMESTEAD
BOOK OF KITCHEN KNOW-HOW
by Andrea Chesman
(Storey, $19.95)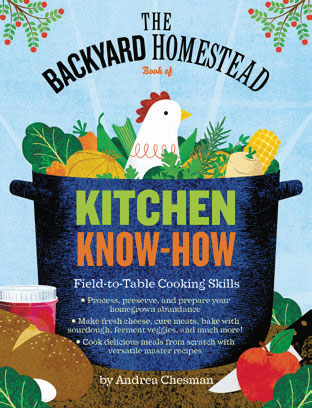 Andrea Chesman, who lives on an acre of land in Vermont, compiled this smartly written compendium of everything you need to know to make cheese, freeze fresh vegetables, make a sourdough starter, even cure meats—all from foods you grow yourself or source locally. To this she adds down-home recipes, such as Wine-Braised Meat with Vegetables, Slow-Rise Sourdough Pizza and French Lentils in Mustard Sauce. Back-to-the-land basics, and then some.
HILLTOP COURSES THEN AND NOW
by the SMU Woman's Club
(Morris Press Cookbooks, $20, at Barnes & Noble SMU)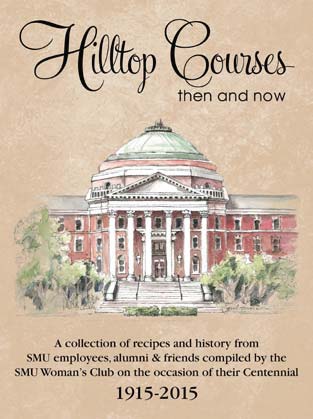 To celebrate its centennial, the SMU Woman's Club compiled this community-style cookbook benefiting its scholarship fund and calling on present and former students, faculty and staff for contributions. Among the alumni is former first lady Laura Welch Bush, with eight recipes including President's Pecan Pie. Other recipes run the gamut from old-fashioned staples such as Broccoli-Rice Casserole and Chicken Spaghetti to contemporary dishes such as Southwestern Poblano Soup and Bananas Foster French Toast. Little asides dot the book, like the revelation that Dwight's Justifiably Famous Cauliflower Soup was created by former prof Dwight Grant after the first White Rock Marathon in 1979. A must-have for anyone who bleeds red and blue.
TEXAS ON THE TABLE
by Terry Thompson-Anderson
(University of Texas Press, $45)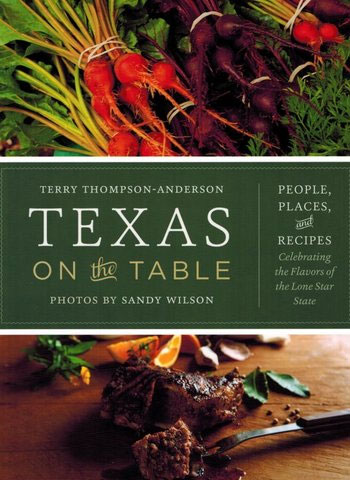 This coffee-table book may be a year old but it's as evergreen as they come, written with obvious love and insight by Edible Austin contributor Terry Thompson- Anderson. I wanted to stop speed-reading for review purposes and just savor its pages and stories, from the Marfa Maid Dairy to Haak Winery and Vineyard in Santa Fe. Beyond the voluptuous food—if one can label Texas fare such—Thompson-Anderson thoughtfully intersperses wineries of note. Then come the recipes, so quintessentially Texan: Oysters on the Half Shell with Bloody Mary Granité and Horseradish, Frito Pie with Guajillo Chiles, Scalloped Green Tomatoes and Texas 1015 Onions. A feast for the eyes (photos by Sandy Wilson) and the Lone Star soul.
NEAR & FAR
by Heidi Swanson
(Ten Speed Press, $29.99)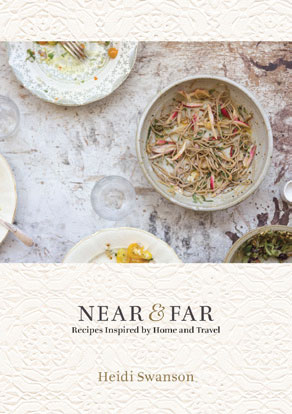 Award-winning San Francisco writer and photographer Heidi Swanson offers a highly personal collection of favorite vegetarian recipes gathered at home ("near") and on her travels ("far"). She entices home cooks to immerse themselves in foreign flavor palettes both with her evocative, textural photos and the way she teases with a few flavors from each dish, just below its name. So we get Salt Baked Sweet Potatoes (olives, turmeric, grapefruit, dill, onion), Brussels Sprouts (Japanese mustard, walnuts, yuzu), Rasam spicy soup (black pepper, chana dal, lime). The recipes from "near" and Italy and France are the most accessible. Those from Morocco, Japan and India, a bit more challenging. As much a culinary journey as a cookbook.
SECRETS FROM THE
LA VARENNE KITCHEN
by Anne Willan
(Spring House Press, $17.95)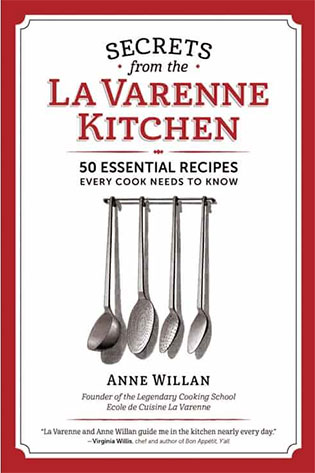 This slender volume (136 pages) is a must-have reference for serious cooks everywhere. It brings together 50 foundation recipes— stocks, sauces, pastries, frostings, ice cream—and is based on a booklet Anne Willan, founder the famous La Varenne Cooking School in Paris, started handing out to her students 40 years ago. With illustrations dating to 1867, these classics—Bearnaise Sauce to Royal Icing—are timeless. And having these building blocks all in one easy reference—priceless.
KIM PIERCE is a Dallas freelance writer and editor who's covered farmers markets and the locavore scene for some 30 years, including continuing coverage at The Dallas Morning News. She came by this passion writing about food, health, nutrition and wine. She and her partner nurture a backyard garden (no chickens – yet) and support local producers and those who grow foods sustainably. Back in the day, she co-authored The Phytopia Cookbook and more recently helped a team of writers win a 2014 International Association of Culinary Professionals Cookbook Award for The Oxford Encyclopedia for Food and Drink in America.