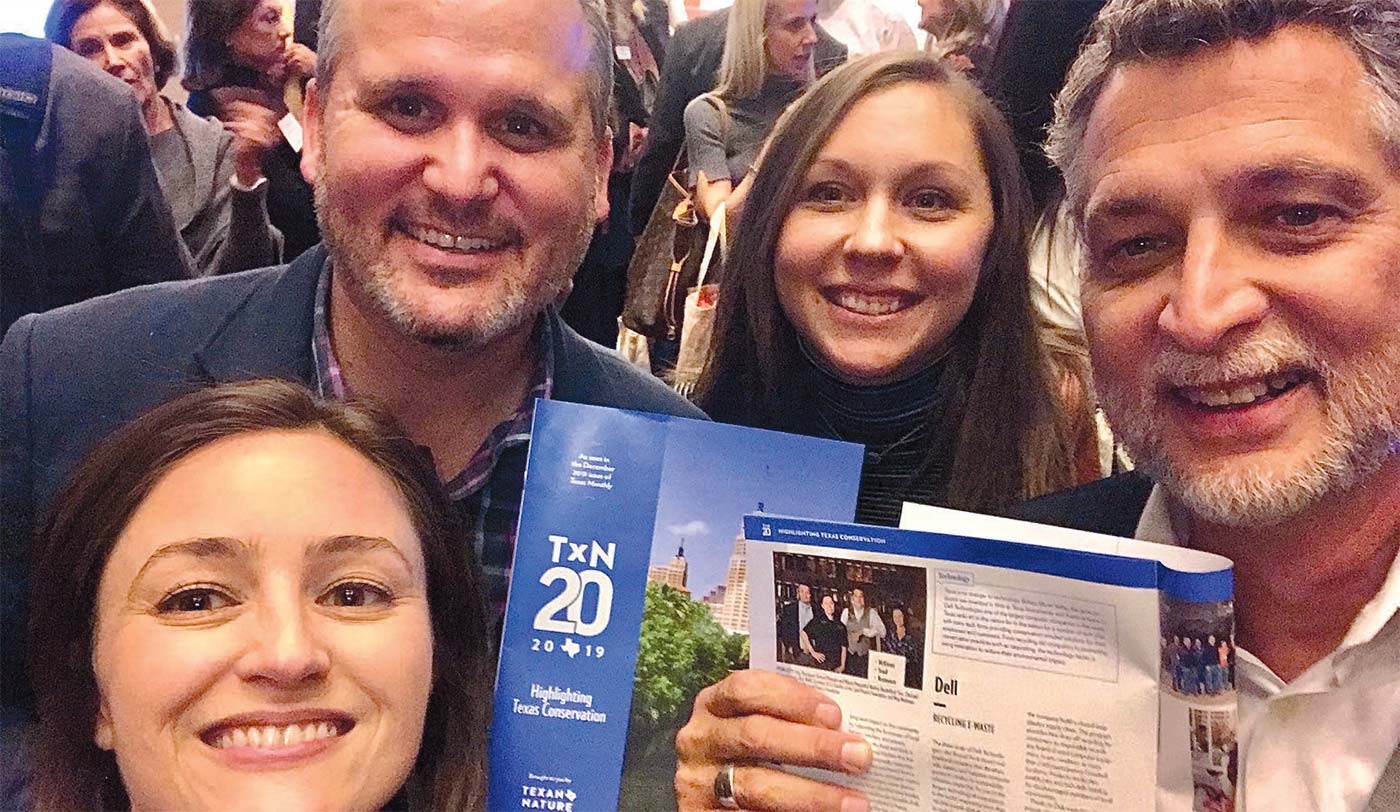 Last fall, H-E-B and Harvest Seasonal Kitchen were two of just 20 Texas companies to be chosen as TxN 20 honorees by Texan By Nature.
The nonprofit founded by former First Lady Laura Bush focuses on conservation efforts by Texas businesses and brings together leaders to share and amplify "best conservation practices" across a variety of Texas industries.
The inaugural TxN 20, launched in partnership with Texas Monthly magazine, singles out the "top 20 businesses in Texas moving conservation forward for the benefit of our people, prosperity and natural resources." That is, adopting practices that sustain the planet instead of killing it. And the awards recognize little guys as well as big guys.
"True sustainability," according to H-E-B's Richard McDonald, "is meeting the needs of the present without compromising the ability for future generations to meet their own needs." As the corporate director of environmental affairs, McDonald oversees H-E-B's awardwinning ways.
Harvest co-owner Rick Wells says, "When the list came out and everyone saw the other winners … it really put it into perspective how a small company like ours in McKinney, Texas, is capable of creating change. Anyone can do it, and we want to be a model for other companies and communities."
Under the direction of executive chef Andrea Shackelford, Harvest focuses on local sourcing—from its artisan-carved woodwork to its food, which comes from within a 250-mile radius. The TxN 20 website notes that it's the culture of the restaurant to "utilize every piece of the animal or produce," which generates less waste.
Virtually everything at Harvest is conserved, whether it's making stock from bones, pickling vegetables and fruits, creating water glasses from recycled wine bottles or cutting coasters from old paper menus. The Seed Project Foundation, a nonprofit spinoff of the restaurant, supports sustainability through community initiatives.
H-E-B (Central Market in our region), which is based in San Antonio, operates 400 grocery stores in Texas and Mexico. It was recognized in the TxN 20 for its continuing conservation/sustainability initiatives, such as (among many others) diverting its organic waste to compost and animal feeding programs rather than sending it to a landfill. In 2019, according to McDonald, this amounted to 47 million pounds. Also in 2019, it recycled 375 million pounds of cardboard and plastics. H-E-B saves an average of 40 million gallons of water a year through landscaping with native plants, truck-wash reuse systems and condensate capture. It even recycles its used truck fleet tires.
Edible Dallas & Fort Worth adds its congratulations to H-E-B and Harvest. These are businesses for which we can all be Texas proud of their sizable efforts to make our world a better place for everyone. To learn more about these and the other winners, go to Texanbynature.org/txn20.
KIM PIERCE is a Dallas freelance writer and editor who's covered farmers markets and the locavore scene for some 30 years, including continuing coverage at The Dallas Morning News. She came by this passion writing about food, health, nutrition and wine. She and her partner nurture a backyard garden (no chickens – yet) and support local producers and those who grow foods sustainably. Back in the day, she co-authored The Phytopia Cookbook and more recently helped a team of writers win a 2014 International Association of Culinary Professionals Cookbook Award for The Oxford Encyclopedia for Food and Drink in America.