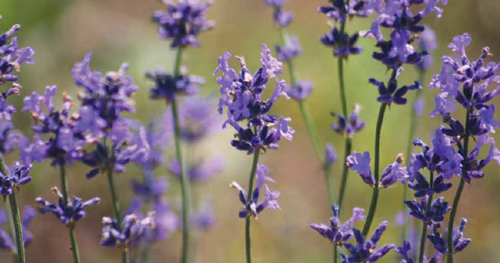 Photographs by Cliff Hand
The aroma is the first thing you notice when you step inside the tiny store at Purple Ranch Lavender Farm or into one of the farm's booths at a farmers market. Lavender is one of the most soothing, calming scents in nature, and Purple Ranch's lavender envelops you like a soft, dreamy cloud. Almost intuitively, you know it's not from an artificial or diluted formula and that's part of what makes Cliff and June Hand's post-retirement project so appealing: It's the real thing.
The other is the way the couple, with help from their children and grandchildren, have enthusiastically embraced all things lavender, whether it's finding the right soil mix so their plants thrive or stirring up soy wax on the stove because the candles set up best in the kitchen.  "It's been a labor of love for everybody," says June, who lights a candle in the Royse City farm's shop where we first sit down to talk. She needn't have. There are enough lavender products neatly displayed on tables and shelves to suffuse the air with the herb's gentle perfume.
From soaps and lotions to sachets and old-timey lavender wands, Purple Ranch Lavender Farm makes 26 products, which they sell at farmers markets with the help of friends and family members. The markets include Rockwall (Saturdays), Four Seasons (Garland on Saturdays, Addison on Sundays), and McKinney (Chestnut Square on Saturdays, Adriatica on Thursdays). They also set up at events like the Ennis Bluebonnet Trails and the Mesquite Rodeo's Real Texas Festival and the products are available online at www.purpleranch.com.
Purple Ranch Lavender Farm sits on eight flat, windy acres just east of Dallas—so windy, the green house was blown down. And when the lavender blooms at the end of its lanky green stalks, that same wind stirs the scent into the air. The lavender plants cover about a half-acre. Squatting close to the ground, they look like scraggly gray pompoms, but when spring takes hold the green stems shoot up, waving their tiny purple flowers toward the sun.
Before the Hands moved to their farm in 2000, the land had been used to grow cotton. "It was terraced," says June, a warm, soft-spoken woman who tells a little story with every product. The terracing may have contributed to their first crop failure in 2003. "The rows blocked the drainage," she says, recalling the year that it rained 26 days in a row in June. "It was just too much rain," chimes in Cliff, who is a retired accountant and data-processing pioneer. "Wet feet are something it doesn't want," June says of her lavender. So when the couple put in the next batch of plants, they positioned the rows differently. Most of those plants are still growing, and the Hands have added more. When a plant does die, it isn't wasted. It goes in a pile under a cedar tree; it makes great kindling, June says, especially for a grandkids' wiener roast.
Although a lot of people told the couple they couldn't grow lavender successfully in North Texas, June was determined. She remembered as a child the wonderful smells that would tumble out when her mother or grandmother or aunts would open one of their linen drawers. The retired Baylor Health Care System executive assistant also knew lavender was about more than a compelling aroma, so she also researched lavender's many therapeutic properties, from headache relief to helping scrapes and cuts heal faster. At PubMed.gov, the U.S. National Library of Medicine online journal abstracting site, there are more than 1,000 references to studies with lavender, which has been singled out for its antibacterial and anti-anxiety properties, radical-scavenging activity, and positive effect on gastrointestinal problems, to name a few.
To make their lavender thrive, the Hands discovered that they would have to amend the soil, just as azalea-lovers must do in Dallas. Using a mini-concrete mixer, their daughters shoveled in sand, pea gravel and sandy loam to get the right blend for happy lavender feet (read: soil that drains well). The couple also discovered that the Provence variety of lavender was best suited for their farm and the way they planned to use the herb. "Provence has a better scent and is somewhat medicinal," says June. Others varieties are more medicinal.  Some produce a better lavender essence for perfumes. "And you don't want to use Provence for wreaths," adds Cliff. "The buds fall off."
The Hands were charter members of the Texas Lavender Association, which went to the Texas Department of Agriculture to ask for help with diseases, plant care, insects (fire ants are lethal) and other issues.  "We let them know we are real farmers," says June.
The Hands use their lavender harvest to make sachets, Pest Away (an insect repellant combining lavender and cedar) and those romantic lavender wands. A throwback to the days when ladies kept them in their clothing drawers, the wands are woven by hand using colored ribbon and stalks with fresh buds still attached. When the scent wanes, you squeeze the bulb to release more of the essential oil. Making the wands is a morning activity. "When it starts to bloom, you come out early," June says, gesturing toward the plants, now that we're outside. "After the dew is dry, but early, we cut the bundles—we cut it with scissors one stalk at a time—and then we go back to the porch. That's where we weave the stems till about 1 p.m." The stems are actually bent to hold the buds inside the woven tip. "Then it gets too dry to bend, and we have to stop." What's left goes into sachets.
For their candles, lotions, sprays, soaps and bath salts, all of which the family makes at the farm, the Hands import essential lavender oil from France. "Everything we make, we use 100 percent pure lavender oil," she says. That means there is no "carrier oil" to dilute the product. They don't they make their own essential oil because it would take far more plants than they have, June says. Hundreds of acres more, like the lavender farms they visited in Provence. So they use the high-quality import to fashion their products. The only other product they import is organic culinary lavender, from Washington and Oregon. "We do everything right down to the bottling and labeling," June says. The Hands' youngest daughter, Brenda Edwards of Mesquite, is good at mixing the products, says June. Together the mother-daughter team creates most of the formulas, using only FDA-approved ingredients. The family is fussy about what goes into the products. "I want a natural soy wax, one that pours pretty for me," June says, "and I'll drive to Keller to get it." Son Clifford Ray, a graphic artist and photographer who lives in Rowlett, helped design their Purple Ranch logo and labels and he designed their Web site. "It seems like one of our children is talented in whatever we needed to do," says June. "We'd have never made it without them."
As I leave, June presses a candle and some essential oil into my hands.  The aroma fills my car driving back to Dallas, and somehow all those demands waiting back at my desk seem a little less urgent. Could it be that lavender has me under its spell? I certainly hope so.
KIM PIERCE is a Dallas freelance writer and editor who's covered farmers markets and the locavore scene for some 30 years, including continuing coverage at The Dallas Morning News. She came by this passion writing about food, health, nutrition and wine. She and her partner nurture a backyard garden (no chickens – yet) and support local producers and those who grow foods sustainably. Back in the day, she co-authored The Phytopia Cookbook and more recently helped a team of writers win a 2014 International Association of Culinary Professionals Cookbook Award for The Oxford Encyclopedia for Food and Drink in America.