From Growers to Winemakers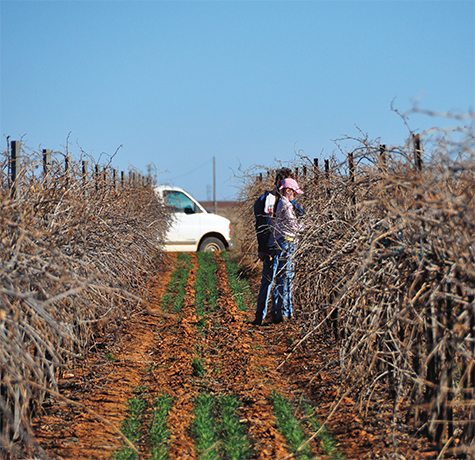 Photo courtesy of the Bingham Family
At first glance, the Grapevine storefront with the musically inspired Bingham Family Vineyards logo on its sign looks like nothing special. No bells. No whistles. Nothing to distinguish the tasting room from others on historic Main Street.
The significance starts to dawn only when you wander inside, taste some of the family's new wines and learn more about the Bingham story from Kyle Bingham. Then you realize what a gem the tasting room is and what a potential game-changer it is for Grapevine.
The grape-growers-turned-winemakers could have located their first tasting room anyplace in the state. They chose Grapevine—and immediately boosted the city's wine cachet. But you have to know who they are to fully grasp why the move is so significant. "The story is the most important piece," says Kyle, the third of Cliff and Betty Bingham's eleven children.
Ah, the story. It starts in 2003 on the dusty High Plains on a farm about as remote as you can get in Terry County, southwest of Lubbock, where tumbleweeds and pumpjacks are your neighbors. That's when Cliff Bingham was looking to diversify his 2,000-plus-acre farm with drought-tolerant crops. "You need to look at vineyards," an old friend told him. Cliff planted five acres.
That's how the farming family got into the business of growing grapes. Today, the Binghams own or operate more than 200 acres of some of the best vineyards in Texas, in addition to growing certified organic cotton and peanuts on their other acreage.
"The Binghams have been one of the largest privately owned vineyard operations in the state," writes Dr. Russell Kane in an email. Texas' premier wine blogger (vintagetexas.com) also is author of The Wineslinger Chronicles—Texas on the Vine. "The Binghams are smart at farming and knowing what the land can give on the High Plains, if handled right. They're noted for the high output while retaining a high quality point, which is not a common combination in many vineyards."
But the highly respected family did more than develop and nurture successful vineyards. They were at the forefront of a movement to discover the best grapes for Texas' capricious climate. (Think heartbreaking hailstorms and late spring freezes.) "They, with assistance from Bobby Cox," Dr. Kane writes, "have helped to lead the transition from what is commonly called the California set—Cab, Merlot, Chard and Pinot— in Texas to what has become a revolution of Tex-Med (Mediterranean) grapes originating from Italy, Southern France, Spain and Sardinia." Cox is a viticulture consultant who founded, lost and regained custody of the legendary Pheasant Ridge Winery near Lubbock.
The Binghams have been especially successful with white varieties, including Spanish Albariño; Italian Trebbiano and Moscato Giallo; and Roussanne, Marsanne and Viognier from France's Rhone region. One of their ace finds was the Italian grape, Vermentino. On a media trip to the High Plains in 2008, I got to taste the first, quite limited Duchman Family Winery 2007 vintage from this variety, made from madly young vines. The freshness and vibrancy were completely unexpected. Cliff knew he had a winner. Vermentino locked in its up-and-comer status when it became "the cornerstone of the Duchman portfolio," as noted on the Driftwood winery's website.
"Through the years, seeing so many wineries use our grapes to produce award-winning wines has been a joy," writes Betty Bingham in an email. "There are still real pioneers such as (High Plains grower) Neal Newsom, Bobby Cox and (pioneering Texas winemaker) "Doc" McPherson who have paved the way for us, but we do enjoy being part of the beginnings in both our role as a grower and now a winery."
The grape-growers-turned-winemakers
could have located their first tasting
room anyplace in the state.
They chose Grapevine—and immediately
boosted the city's wine cachet.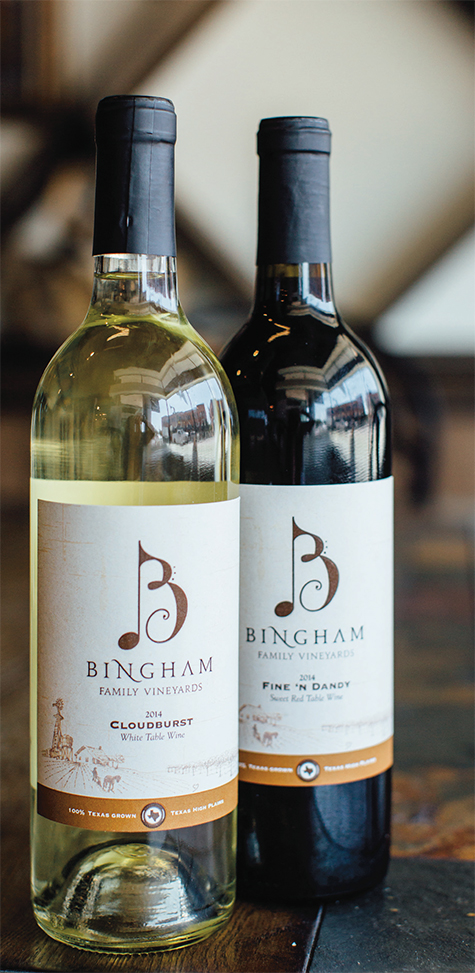 photo by Kelsi Williamson
A winery? Scratch head.
The first rumblings of a winery trace back to a problem with logistics, Kyle Bingham says: getting harvested grapes off the vines and trucked to wineries in a timely manner. Grapes, after all, are perishable fresh produce. "The current system for moving fresh fruit wasn't fast enough," he says. They were maxing out the threeweek window for picking and loading peak white grapes into waiting winery trucks. (About 60 percent of their grapes are for white wines.) "The solution," he says, "was to press it out and ship juice. It's easier to move." To do that, they needed to build a crush facility. That meant acquiring a press and handling equipment. It was almost a winery.
"All we needed were tanks and licensing," he says. They took over an existing barn near Meadow, "rebuilt it…and bought tanks for production." Brother Daniel stepped up to manage the facility and make the wine with Manuel Lechuga. "2014 was the first year we made wine." But don't expect wine to become an end in itself. "We're going to be a player in the fresh fruit market for years to come," Kyle says.
But, how to sell their boutique wines. Make it, and they will buy?
Not quite.
The family had to get their small-lot wines from Meadow into the hands—and on the palates—of consumers. That would require a tasting room with lots of traffic. "We knew we wanted to sell direct," says Kyle, "so we were looking to build something with a stream of tourists coming to us…." Their name is gold in Lubbock, but it's not exactly a hot traffic spot. "We kept eyeing (U.S) 290." That's the highway near Fredericksburg, also known as Wine Road 290, dotted with more than a dozen wineries.
"The Hill Country is ground zero (for the Texas wine industry)," Dr. Kane notes, "and in the future will likely become the Napa Valley of Texas." It's where Andy Timmons, another major grower like the Binghams, opened his Lost Draw Cellars in Fredericksburg in 2014. But, as you might guess, real estate along U.S 290 is pricey. (One of the newest winemakers to hang a shingle there, Ben Calais moved his Calais Winery from Dallas' Deep Ellum to Hye.)
That's when "Gabe Parker with Homestead Wineries called us," Kyle says, to try and coax them to consider locating in Grapevine. For the longest time, the city has celebrated its viticulture heritage, but has had a reputation as something of a lightweight. "Grapevine is trying now to reinvent itself as a (serious) wine destination," Kyle says, "and the city really made a pitch to us." Currently, Homestead (vineyards in Ivanhoe) and Messina Hof Winery (based in Bryan), which opened its Grapevine tasting room last year, are the only other wineries that have their own vineyards. "We started running the numbers…" and Grapevine won.
The Binghams opened their Grapevine
tasting room early this summer.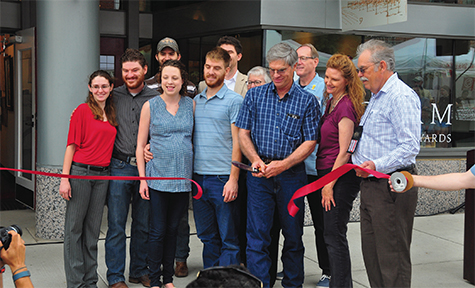 Ribbon-cutting at the tasting room with (first row)
Catherine and Blake Bingham, Gracie and Kyle Bingham,
Cliff and Betty Bingham, Grapevine mayor William D. Tate,
(back row) Daniel Bingham, Clint Bingham, Debbie Reynolds
(TWGGA executive director) and fan.
photo courtesy of the Bingham Family
The Binghams opened their Grapevine tasting room early in the summer with their 100 percent Texas High Plains AVA wines. Although Kyle was warned that North Texans prefer sweet wines, "my best-seller is my dry white, my Cloudburst," he says, a blend of Trebbiano, Vermentino, Roussanne, Viognier and Chardonnay.
"On all of our white wines, with the quality of fruit, we don't have heavy tannins. (These are) fruit-forward, nice wines that are easy to drink. We don't cover the flaws with oak." In the fall, they'll be photo gin releasing some of their fi rst reds. I brought home a bottle of the High Plains Sunset Rosé, an earthy, dry rosé made with Mourvèdre grapes and perfect for cool fall sipping.
Kyle surprised the family by stepping up to run the Grapevine tasting room. "I was looking for something new to do," he says, having spent ten years toiling in the High Plains vineyards. "When the job came up, I applied." He brings an intangible to the equation: "I was someone who could tell the story."
The story of growing up in a big family in the middle of nowhere. The story of High Plains farming. The story of the magical, musical thread that twines through the family – and the reason for the musical logo on the wine label that combines a C-clef and the initial "B." Everyone in the family plays an instrument, starting with Cliff at the grand piano. "Early on," Kyle says, "we lived so far from town that we didn't get great TV reception and (only had) dial-up internet." It was natural to gather 'round and play impromptu concerts, something they still do for guests.
It's the story of going from grape growers to winemakers in the rapidly changing landscape of Texas wine. It's also the story of a budding wine dynasty, what with so many family members already drawn into the wine business. In addition to Cliff , Betty, Daniel and Kyle, another brother, Clint, works on the business side. Th eir sister, Marissa, works with winemaking and administration and studies viticulture and enology at Texas Tech, and another brother, Blake, is "on the ground" with issues like growing and irrigation.
"We're excited," Kyle says. Safe to say the city of Grapevine is excited, too. And if the Binghams produce wines that rise to the potential of their grapes, everyone ought to be excited. It's a win not just for Grapevine, but the whole state.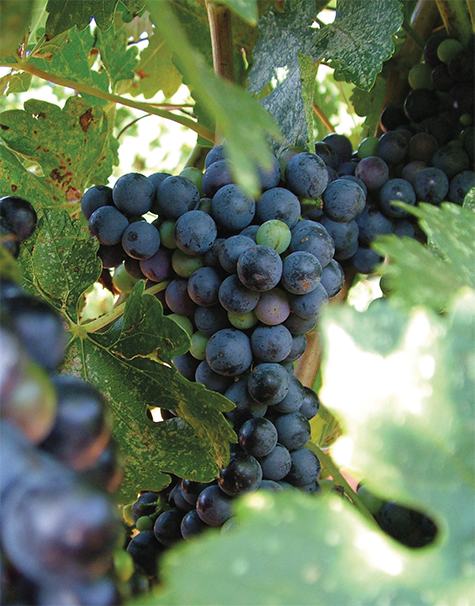 Photo courtesy of the Bingham Family
KIM PIERCE is a Dallas freelance writer and editor who's covered farmers markets and the locavore scene for some 30 years, including continuing coverage at The Dallas Morning News. She came by this passion writing about food, health, nutrition and wine. She and her partner nurture a backyard garden (no chickens – yet) and support local producers and those who grow foods sustainably. Back in the day, she co-authored The Phytopia Cookbook and more recently helped a team of writers win a 2014 International Association of Culinary Professionals Cookbook Award for The Oxford Encyclopedia for Food and Drink in America.