North Texas Luminaries Reminisce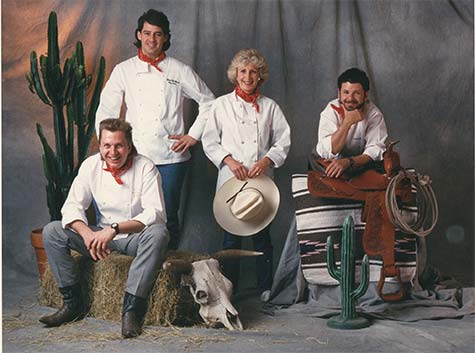 The posse that blazed the trail—Dean Fearing, Robert Del Grande,
Anne Lindsay Greer McCann, Stephan Pyles, minus Avner Samuel.
Shown here at the 1988 Texas Hill Country Wine and Food Festival.
Photo by Zigy Kaluzny from TEXAS MONTHLY August 2014.
A 1986 story in the Dallas Morning News
proclaimed the rise of "Chile Chic" as
"French Fare Fades In A Southwestern Sunrise."
The changes that rippled through Dallas in the early 1980s with the Modern American Cuisine movement, as it came to be called, started with four local chefs and a food consultant/ cookbook author: Stephan Pyles, Dean Fearing, Avner Samuel, Robert Del Grande (the ringer from Houston) and Anne Lindsay Greer McCann. The so-called Gang of Five led the way for fresh-best-local ingredients, and Southwest Cuisine was born.
That sounds easy; it wasn't. Unlike today, there simply weren't a lot of farmers or artisanal producers, not to mention diners in the know. This was an haute cuisine trend that gradually trickled down in a region with strong agricultural roots and a heritage of garden-fresh produce.
Moneyed diners ate at Agnew's (where Fearing briefly cheffed before the Rosewood Mansion on Turtle Creek), the Mansion and Pyles' Routh Street Café. There were also more down-to-earth places like Celebration sourcing seasonal fruit and vegetables from the Dallas Farmers Market, while Fort Worth was discovering the Cowtown Farmers Market. A boomlet of smaller area farmers markets ensued in the 1990s and continues to this day.
The observations on the following page put our current farm-to-table passion in perspective.


From top to bottom: Paula Lambert, Mozzarella Company;
Stephan Pyles, Stephan Pyles Concepts;
Dean Fearing, Fearing's at the Ritz-Carlton, Dallas;
Michael Cox, OSO Food and Wine;
Liz Goulding, Slow Food Dallas.
I'm always saying that when I started (in 1982) they were buying Kraft block mozzarella and slicing it thinly and folding it creatively for their insalata Caprese at The Mansion. Also when I started, no one knew what mascarpone was, and no one knew what tiramisu was. I used to pass out a recipe. In one of Alice Waters' cookbooks, she wrote about rocket. It was the first I had heard of arugula in the United States."
— Paula Lambert, owner-founder of the Mozzarella Co. and Dallas' first artisanal cheesemaker.
"When I opened my first restaurant in Dallas in 1983—Routh Street Café—I had to fly in all my specialty produce. 'Specialty produce' of the day meant fresh herbs, red and yellow bell peppers and baby vegetables. … I began working with a few local farmers in the '80s and early '90s, but few there were. So many big farmers of the day were focused on single crop production, so it was easy to get great local 1015 onions or premium Ruby Red grapefruit from the (Rio Grande) Valley. But baby mustards were rarely in the equation."
— Stephan Pyles, whose Stephan Pyles Concepts is creating a modern interpretation of his landmark Routh Street Café in the Hall Arts building.
"I remember that in the mid-1980s Stephan Pyles and I really gravitated to what Alice Waters was doing. We were inspired by her, and I think we were the first in Dallas to be doing what was eventually called farm-to-table. … I remember one local farmer would bring us chuckers (quail) in a trash bag, freshly dressed. That's how small and rudimentary things were.…Often, these local cottage suppliers would grow things just for us and, very often, they ran out of product quickly. "
—Dean Fearing, chef-owner of Fearing's at the Ritz-Carlton, Dallas; author of the recently published The Texas Food Bible.
"It's great what's happened. The whole country has matured, and there's a higher appreciation for farmers—that's a good thing. But (farm-to-table) has gotten overly used for marketing purposes…. I remember when we talked about jicama as a weird and unusual ingredient…. Now we see chipotle mayonnaise at Mc- Donald's. We're doing all that at OSO—making everything in-house, sourcing locally when we can—but we're not talking about it. If you want to know 'Oh gosh, where'd you get that?' the waiter will be able to tell you."
—Michael Cox, owner of OSO, was general manager at Routh Street Café, a charter member of Slow Food Dallas and most recently CEO of M Crowd .
"I think we are at an exciting place in Dallas…. In the past several years I have seen a noticeable increase in the number of restaurants and chefs that incorporate local food into their menu. Not because it is trendy and they are trying to make a quick buck… but because they sincerely believe it is a better way to do business. On the flip side, as greater numbers of people have become disillusioned with our conventional food system, the number of people interested in knowing what's in season and where their food comes from continues to grow."
— Liz Goulding, president Slow Food Dallas
KIM PIERCE is a Dallas freelance writer and editor who's covered farmers markets and the locavore scene for some 30 years, including continuing coverage at The Dallas Morning News. She came by this passion writing about food, health, nutrition and wine. She and her partner nurture a backyard garden (no chickens – yet) and support local producers and those who grow foods sustainably. Back in the day, she co-authored The Phytopia Cookbook and more recently helped a team of writers win a 2014 International Association of Culinary Professionals Cookbook Award for The Oxford Encyclopedia for Food and Drink in America.