Paula's Cheesemaker Has A Place Of Her Own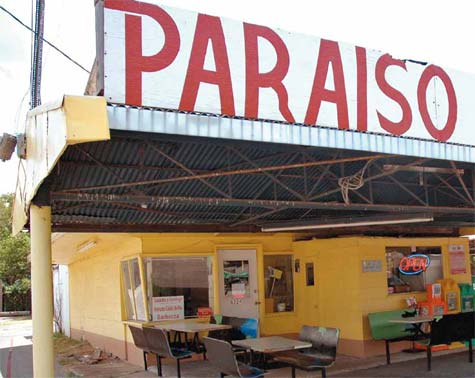 Dozens of taquerias line Jefferson and Davis streets in Oak Cliff, and it's all but impossible to discern the unsung gems from the greasy spoons. But I can tell you where to find one that stands out from the rest. Drive west on Jefferson, and just before you reach Cockrell Hill Road, you'll spy the vestige of a carhop drive-in on the south side of the street, its awnings long past their heyday, topped with a plywood sign where big red capital letters announce paraiso restaurante taqueria. Inside, it's homey with plants and tchotchkes crowding the windowsills and a TV perched on a portable stand. But the stove is a no-nonsense restaurant model.
And on the opposite wall, a white-eraser board lists specials and drinks, including horchata and house-made, fruit-flavored waters. You'll also find a bottle of Valentina Salsa Picante on each of the five, oil-cloth-draped tables. The kitchen takes up half the room.
But here's the surprise. Like Abacus, Stephan Pyles and Fearing's at the Ritz-Carlton across town, tiny Paraiso—paradise in Spanish—serves dishes made with the Mozzarella Company's fresh mozzarella cheese. This isn't on the menu; you just have to know. It's a distinction lost on most of Octavia Flores' customers, who are more interested in the fact that she serves the foods of home—sopes, tortas, parrillada—from interior Mexico. Octavia grew up in San Pedro de Limon, a small town outside Mexico City, and at Paraiso, there's not a Tex-Mex nacho or enchilada in sight. "She doesn't believe in cheddar cheese," laughs her daughter, Gladys Flores, who helps translate for her mother during an interview. "She only uses it in the queso."
If Paula Lambert's mozzarella—made the slow, painstaking Italian way—goes to the heart of local and sustainable eating, Octavia's restaurant—where everything from the corn and flour tortillas to the sauces are made from scratch—celebrates the heritage of rustic Mexican cooking. The two intertwine because Octavia has a foot in both worlds: she is the owner of Paraiso, and she has been head cheesemaker at the artisanal Deep Ellum cheese factory for 23 years. It's a day job that can start in the middle of the night. "Sometimes we go in at two in the morning to start processing the milk," says Octavia through 25-year-old Gladys, a systems analyst for a medical billing company. Every Monday and Wednesday, Octavia is at the factory at 2 a.m., finishing at 11 a.m. On Tuesdays and Thursdays, she's there from 9:30 a.m. until the work is done. She alternates a 5-11 a.m. shift between Fridays and Saturdays. The rest of the time, she's at her restaurant, prepping, cooking and cleaning, or shopping for supplies.
"Paula showed her trust by giving her a key to the office," Gladys says, "to start processing early in the morning." And once the cheese-making process begins, it takes about eight hours to transform raw cow's milk into mozzarella. First, the milk is pasteurized then coagulated to form curds. Octavia and her team cut the curds into small pieces just so, mix them with hot water and string them into long ropes. When the ropes reach the right consistency, pieces are pinched off to form the mozzarella balls.
It looks easy, but it's not, as celebrity chef Mario Batali found out when he struggled to make the cheese at the factory several years ago for a TV show. "The critical moment is deciding exactly when the cheese is mature and ready to be strung," notes the Mozzarella Company website. "Waiting too long can result in a mushy cheese, while stringing too early can result in a tough, dry cheese." Despite the language barrier—Paula speaks only some Spanish, and Octavia speaks only some English—Octavia was a quick study. "She doesn't have a lot of formal education, but she's smart," says Paula, who persuaded another employee to teach her to read and write. "She is so fierce and determined." You could say that it takes one to know one. Gladys suggests that both women share a similar strength of character, even if their backgrounds are radically different. Octavia found a mentor in Paula—"I taught her everything," she says—and Paula found a willing student. "She's just a born manager and worker," Paula says. "She is very good at directing people. I have a lot of respect for her." After only two years, Octavia advanced from dishwasher to head cheesemaker.
And there was more to it than mozzarella. The cheese factory makes more than two dozen cow's milk and goat's milk cheeses, each to different, exacting specifications. To most people, that would be a full-time job. But Octavia burned to do more. "She always wanted to invest in some type of business," says Gladys, and about six years ago, Octavia told her daughter, "Guess what? I'm looking at a restaurant." Octavia had seen a "For Rent" sign in the window of the drive-in. She moved quickly, partnering with a chef. But he was gone after a year or so. "It was all on Octavia's shoulders," says Paula, and Octavia was determined to make it work.
These days, after Octavia finishes up at the Mozzarella Company, she heads over to the restaurant. She'll check in with the staff to see if they need anything from the store. Then she'll go to work in the kitchen. She uses lots of family recipes, but she and the staff also develop new dishes, such as the Molcajete al Paraiso made with queso mozzarella.
Paula's favorite menu item is the sope. "It's like a gordita," says Gladys, "only the filling is outside." It turns out to be a divine, hand-formed masa disk, thicker than a corn tortilla and topped with fajita beef, lettuce, tomato, ripe avocado slices, a squiggle of crema and Paula's fresh mozzarella. Octavia takes a break from the interview and prepares some fresh guacamole to go with the salsa she has placed on the table. She also makes chicken enchiladas, to show how they are different from Tex-Mex. The chicken is tucked inside her handmade corn tortillas, and they're redolent with her guajillo chile sauce, which adds a cinnamon-like dimension. She fills a just-griddled flour tortilla with tender, guajillo-stewed pork, a particularly haunting combination. Then Octavia sautes a bit of chicken and swirls it in her homespun ranchera sauce. She beams as my companion and I keep eating way past satiety.
Before immigrating to the United States in 1982, Octavia had been the manager of a restaurant in Mexico. She came in search of a better life, leaving her three children behind. (A son and daughter have since immigrated to the States; they live in Atlanta.) For three years, she toiled at various jobs: working at a dry cleaners and cleaning offices and houses. Then a friend told her of the dishwasher opening at the Mozzarella Company. Octavia had no idea what the factory was about, says Gladys. "She just needed a job."
She had been working there for only a couple of weeks when she failed to show up one Monday. Her roommate at the time called Paula. "She's in the hospital," she said. "In labor."
"I didn't realize she was pregnant!" says Paula. The baby was Gladys, who never has any trouble remembering how long her mother has worked at the Mozzarella Company. I press Gladys for the answer to one more question: What does her mother do for fun? "She's here," Gladys says, surveying the restaurant. "She has fun cooking her food. That's her fun." You might say Octavia has found her own little slice of paradise.
Paraiso Restaurante Taqueria
4224 W. Jefferson Blvd.
Dallas, TX (in Cockrell Hill)
214-339-0407
Open daily at 7 a.m., cash only
Mozzarella Company
2944 Elm St.
Dallas, TX
214.741.4072
www.mozzco.com
KIM PIERCE is a Dallas freelance writer and editor who's covered farmers markets and the locavore scene for some 30 years, including continuing coverage at The Dallas Morning News. She came by this passion writing about food, health, nutrition and wine. She and her partner nurture a backyard garden (no chickens – yet) and support local producers and those who grow foods sustainably. Back in the day, she co-authored The Phytopia Cookbook and more recently helped a team of writers win a 2014 International Association of Culinary Professionals Cookbook Award for The Oxford Encyclopedia for Food and Drink in America.