One foot in the garden, one in the kitchen, chef Andrea Shackelford is a talent on the rise.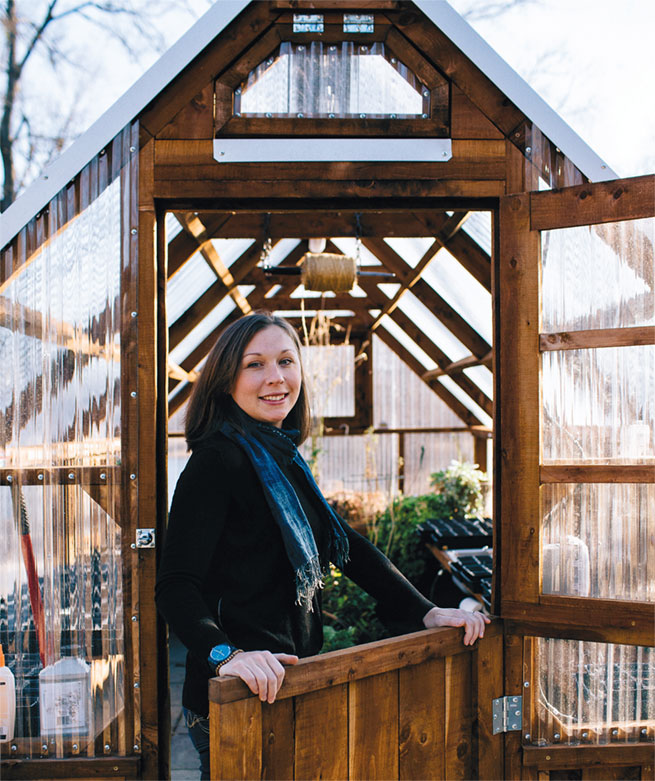 Photography by Melinda Ortley
With her cherubic face and generous smile, her dark hair pulled back in double sumo-wrestler knots, Andrea Shackelford isn't the first person you'd pick out of a lineup as an up-and-coming chef.
"A lot of chefs are kind of loud," says Rick Wells, her boss and coconspirator in several farm-to-table ventures in McKinney. "Alpha dogs." His first impression of Shackelford? "She wasn't. I liked that she was unassuming."
Today, she's executive chef at Wells' Harvest Seasonal Kitchen and creative director of his Rick's Chophouse, both on the McKinney square.
Barely five years ago, she was an unknown who showed up in McKinney as part of a package deal when Wells hired Tim Bevins as executive chef at Rick's.
Bevins was coming off a gig at Tom Colicchio's acclaimed Craft at the W Hotel in Dallas, where Shackelford oversaw the kitchen at lunch. When Craft closed, Bevins headed north to McKinney, Shackelford in tow. (Bevins is in Austin now, overseeing food service at Apple's mega campus.)
"He wanted to bring one person," Wells recalls, "and that person was Dré." That's Wells' nickname for Shackelford. Virtually sightunseen, the McKinney restaurateur and entrepreneur put her in charge of Sauce on the Square, his pizza palace that would later become Harvest.
(When Bevins eventually split, the break-up was rough for him and Wells. Says Bevins, "Rick likes to say—'This is like a marriage and I got to keep the kid.'")
In addition to her restaurant roles, "the kid" oversees Water Boy Farms, a garden on two-thirds of an acre next to Rick and Robbin Wells' Lucas home that supplies part of Harvest's fruits and vegetables. Her gardening background? Limited to helping work her mother's Lake Highlands Community Garden plot after college.
For Water Boy, she consulted with Collin County's AgriLife Extension Service early and often. Eventually she studied to become a master gardener so she wouldn't have to lean on them so much. "I fuss over the drainage and water," Wells says as the three of us walk the small farm. "She fusses over what we plant."
"I try to grow a huge variety," Shackelford says, pointing out Brussels sprouts still on the stalk next to tarragon that's struggling against the cold. But quantity, not so much. "We'll use one vegetable as a feature over one or two weekends." That tends to tap her yield. More plentiful herbs and flowers—locally grown flowers are in surprisingly short supply—enliven the cocktails at Harvest and the Chophouse.
The point is to see what works and what doesn't. Even with a master gardener's knowledge and another master gardener working the farm almost full-time, the proof is in the harvest itself.
Shackelford shows me spring plants percolating in the tidy little greenhouse farther back on the property. Those will be transplanted as soon as feasible. Nearby in a work shed, she keeps her seed packets neatly pinned on a bulletin board.
She's had good luck in the garden with exotic tomatoes such as redand- green-striped French Vernissage. "It's not as small as a cherry, and it grew really well."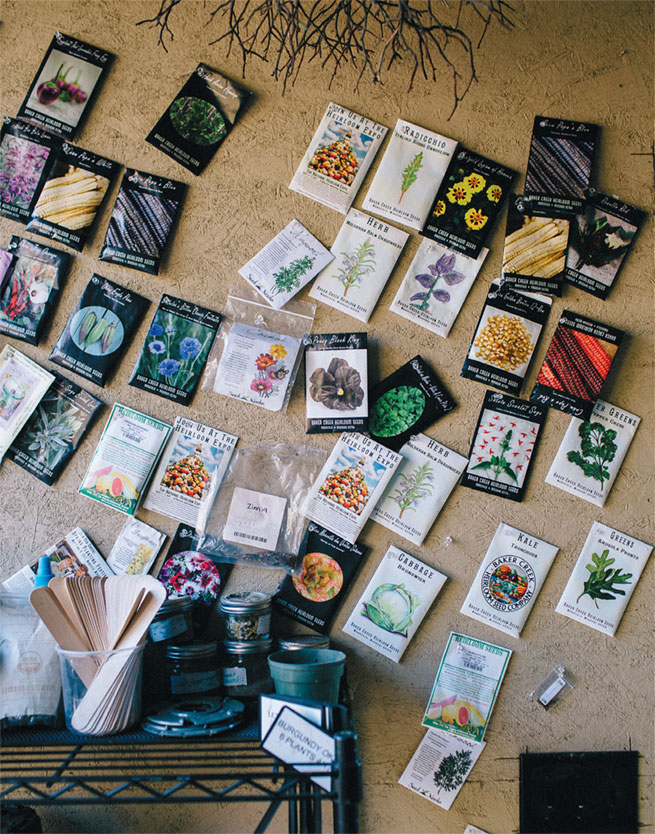 At Water Boy Farms, Andrea Shackelford pins seed packets on a wall.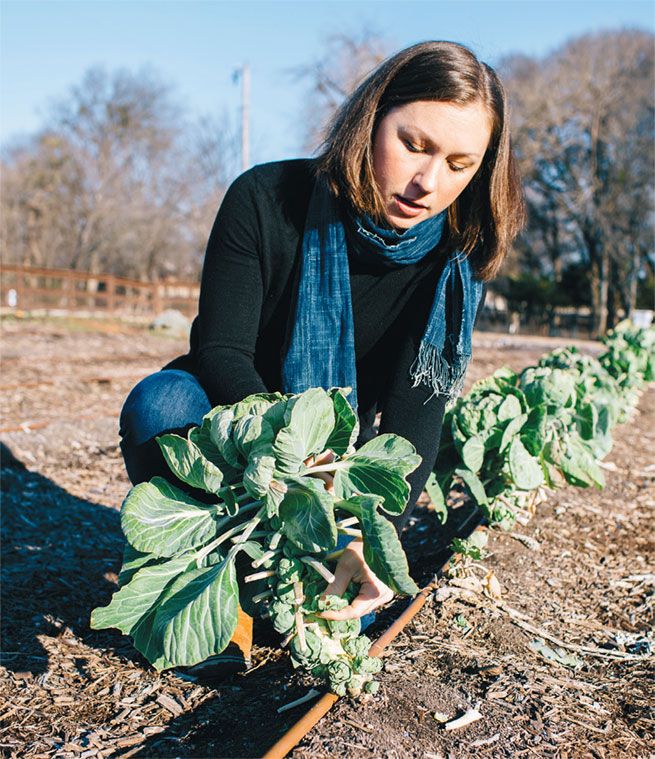 In the garden, she tends to Brussels sprouts.
She's also going to plant more Tiger, or "Tigger," melons this season. "My favorites," she says, from last year's harvest. "They're the size of a softball. Almost like a citrusy melon flavor with white flesh. Like a white-ish cantaloupe."
And everything we survey, garden to greenhouse, hews to the sustainability that drives all her and Wells' endeavors.
"Everything is non-GMO seeds and plants, organic practices and not much (even natural) pesticides," Shackelford says.
The garden is a prototype for a three-acre commercial farm that's part of a complex Wells is developing that will include a brewery and cluster of small restaurants on 17 acres southeast of McKinney. Whether discussing the farm, dreaming up new projects or testing dishes at Harvest, Shackelford and Wells are a yin-and-yang match. "We're opposites," Shackelford says. "He's very verbose, and I kind of stay back a little bit. He's practical, and I'm creative."
"She's mother earth. I'm more the promoter," Wells adds. "When you take this journey we're on (promoting farm-to-table values), it's to your benefit to work with someone who complements you."
All these accomplishments and lofty goals—and Shackelford's never had a lick of formal culinary training. The 33-year-old mother of two is a throwback to the times when chefs learned on the job. Her degree from Southern Methodist University is in political science. But her heart is in food. The first place she applied for a job out of school in 2007 was Dragonfly at Hotel Zaza in Dallas, where chefs Bevins and Graham Dodds lorded over the kitchen. Shackelford counts both chefs as mentors. Today, Dodds is culinary director at the Statler Dallas by Hilton.
"I think (Graham) hired me because I was dumb enough to come to an interview in a suit for kitchen job," Shackelford says, laughing. "I got lucky."
Nah, says Dodds. There was more to it.
"She didn't have any experience," he recalls, "but she had this spark. She was so full of passion. She wanted to make food. Work days off (for) free. She was there to learn and throw her whole life at it. You can't train passion. So you look for those people (who have it), and she was one of those people."
Eventually, Bevins pulled her with him into Craft. She also helped Dodds when he was starting Bolsa.
"I loved that," Dodds says of her going to Craft. "It was an amazing training program. She got all the benefits of working in New York City in Dallas." Colicchio started Craft in the Big Apple as well as other restaurants across the country, wrote acclaimed cookbooks and rose to become one of the country's top celebrity chefs before turning to advocacy for food, hunger and farming policy issues.
At Craft, Shackelford kept her head down and her knives sharp. Got married. Had a baby. Had another baby. (She, husband Steve and sons, George and Charlie, live in Allen.)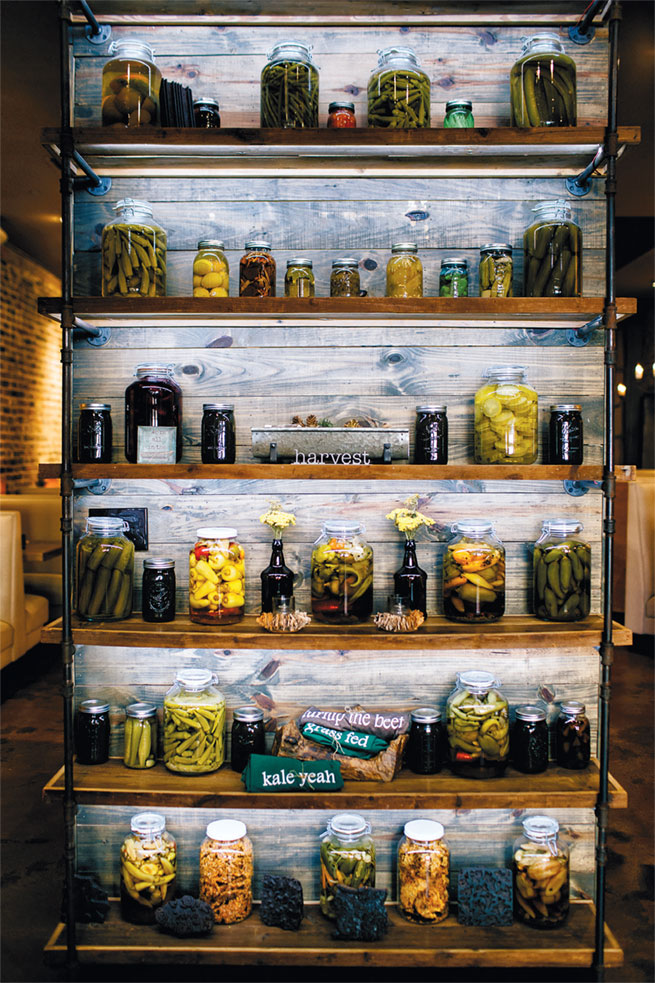 Harvest uses staff-preserved fruits and vegetables.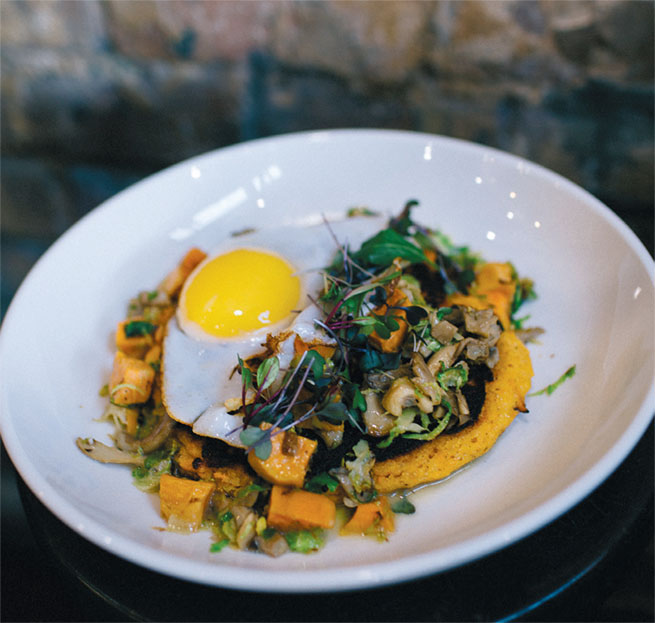 "She was very dependable," Bevins says. "Smart. Upbeat. Excited to be there. Excited to learn."
Craft closed, and that's when Bevins insisted she come with him to McKinney, where Wells put her in charge of Sauce. But her big test came in 2013, when Bevins got a job offer he couldn't refuse and left the McKinney fold—you know, the break-up where Wells "got the kid."
"He left in April," Shackelford says. The farm-to-table dinner he'd been working on for 120 at Chestnut Square Historic Village was in May. "It was a big challenge. (Rick) went out on a limb," and put her in charge. "Good for me, he has faith in me."
Faith that was rewarded.
"We closed Sauce in July (2014)," she says, "and reopened as Harvest in September."
By then, Shackelford and Wells were clear about their entwined paths, promoting and shepherding sustainable farm-to-table practices in the surrounding area.
"She knew what she wanted to do," Wells says. At Harvest, they put it into action.
The restaurant occupies a skinny, shotgun-style space on the McKinney square, with exposed century-old walls and the original, gently sloping floor. A towering, open divider between the kitchen and the bar holds all manner of infusing spirits, from bright magenta beet gin to summer tomatoes in vodka, destined for Bloody Marys. Clusters of dried herbs and flowers hang from the ceiling. Even the all-paper straws are sustainable.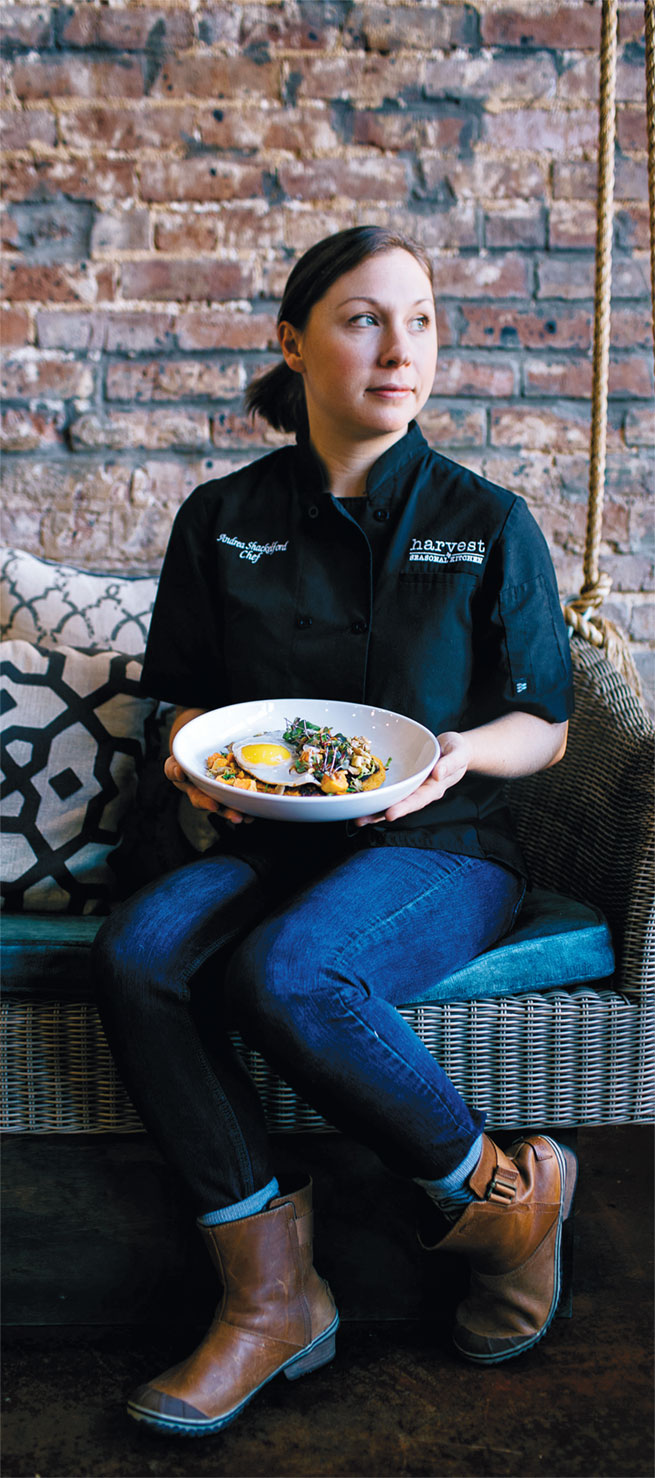 One of her most popular and unique dishes: Farm Egg and Sweet Potato Griddle Cake.
Look on the back of the menu, which changes seasonally, and find local sources for everything from the hand-woven napkins to the goat cheese (Ruby Ranch and Rosa Family Farm).
"The whole thing about Harvest is to make that farm-to-table feel available to everybody," Shackelford says. "The everyday man can come in and find what they like on the menu. I didn't want it to be upscale. I didn't want it to be Rick's (Chophouse). The idea is responsible eating in a responsible restaurant."
Diners were on board—even becoming possessive of some dishes, like the deviled eggs. Shackelford got a raft of complaints when she tried to toy with the recipe. She makes the house burger with ground brisket, and cooks a grass-fed chicken-fried steak. Her seasonal repertoire expands to include carrot hummus. Baby kale salad with pickled grapes and smoked mozzarella. Pan-roasted red fish with grapefruit butter sauce and rainbow microgreens.
The most unusual dish—and one of the menu's best—is her Farm Egg and Sweet Potato Griddle Cake (left) with shiitake mushrooms, mushroom jus and a sunny-side-up egg. It drips deliciously with umami flavor, the balance of textures and flavors just right. "I love the dish so much," she says, "because I get to use my (local) duck eggs and my local mushroom guys."
At first glance, Shackelford's trajectory looks charmed—steppingstones of good breaks not everyone gets. But it took uncommon passion and drive as each foot alighted to propel her to the next wobbly rock. She's one of the new generation of chefs and farmers who are destined to shape North Texas' farm-to-table sensibility in the decades to come. We're keeping our eyes on her.
Harvesttx.com
Facebook: Waterboy Farms
KIM PIERCE is a Dallas freelance writer and editor who's covered farmers markets and the locavore scene for some 30 years, including continuing coverage at The Dallas Morning News. She came by this passion writing about food, health, nutrition and wine. She and her partner nurture a backyard garden (no chickens – yet) and support local producers and those who grow foods sustainably. Back in the day, she co-authored The Phytopia Cookbook and more recently helped a team of writers win a 2014 International Association of Culinary Professionals Cookbook Award for The Oxford Encyclopedia for Food and Drink in America.