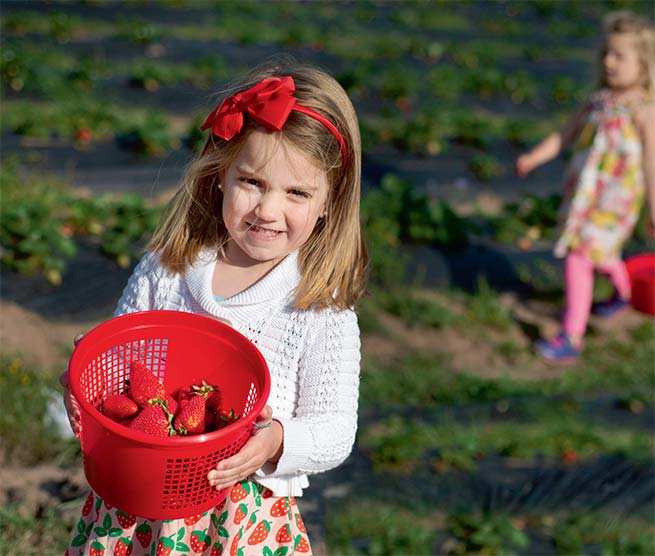 Strawberries are a hot new item on North Texas farms. A decade ago, you just didn't see them in our area, save for a single pick-your-own in Arlington. Then about six years ago, Bobby Bever and his family's Highway 19 Berries and Produce in Athens started growing them—first for farmers markets (Good Local and McKinney), now for a pick-your-own at the farm, too.
Other farmers have followed suit, and people can't seem to get enough of them. Easy to see—and taste—why. A fresh, ripe local strawberry is nothing like the travel-hardy nuggets we get from California. Locals are sweet and red through and through, and absent white "shoulders."
Chris and Kylie Demases got a late start last season with their pick-your-own Pecan Creek Strawberry Farm in Pilot Point. Demand was so great—the field would be picked out in an hour or less—they've expanded to five times the size. "We planted 43,000 plants this year," Chris says. Likewise, Megan Neubauer has added strawberries to the mix at her pick-your-own Pure Land Farm in McKinney.
And Gnismer, the Arlington spot, has been taken over by Johanna Storm, who has revived the pick-your-own under the moniker Storm Farms. According to the website, they'll be back this year. Bever and the Demaseses agree that the sweetest strawberries they grow are their Chandlers. They're also the most fragile. But if you're careful, you can pick and use the same day—or do like the Bevers do and turn them into killer jam.
BLACK PEPPER-BALSAMIC STRAWBERRIES
Recipe: Meredith Steele
meredithbondsteele.com
Strawberries are spring's candy. They're perfect, bare in a bowl. For a change, add tawny, tangy balsamic vinegar and a touch of freshly ground pepper to complement their sweetness.
KIM PIERCE is a Dallas freelance writer and editor who's covered farmers markets and the locavore scene for some 30 years, including continuing coverage at The Dallas Morning News. She came by this passion writing about food, health, nutrition and wine. She and her partner nurture a backyard garden (no chickens – yet) and support local producers and those who grow foods sustainably. Back in the day, she co-authored The Phytopia Cookbook and more recently helped a team of writers win a 2014 International Association of Culinary Professionals Cookbook Award for The Oxford Encyclopedia for Food and Drink in America.