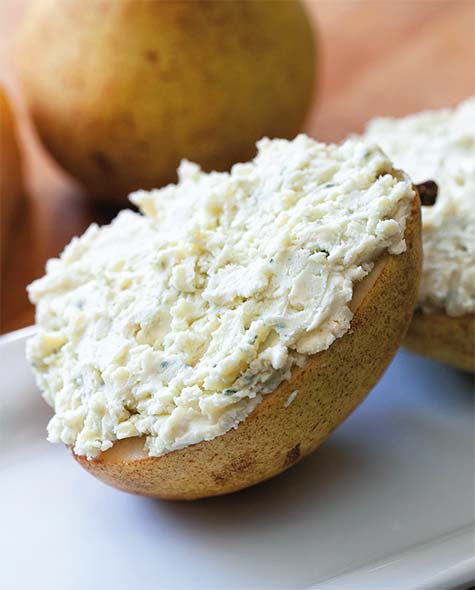 Photo and Recipe by Kelly Yandell, themeaningofpie.com
4-6 servings
This simple, yet decadent, treat combines the delicate sweetness of seasonal pears with a buttery mix of cheeses. Cut and serve on crackers as an hors d'oeuvre or place on a bed of salad greens with a drizzle of balsamic vinegar.
1 cup mascarpone cheese
1 cup Gorgonzola cheese
Tablespoon of lemon juice
2 ripe pears, cut in half
Crackers or salad greens, for serving
In a bowl, mix the mascarpone and Gorgonzola together with a fork until well combined.
With a melon-baller or knife, cut out the seeds from the pear halves. Leave stems attached, if you like, for appearance. Squeeze lemon juice into a bowl of water. Dip pear halves into the lemon water to help prevent browning. Blot with a paper towel.
Using a spoon, gently pile the cheese mixture into the pear halves, pressing down as you fill so that the mixture stays in place. Serve on salad greens with a drizzle of balsamic vinegar, or as an appetizer with crackers.
KELLY YANDELL is a writer and photographer based in Dallas. She has contributed to Edible Dallas & Fort Worth since 2011. Her website (themeaningofpie.com) celebrates practical dishes and comfort foods, while her photography portfolio can be found at kellyyandell.com. Kelly is an attorney and is the vice president of the Advisory Board of Foodways Texas, an organization founded by scholars, chefs, journalists, restaurateurs, farmers, ranchers, and other citizens of the state of Texas who have made it their mission to preserve, promote and celebrate the diverse food cultures of Texas.