Recipe and Photography by Kelly Yandell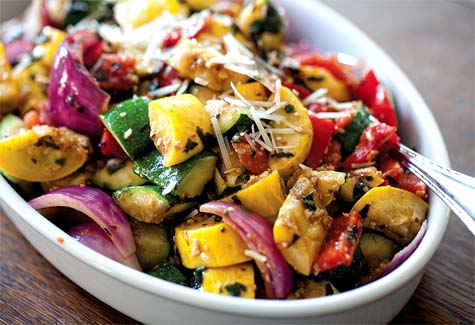 No need for pine nuts in your pesto when you have Texas pecans! This simple recipe blends homemade pesto with grilled veggies, utilizing the last of autumn's second-season squash, tomatoes and basil. The dish can be served at room temperature so make this first so it doesn't compete for space with your last-minute grilled items. Use a mortar and pestle, rather than a food processor, if you prefer a thick and rustic pesto (read: chunky and less uniform). For a variation, add strips of grilled chicken.
For pesto
2 garlic cloves, peeled
1 cup packed basil leaves
½ cup olive oil
¼ cup pecans
½ cup Parmesan cheese, divided use
A pinch of kosher salt
For vegetables
¼ cup olive oil
½ teaspoon kosher salt
2 zucchini, cut in quarters, lengthwise
2 yellow squash, cut in quarters, lengthwise
1 red onion, cut in wedges from root to stem, leaving stem intact
1 red bell pepper, seeded and cut into thick strips
2 tomatoes, cut in half
Prepare Pesto
If using a mortar and pestle, smash the garlic until it is coarsely chopped. Next, begin adding the basil and a little bit of the olive oil, smashing it and emulsifying it. Add a little of each until you have incorporated all of the basil and the oil. Add the pecans and smash them into the pesto. Finally, add ¼ cup of the Parmesan cheese and work it into the mix. Season to taste with salt.
If using a food processor, add the garlic and process until finely chopped. Next, add basil, pecans and ¼ cup of the Parmesan cheese and pulse a few times. Add the oil in a slow stream through the feeder tube and pulse until it is all incorporated. Season to taste with salt.
Grill vegetables
Prepare your grill to cook at medium heat.
Place cut vegetables on rimmed baking sheet and coat evenly with olive oil and a sprinkle of salt. Remove vegetables from baking sheet and place directly place on the grill, cooking for 4 minutes on each side. (After 2 minutes, rotate about 45 degrees, without flipping, and cook another 2 minutes. Flip to uncooked side and repeat. This will ensure nice grill marks.)
After 8 minutes, vegetables will be cooked but still somewhat firm. (The tomatoes will get very soft and that's okay. You're going to squash them into oblivion at the end.) Remove vegetables from the grill and set aside to cool.
To finish
When the vegetables have cooled, cut the zucchini, yellow squash, peppers and onions into bite-sized pieces, discarding the ends. Smash and chop the tomatoes. Combine all of the vegetables in a large serving bowl. Add pesto and stir to combine. Sprinkle with remaining Parmesan cheese and season with additional kosher salt, if desired.
Notes:
Before cooking, cut the vegetables large enough so that they have a lot of grillable surface area and won't fall through the grates. You can cut off the stems after grilling.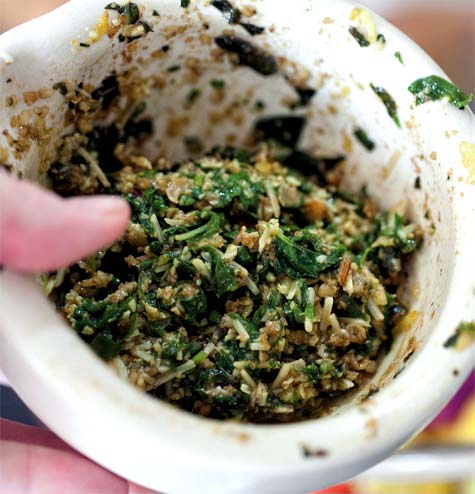 KELLY YANDELL is a writer and photographer based in Dallas. She has contributed to Edible Dallas & Fort Worth since 2011. Her website (themeaningofpie.com) celebrates practical dishes and comfort foods, while her photography portfolio can be found at kellyyandell.com. Kelly is an attorney and is the vice president of the Advisory Board of Foodways Texas, an organization founded by scholars, chefs, journalists, restaurateurs, farmers, ranchers, and other citizens of the state of Texas who have made it their mission to preserve, promote and celebrate the diverse food cultures of Texas.