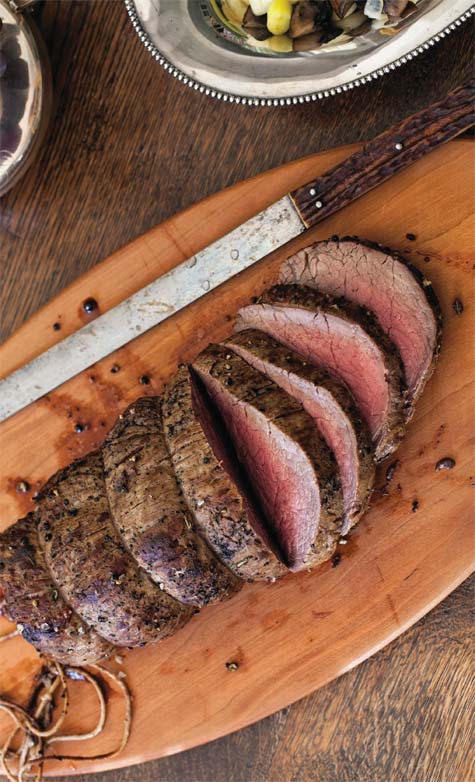 Ask your butcher to cut a nice, even tenderloin. They will also happily trim the silver skin and fat. You may use the herbed salt recipe from the roasted roots and potatoes for this. Just make a double batch when you are preparing it for the vegetables. Use a reliable instant read thermometer and you will peg the tenderloin at a rosy medium-rare.
6 servings
2¼ pounds beef tenderloin
1 teaspoon herbed salt or kosher salt
1 tablespoon vegetable oil
1 teaspoon freshly cracked black pepper, coarse
Preheat the oven to 450°F. Using twine, truss the tenderloin at 2-inch intervals to ensure even cooking. Allow the roast to sit at room temperature for 20 minutes before proceeding.
Season the tenderloin with half of the salt. Place the oil in a hot cast iron skillet. Place the tenderloin in the skillet and allow it to sear on all sides. This should take 5 to 7 minutes.
Season the seared tenderloin with the remaining salt and the pepper, using tongs to lift the tenderloin and season all sides. Place back in the cast iron skillet and transfer it to the hot oven. Roast until an instant-read thermometer registers 120°F (for medium rare), about 20 to 25 minutes. Remove from the oven and allow it to rest for at least 15 minutes before carving.
KELLY YANDELL is a writer and photographer based in Dallas. She has contributed to Edible Dallas & Fort Worth since 2011. Her website (themeaningofpie.com) celebrates practical dishes and comfort foods, while her photography portfolio can be found at kellyyandell.com. Kelly is an attorney and is the vice president of the Advisory Board of Foodways Texas, an organization founded by scholars, chefs, journalists, restaurateurs, farmers, ranchers, and other citizens of the state of Texas who have made it their mission to preserve, promote and celebrate the diverse food cultures of Texas.