]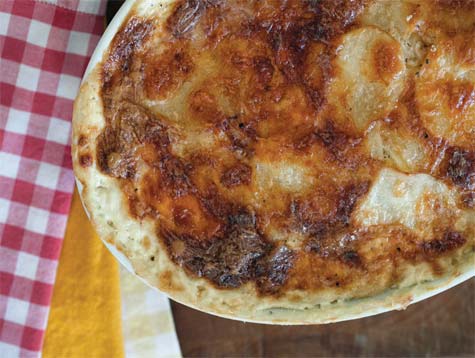 By Kelly Yandell, TheMeaningofPie.com
Paula Lambert's Mozzarella Company makes a cheese, smoked over pecan shells, called Scamorza. Here, it gives traditional scalloped potatoes a depth that is uncommon. Paired with cream and a hint of marjoram, this side dish is all you need to complement a glazed ham. To paraphrase Julia Child, I would rather have one bite of rich scalloped potatoes than a whole dish of mashed potatoes made with skim milk. This is decadent treat.
Serves 6
1½ cups heavy whipping cream
1½ cups half and half
1 teaspoon kosher salt
½ teaspoon freshly cracked black pepper
¼ teaspoon dried marjoram
2½ pounds russet potatoes, peeled and sliced 1/8" thick
1 cup shredded Scamorza cheese (may substitute mozzarella)
2 tablespoons shredded Parmesan cheese
Preheat the oven to 350°F.
Combine cream and half & half in a measuring glass. Combine the salt, pepper and marjoram in a small bowl.
In a 10" oval baking dish, or one of a similar size, layer one-third of the sliced potatoes. Pour in enough cream to just cover the slices. Sprinkle ⅓ of the Scamorza, and ⅓ of the seasonings. Repeat the layering twice more with potatoes, cream, Scamorza and seasoning. Make sure to use just enough cream to come to the top of the potatoes. You may not need to use the full 3 cups. Sprinkle the Parmesan on top of the final layer.
Place the baking dish on a rimmed pan lined with foil (to catch any cream that boils over).
Tent the dish loosely with foil and bake for 1½ hours. Remove the foil tent and bake for an additional 30 minutes. Check the dish periodically near the end of the cooking time to ensure that it is not becoming too browned. Test the doneness by piercing the potatoes with a toothpick. Allow the dish to rest for at least 10 minutes before serving.
KELLY YANDELL is a writer and photographer based in Dallas. She has contributed to Edible Dallas & Fort Worth since 2011. Her website (themeaningofpie.com) celebrates practical dishes and comfort foods, while her photography portfolio can be found at kellyyandell.com. Kelly is an attorney and is the vice president of the Advisory Board of Foodways Texas, an organization founded by scholars, chefs, journalists, restaurateurs, farmers, ranchers, and other citizens of the state of Texas who have made it their mission to preserve, promote and celebrate the diverse food cultures of Texas.