Recipe and photo by Kelly Yandell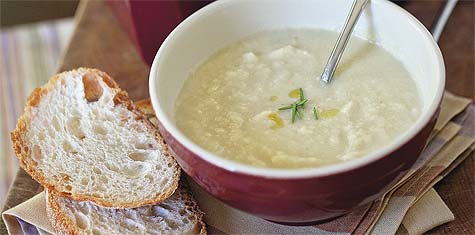 6 servings
Parsnips, a relative of parsley and carrots, are considered a perfect winter vegetable because the first frost is necessary to convert their starches into sugars. Use the same considerations for selecting parsnips as you would for carrots. Slowly roasting parsnips brings out their nutty and sweet flavor. This recipe is very basic, and the seasoning is light so that the flavor of the parsnip is the focus.
3 pounds parsnips, peeled
1 pound leeks, rinsed
2 tablespoons olive oil
6 cups chicken broth
3 ounces shredded Gruyere cheese
1/2 cup cream
1/4 teaspoon ginger
1/8 teaspoon mace
Preheat the oven to 375°F.
Cut the parsnips and leeks (white parts only) into ½" rounds. Place in a large rimmed baking pan and drizzle with olive oil. Toss to ensure that all are evenly coated. Place in the oven and roast for 50 minutes or until the parsnips are uniformly tender. Cover the pan with foil near the end of the cooking time if the parsnips are becoming too browned.
In the bowl of a food processor or blender, add the roasted vegetables and chicken broth in batches and puree until completely smooth. Transfer the pureed vegetables to a stockpot as you work.
Bring the pureed vegetables to a simmer. Add cheese and cream and stir until thoroughly combined. Season with ginger and mace and stir. Serve warm.
Time saver: Roast vegetables a day ahead and keep in the refrigerator until you are ready to proceed with the recipe.
Tip 1: Mace is made from the covering of the nutmeg seed. It is milder than nutmeg and has a flavor that lends itself well to savory applications. Nutmeg may be substituted for the mace in this soup, but use a very light hand with it so that it doesn't overpower the interesting flavor of the roasted parsnips.
Tip 2: If you prefer using an immersion blender, transfer the roasted vegetables and chicken broth directly into the stockpot and puree before adding remaining ingredients.
For more recipes by Dallas food writer and photographer Kelly Yandell, go to her blog The Meaning of Pie: www.themeaningofpie.com.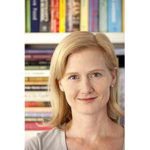 KELLY YANDELL is a writer and photographer based in Dallas. She has contributed to Edible Dallas & Fort Worth since 2011. Her website (themeaningofpie.com) celebrates practical dishes and comfort foods, while her photography portfolio can be found at kellyyandell.com. Kelly is an attorney and is the vice president of the Advisory Board of Foodways Texas, an organization founded by scholars, chefs, journalists, restaurateurs, farmers, ranchers, and other citizens of the state of Texas who have made it their mission to preserve, promote and celebrate the diverse food cultures of Texas.