Recipe and Photography by Kelly Yandell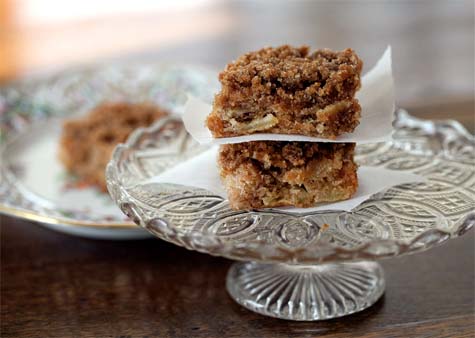 This streusel-topped dessert is a cross between a sheet cake and a nonchocolate brownie. The batter is loaded with flavorful chunks of apples and pecans. We suggest using one tart apple like a Granny Smith plus one slightly sweet one like a Braeburn. We also suggest you buy a third—your choice—to eat while cooking.
For Apple Blondies
½ cup (1 stick) unsalted butter, melted
1 cup sugar
1 egg
2 medium apples, cored, peeled and diced
⅔ cup chopped pecans
1 cup all-purpose flour
1 teaspoon baking powder
½ teaspoon salt
1 teaspoon cinnamon
For Streusel
⅓ cup sugar
⅓ cup brown sugar
3 tablespoons flour
¼ teaspoon cinnamon
3 tablespoons butter, melted
Preheat the oven to 350°F. Prepare your 9" x 9" baking dish by spraying it with non-stick cooking spray. To make it easier to remove squares from pan, line bottom of pan with parchment paper before spraying.
Prepare Blondies
In a medium bowl, combine the butter and the sugar. Mix for 3 minutes. Next, whisk in the egg and blend thoroughly. Fold in the diced apples and the chopped pecans. In a small bowl, mix together the flour, baking powder, salt and cinnamon. Add the flour mixture to the apple mixture. Mix gently to combine. This creates a very thick batter. Pour the batter into the prepared pan and spread it around the pan with a spatula or the backside of a spoon.
Prepare Streusel
In a medium bowl, mix together the granulated sugar, brown sugar, flour and cinnamon. Add the melted butter and stir to combine. The streusel will have the consistency of sand. Distribute the topping evenly on top of the blondie batter.
Bake
Place the dish in the oven and bake for 42 to 45 minutes. Remove from the oven and allow them to rest for 30 minutes before cutting them into squares.
KELLY YANDELL is a writer and photographer based in Dallas. She has contributed to Edible Dallas & Fort Worth since 2011. Her website (themeaningofpie.com) celebrates practical dishes and comfort foods, while her photography portfolio can be found at kellyyandell.com. Kelly is an attorney and is the vice president of the Advisory Board of Foodways Texas, an organization founded by scholars, chefs, journalists, restaurateurs, farmers, ranchers, and other citizens of the state of Texas who have made it their mission to preserve, promote and celebrate the diverse food cultures of Texas.