Recipe and Photography by Kelly Yandell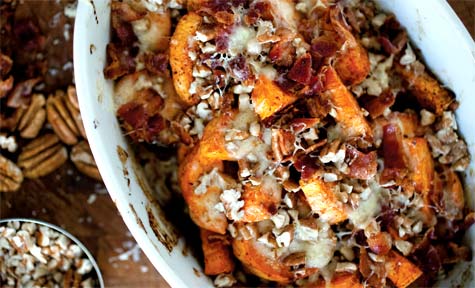 Instead of boring French fries, serve this Sweet Potato Gratin alongside your burgers, hot dogs and barbequed chicken. In this simple recipe, sweet potato pieces are tossed in a peppery blend of chile powders then baked and topped with crispy bacon, chopped pecans and melted Gruyere cheese. A luscious side dish that will add pizzazz to any backyard barbeque.
4 Servings
1½ pounds sweet potatoes
1 tablespoon brown sugar
½ teaspoon kosher salt
¼ teaspoon ancho chile powder
⅛ teaspoon chipotle chile powder
½ cup shredded Gruyere cheese
5 slices bacon, cooked crisp and chopped
⅓ cup chopped pecans
Preheat the oven to 450°F.
Peel the potatoes and slice into 1/3" rounds, and then slice again, creating 2 semi-circles from each round.
In a paper bag, mix the brown sugar, kosher salt and the chile powders. Put the potato pieces into the bag, close and shake until all of the potato pieces are coated with seasoning.
Toss seasoned potatos into a medium-sized, greased baking dish. Roast for approximately 30 minutes. Halfway through the roasting time, turn the potatoes gently to ensure that all are uniformly cooked. When potatoes can be easily pierced with a fork, remove dish from the oven and reduce the oven temperature to 400°F.
Sprinkle the potatoes with cheese, bacon and pecans. Return dish to the oven for 3 additional minutes, or until the cheese is melted. Serve immediately.
Note:
If desired, the skins can be left on the sweet potatoes. Just remember to scrub them thoroughly.
KELLY YANDELL is a writer and photographer based in Dallas. She has contributed to Edible Dallas & Fort Worth since 2011. Her website (themeaningofpie.com) celebrates practical dishes and comfort foods, while her photography portfolio can be found at kellyyandell.com. Kelly is an attorney and is the vice president of the Advisory Board of Foodways Texas, an organization founded by scholars, chefs, journalists, restaurateurs, farmers, ranchers, and other citizens of the state of Texas who have made it their mission to preserve, promote and celebrate the diverse food cultures of Texas.