By Kelly Yandell, TheMeaningofPie.com
Eggy, luscious popovers are relatively easy to make from the most basic ingredients. You can use a muffin tin, but a popover pan makes them more spectacular and puffy. Serve while they're hot with strawberry butter or the condiment of your choice.
Yields 12 popovers
2½ cups all-purpose fl our
½ teaspoon salt
6 eggs
2½ cups milk
2 tablespoons unsalted butter, melted
Butter for popover pans (about 4 tablespoons)
Preheat the oven to 400°F.
In a large bowl, combine flour and salt with a whisk. In a small bowl, briefly whisk the eggs. To the large bowl, add milk and whisk. Next, add eggs and then melted butter, whisking aft er each addition.
Place a small pat of butter (less than a teaspoon) in each cup of your popover pan. Place pan in the oven until the butter melts and pan is hot, about 2 minutes. Carefully remove from the oven and fill each cup about ⅔ full with popover mixture.
Return the pan to the oven and bake for 20 minutes. After 20 minutes, reduce heat to 300°F and bake for another 20 minutes. (Do not open the door while baking.) Remove from the oven and serve immediately.
For Strawberry Butter
Cream softened butter together with strawberry preserves at a ratio of about 3 parts butter to 1 part preserves.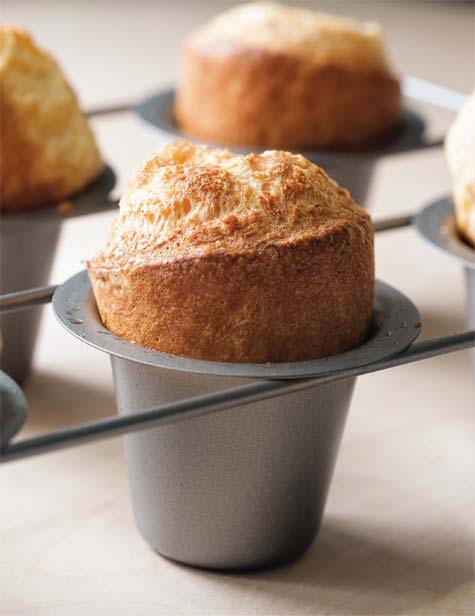 KELLY YANDELL is a writer and photographer based in Dallas. She has contributed to Edible Dallas & Fort Worth since 2011. Her website (themeaningofpie.com) celebrates practical dishes and comfort foods, while her photography portfolio can be found at kellyyandell.com. Kelly is an attorney and is the vice president of the Advisory Board of Foodways Texas, an organization founded by scholars, chefs, journalists, restaurateurs, farmers, ranchers, and other citizens of the state of Texas who have made it their mission to preserve, promote and celebrate the diverse food cultures of Texas.