Recipe and photo by Kelly Yandell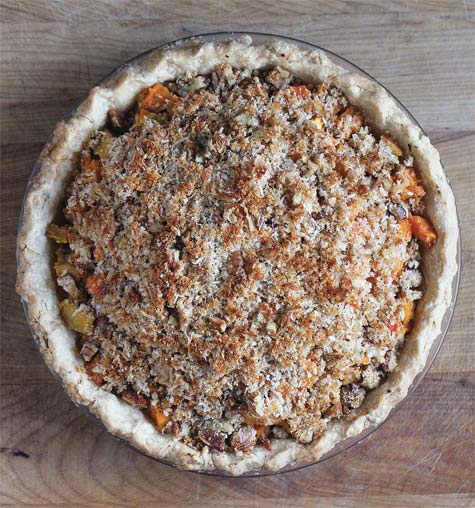 Tip 1:
Take great care when peeling the squash. The peel is very firm. A sharp peeler will work, but you will probably need a good paring knife to get in the crevices. The squash becomes slippery so consider using a paper towel or clean dishtowel to hold on to one end as you work.
Tip 2:
The cubed squash and potatoes look like enough to feed an army, but rest assured the volume reduces during roasting and a surprising amount can be piled onto the pie. If you end up with a cup to spare, snack on it while the pie is in the oven.
8 to 10 Servings
1 unbaked pie crust
Filling
1 butternut squash (about 2½ pounds)
1 acorn squash (about 2 pounds)
2 medium-sized sweet potatoes
2 tablespoons canola oil
2 tablespoons unsalted butter
¼ cup chopped shallot (or onion)
2 tablespoons honey
1 tablespoon chopped fresh sage
½ teaspoon kosher salt
½ cup breadcrumbs
½ cup grated Parmesan cheese
½ cup chopped pecans
1 teaspoon freshly cracked pepper
Topping
¼ cup chopped pecans
¼ cup breadcrumbs
3 tablespoons unsalted butter, melted
½ teaspoon kosher salt
¼ cup grated Parmesan cheese
Preheat the oven to 400°F.
Rinse and peel the butternut squash, the acorn squash, and the sweet potatoes. Cut into ½" to 1" cubes. Lightly coat cubes with canola oil and place on a large rimmed baking tray. Roast in oven until tender, about 30-40 minutes. Remove from the oven and cool slightly.
Meanwhile, roll out a single crust and ease it gently into a 9-inch pie plate. Roll over or crimp the edges in your preferred fashion. Place the pie plate in the refrigerator to chill until the filling is ready.
Saute the shallot in butter for 3 minutes or until softened. Gently mix the shallot, honey, sage, salt, breadcrumbs, ½ cup Parmesan cheese, pecans and pepper with the cubes of squash and sweet potato. This can all be done on the rimmed baking sheet.
In a small bowl, mix together the pecans, breadcrumbs, melted butter and salt. Add the ¼ cup Parmesan cheese and toss to mix.
Gently spoon squash mixture onto the pie shell. Distribute the cubes evenly so that there are no gaps at the edges of the pie. Keep piling and pressing gently until the filling is nicely mounded. Distribute the topping evenly over the filling.
Place the pie in the oven and bake for 30- 40 minutes. After 20 minutes, check to ensure that the topping is not browning too quickly. If so, tent the top with foil and continue to bake until the crust is golden.
Remove the pie from the oven and cool for at least 20 minutes before serving. This pie is also tasty (and slices better) on the second day. Store baked pie in the refrigerator overnight. When ready to reheat, cover with foil and place in a 300°F oven until warmed throughout.
For more recipes by Dallas food writer and photographer Kelly Yandell, go to her blog The Meaning of Pie, themeaningofpie.com.
KELLY YANDELL is a writer and photographer based in Dallas. She has contributed to Edible Dallas & Fort Worth since 2011. Her website (themeaningofpie.com) celebrates practical dishes and comfort foods, while her photography portfolio can be found at kellyyandell.com. Kelly is an attorney and is the vice president of the Advisory Board of Foodways Texas, an organization founded by scholars, chefs, journalists, restaurateurs, farmers, ranchers, and other citizens of the state of Texas who have made it their mission to preserve, promote and celebrate the diverse food cultures of Texas.